Why Fans Think Prince Charles Was Emotional Over Queen Elizabeth's Absence At Parliament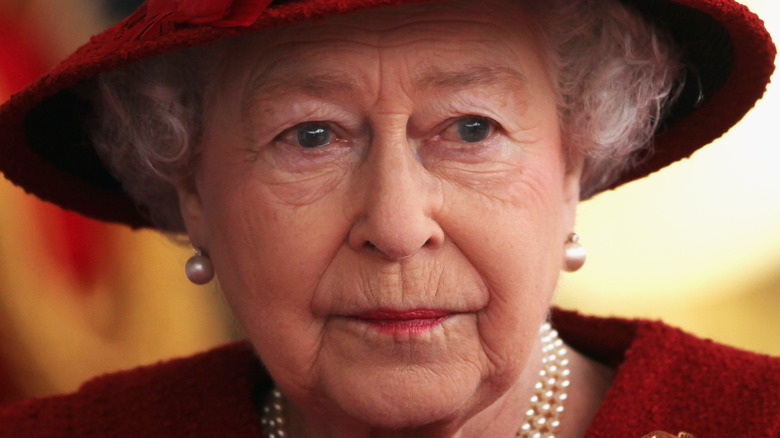 Dan Kitwood/Getty Images
A royal source claimed the queen despises media coverage of her health, but the monarch's advancing age, recent overnight stay in the hospital, and battle with COVID-19 have made it clearer than ever that her time on the throne is coming to an end sooner rather than later. And yet, she has no plans to step down any time soon. She turned the ripe old age of 96 in April and, per People, Elizabeth celebrated in style in her beloved Sandringham Estate.
The long-reigning monarch took a drive and was spotted wearing a slick of festive pink lipstick for the occasion, too. Sandringham is where the royal family typically celebrates Christmas, though their plans have been scaled back considerably in the wake of the pandemic. "She doesn't have to be monarch there," a former staffer explained. "She can be Elizabeth rather than the Queen." Moreover, Trooping the Color will this year be celebrated alongside her Platinum Jubilee.
Clearly, the queen is still going strong. Meanwhile, her son, Prince Charles, has been taking her place wherever necessary due to her ongoing health issues. In fact, just last month, the Prince of Wales attended the Commonwealth Service on the queen's behalf, per Page Six, with insiders revealing Buckingham Palace is actively preparing for Charles to take over shortly. Although the prince is ready for the role, it's still sad to see his mother take a step back, as Charles' latest display exemplified. 
Prince Charles was visibly bereft to be without his mother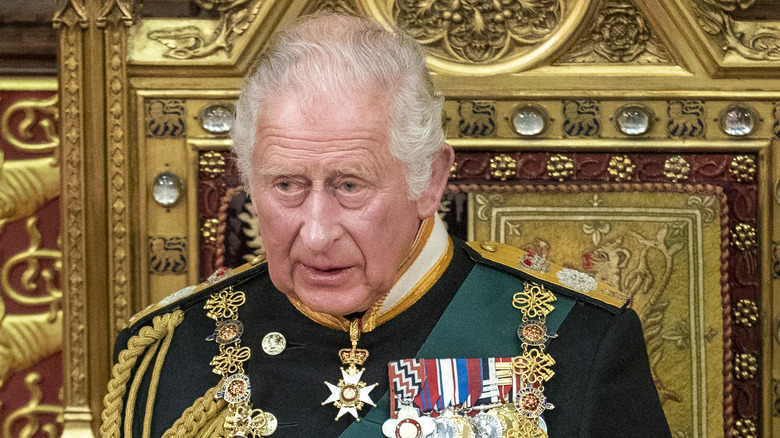 Wpa Pool/Getty Images
For the first time in close to six decades, Queen Elizabeth didn't deliver the speech at the official State Opening of Parliament. As the Daily Mail notes, the long-reigning monarch was advised by doctors not to attend the event due to her ongoing health problems. Prince Charles looked visibly emotional to be taking on the role in his elderly mom's absence. Photos from the event show a glassy-eyed Charles delivering the prepared remarks, which included a range of proposed bills for the incoming year covering Brexit, landlord-tenant regulations, and even the cost-of-living crisis.
The Prince of Wales did note, however, that his mother is looking forward to celebrating her Platinum Jubilee next month. She's also expected to speak to Prime Minister Boris Johnson, as normal. Charles notably glanced at her crown before beginning to speak, too. Per CNN, the queen has only missed giving her speech to the House of Lords twice. Both times, she was pregnant. Elizabeth had to issue official paperwork to allow Charles and his son, Prince William, to perform duties in her absence. 
Royal expert Gertrude Daly told the Daily Star giving the speech on the queen's behalf was a "bittersweet moment" for the prince, who is "feeling a lot of concern and sadness for his mother." According to Daly, it would've taken a lot for Her Majesty to bow out, and Charles would certainly be feeling the implications of that decision.
William and Charles are poised to take over and modernize the monarchy
Wpa Pool/Getty Images
Princes Charles and William are reportedly preparing for their future roles as king together, and when they eventually take over, there are going to be some major changes to the status quo. An insider told Us Weekly the father-son duo is working together to make the transfer of power as seamless as possible. In fact, in the coming years, William will be taking on more and more responsibility as his father prepares to ascend the throne. Most pertinently, they're focused on slimming down the monarchy, because, per the insider, "The way William and Charles see it, less people means less drama." The British royal family has been plagued by scandals over the years, in particular Prince Andrew's sexual abuse lawsuit and Meghan Markle and Prince Harry stepping back from their royal duties and moving to the U.S. 
William reportedly "has high ambitions to be known as the People's King," the insider noted. "[He's] creating the perfect balance of being relatable to the public at the same as being a respected role model and decision-maker." The princes may have their work cut out for them, though, with royal experts telling The Guardian that there's a long way to go to modernize the institution, especially since Queen Elizabeth has been in power for 70 years next month. 
William recently ran into trouble during his royal tour with Kate Middleton. However, as one source argued, "There's a feeling in the institution that over time the monarchy can update itself and change, but it has to be gradual, subtle and carefully thought through."