You Won't Believe Which Company Dolly Parton Is Partnering With For A Musical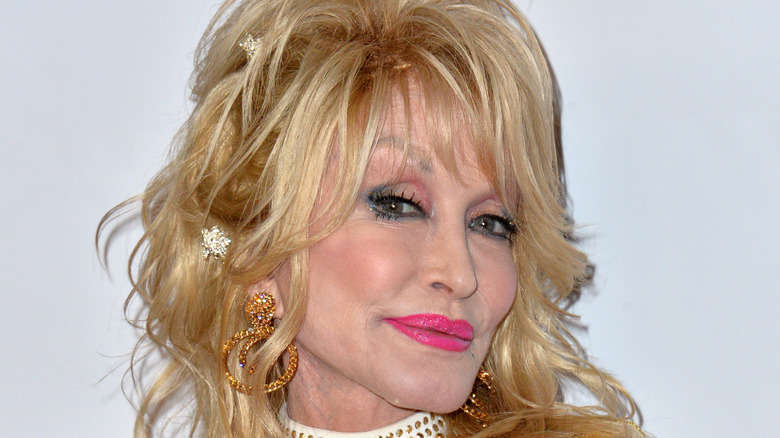 Featureflash Photo Agency/Shutterstock
Dolly Parton has been a mainstay in entertainment for decades. The country music singer and songwriter, according to her website, has sung on nearly 90 albums and she's had long-lasting hits like "Jolene" and "9 to 5." Parton has also written songs for others like "I Will Always Love You," famously sung by Whitney Houston, "There'll Always be Music" by Tina Turner, and "The Stranger" by Kenny Rogers, per the Recording Academy.
Along with her work as a singer, she's written stories about her life and recently collaborated with James Patterson to write her first novel "Run, Rose, Run," per NPR. She also had a cameo in the final episode of Netflix's "Grace and Frankie" in a little reunion with Lily Tomlin and Jane Fonda, her co-stars from "9 to 5," per EW. But it's her most recent collaboration that could be the most surprising.
Dolly Parton will star with Doja Cat and Victor Kunda in Mexican Pizza: The Musical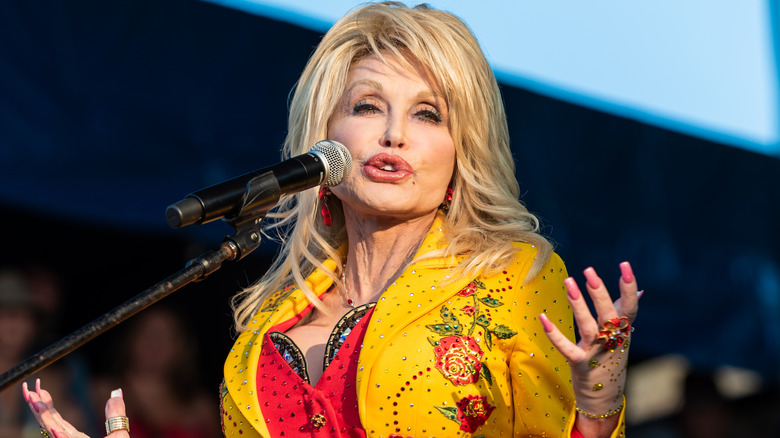 Carl Beust/Shutterstock
Dolly Parton has confirmed on Instagram that she will be making "Mexican Pizza: The Musical" in collaboration with Taco Bell. She included a picture of the script that says it's "Based on the true story of the Internet losing its mind." The musical will be premiering on TikTok on May 26 at 8 p.m. ET, and according to the TikTok account, it will tell "the Mexican Pizza fan story – in song!" Parton isn't the only artist tapped for the musical. Doja Cat and TikTok star Victor Kunda will also be a part of the sure-to-be unique musical experience, per Today.
Mexican Pizza had been on the Taco Bell menu from 1985 until 2020 when it was removed, per Taste of Home. After it was announced that Mexican Pizza wouldn't be on the menu, a Change.org petition was started to keep it around and it got over 170,000 signatures. And the company seems to have listened. The official return of Mexican Pizza to the Taco Bell menu is May 19, according to Today.
As for Parton, it's not quite clear what we can expect from her role in "Mexican Pizza: The Musical," but we can count on her to keep us entertained. The singer is in her 70s, and for many her age, retirement is the next step. But Parton wants to keep working to make her dreams come true and told CMT, "I'll always be doing this unless my health (fails) or something bad happened to my husband."