Steve Harvey Finally Breaks His Silence About Will Smith's Infamous Oscars Slap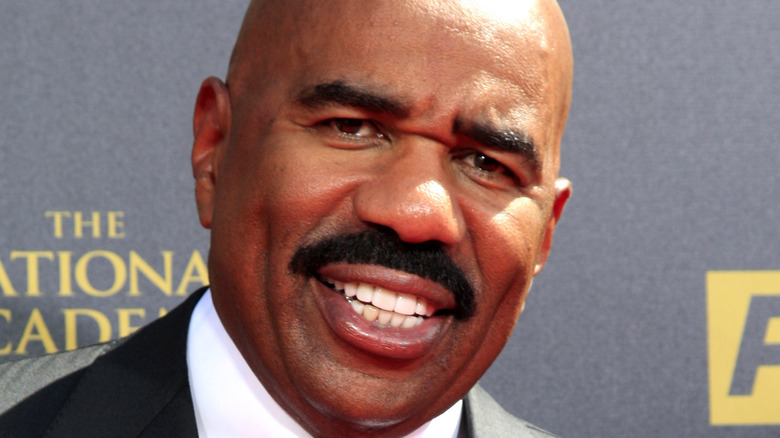 Joe Seer/Shutterstock
One of the headlines going into the 2022 Oscars was that for the first time, the award show would be hosted by three women: Regina Hall, Wanda Sykes, and Amy Schumer, per NPR. There were a number of other notable firsts with the night: first time a deaf man won an acting Oscar — Troy Kotsur for "CODA" — first time an openly queer woman of color won a major acting award – Ariana DeBose for best supporting actress for her role in "West Side Story" — and the first time a streaming service film won Best Picture — "CODA" from Apple TV+, per Vox. But what made for one of the biggest international headlines from the night was when Will Smith stormed on stage and slapped Chris Rock after he made a joke at Jada Pinkett Smith's expense.
Plenty of people weighed in with their opinion, with some like Tiffany Haddish who defended Smith, per People. There are others, however, who condemned Smith's actions, including the Academy of Motion Picture Arts and Sciences who banned Smith from attending the Oscars for 10 years, as noted by the BBC. Then there's those who don't see a benefit to taking a side publicly, like Denzel Washington who said of the situation "Who are we to condemn? [...] I know the only solution was prayer, the way I see it," Variety noted. One of the latest celebrities to weigh in is Steve Harvey, who wouldn't have reacted the same way that Rock did.
Steve Harvey admired how Chris Rock handled Will Smith's slap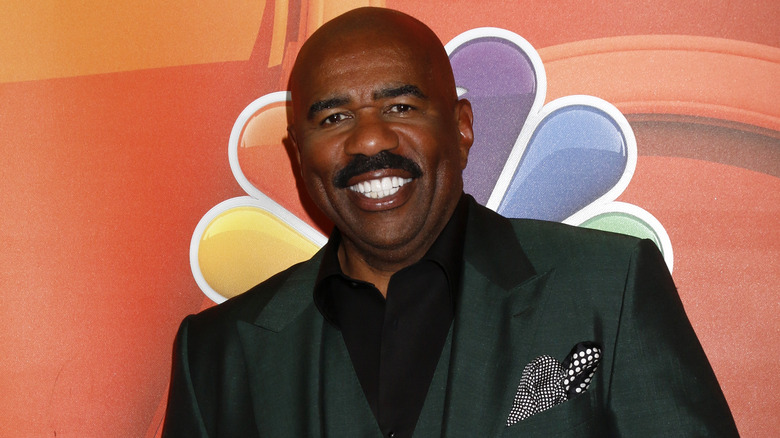 Kathy Hutchins/Shutterstock
Steve Harvey was speaking at an event at Georgia State University College of Law when he brought up the infamous Will Smith Oscars slap. The host was talking about how hard life can be and the tenacity and fight you have to have, as seen on YouTube. The "Family Feud" personality said, "You can't keep walking past people when they['re] snapping at you." That led into him bringing up Smith's actions at the Oscars, saying if it had been him in Rock's place, "It's no way you slapping me [then] turn around button your jacket and walk off that stage." He did also note that he considers himself a Christian, but not at a "high level." "On a scale of one to 10, I'm like a two," he said. A "high level" Christian might turn the other cheek, but that's not where it sounds like Harvey's at.
And while Harvey admired how Rock handled himself after the incident — by not hitting back or escalating the situation — Harvey wasn't at all impressed with Smith. He explained that with the actor storming the stage and slapping Rock, he "lost a lot of respect for him that day" and referred to the slap as a "punk" move.