Pete Davidson's Mom Has Some Thoughts About Kim Kardashian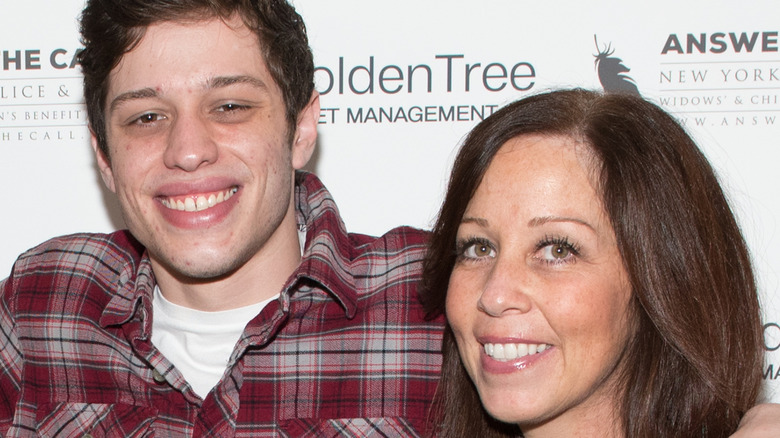 Noam Galai/Getty Images
We know how Kim Kardashian's mom feels about her boyfriend, Pete Davidson. When the comedian sent Kris Jenner flowers for Mother's Day, she went so far as to profess her love for him in her Instagram Story. But how does the "SNL" star's mother feel about him dating the reality star?
First, it's important to note that Davidson is very close with his mother, Amy Waters, with whom he lived for many years according to The Things. The widow—her husband and the star's dad Scott died on September 11, 2001—has reportedly been very supportive of her son's career as well as helped him cope with his health struggles over the years. When it comes to supporting his relationships however, it hasn't always been easy, with Elle reporting it took her some time to get behind his engagement to Ariana Grande over fears he'd end up getting hurt.
Now that Davidson has moved on to Kardashian, how does the family matriarch, who even starred in a Super Bowl commercial with her son, feel about her famous child coupling up with an even more famous star?
We don't know for sure how Pete Davidson's mom really feels about Kim Kardashian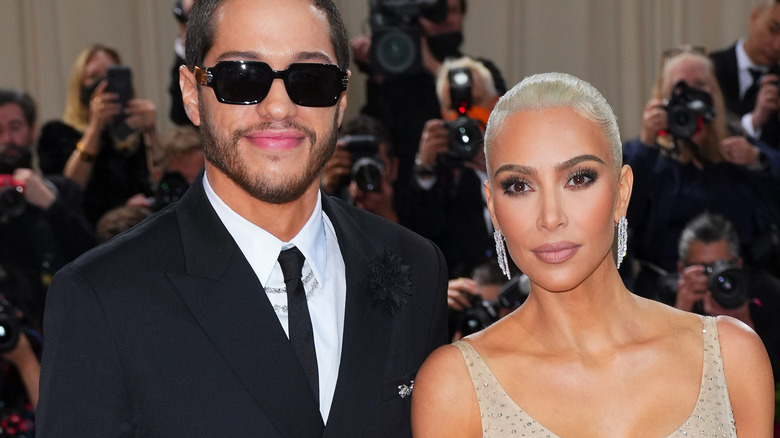 Gotham/Getty Images
Since Kim Kardashian and Pete Davidson got together in October of last year, there have been varying accounts of how his mom feels about their romance. The U.S. Sun reported in January of this year that she was not a fan of her son being in a relationship with someone who already had kids and hoped he would end up settling down with a less-attached lady.
Contrast that with a report that she was on board with a possible baby for the pair. According to Page Six, Amy Waters is a fan of the idea of the duo having a baby together, with the mom favorably commenting in March on a fan's prediction that the SKIMS mogul would be pregnant soon.
And now, Hollywood Life claims Davison's mother is all about Kardashian, who also reportedly sent flowers to her would-be in-law for Mother's Day. More than that, a source told the outlet about the mom's feelings toward Kardashian, "She thinks she is perfect for her son and doesn't care about her fame or her money." The Staten Island native is reportedly impressed with how the Hulu star treats the actor with "love and respect."
Interestingly, fans recently slammed Kardashian for acting bossy and controlling toward Davidson in a behind-the-scenes video.