The Law & Order: SVU Episode You Didn't Know Starred Mariska Hargitay's Dad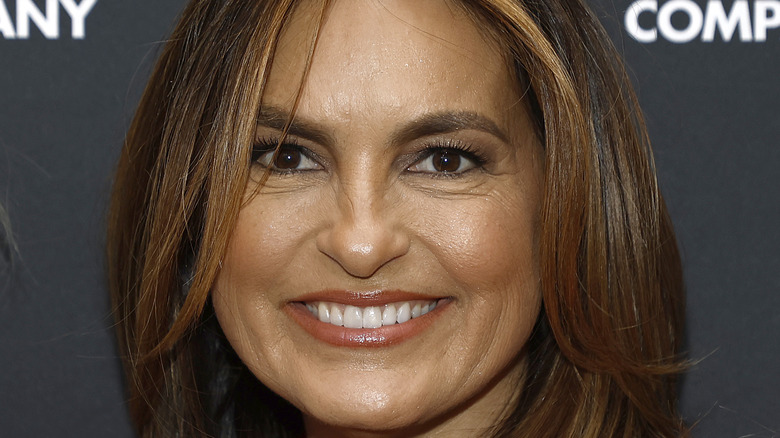 John Lamparski/Getty Images
After 23 seasons (and counting!) on the air, it's no surprise that "Law & Order: Special Victims Unit" has seen dozens of notable guest stars pop up through the years. Some of the most famous names to make an appearance on the NBC drama include Bradley Cooper, Cynthia Nixon, Milo Ventimiglia, Amanda Seyfried, and Carol Burnett, just to name a few, per Esquire.
But, when it comes to choosing her all-time favorite guest star, leading lady Mariska Hargitay didn't have to think too hard.
"Robin Williams [in 2008]," she told TV Insider. "It was being in the presence of true greatness. He had this huge heart: The set photographer captured Robin playing with my son, August [then not quite 2], with a smile from ear to ear. John Ritter [2002] was another great light. I met my husband [Younger's Peter Hermann] on that episode!"
In fact, Hermann has gone to appear in more than 30 episodes of "SVU" as Attorney Trevor Langan (per IMDb), often sharing scenes with his wife. He was even a part of the show's milestone 500th episode, with Hargitay joking on her Instagram that it was "#bringyourhusbandtoworkday."
But Hermann is not the only one of Hargitay's family members to guest star on "SVU." Her famous father also had a small role on the show years ago.
Mickey Hargitay had a small role on the episode 'Control'
Mariska Hargitay's father, Mickey, appeared in a Season 5 episode of "Law & Order: Special Victims Unit" titled "Control." 
During the installment, detectives Elliot Stabler (Christopher Meloni) and Olivia Benson (Mariska Hargitay) search for the person who cut off a man's genitals. Mickey appears as a grandfather in the very beginning of the episode before the opening credits, where he witnesses the victim fall down a flight of subway stairs, per CheatSheet.
"First he's jabbering nonsense," his character says to Benson. "Then his belly was bleeding like a stuck pig. Next thing I know, boom, he falls."
While his "SVU" role was small, Mickey did have starring roles in films like "Wanted Ringo," "Lady Frankenstein," and "The Reincarnation of Isabel," per IMDb. His appearance on "SVU" was his last acting job before he passed away in 2006.
In addition, Mickey was an accomplished bodybuilder, winning the title of Mr. Universe in 1955. "Walter Winchell once said that what [President] Eisenhower did for golf, Mickey Hargitay did for bodybuilding, because he brought it to the forefront," Gene Mozee, a bodybuilding historian, told the Los Angeles Times. 
"Back in those days, bodybuilding was thought of as a freakish, unusual activity that wasn't popular with the general public. At that time, athletic coaches discouraged lifting weights, thinking you'd become muscle bound. And along came Mickey Hargitay, a great all-around athlete."
Mariska Hargitay's mom was also a famous actress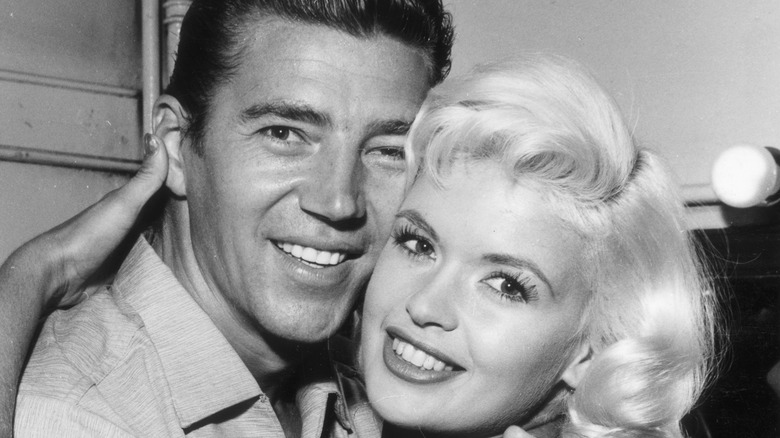 Evening Standard/Getty Images
Acting is clearly in Mariska Hargitay's DNA. Not only was her father, Mickey Hargitay, an actor, but her mom was blonde bombshell Jayne Mansfield. 
The Golden Globe winner starred in films including "The Girl Can't Help It," "Playgirl After Dark," "Monte Carlo," and "Panic Button," per IMDb. Mickey and Jayne also appeared in several films together, such as "The Loves of Hercules," "Promises! Promises!" and "Primitive Love."
Her mother passed away in a tragic car accident when Mariska was only 3 years old, and the actress says the trauma taught her how to be a survivor. "I think I learned about crisis very young, and I learned very young that s*** happens and there's no guarantees, and we keep going. And then we transform it," she told Glamour. 
"That's been kind of my superpower, and the gift of having trauma early in life. I've spent the last 50 — how old am I? — 57, so 54 years sort of trying to figure out what happened and why, and what am I supposed to do with it?"