The Ultimatum: The Truth About Rae's Sexuality
If you need clarity on your relationship, try becoming a dating show contestant. That's what Rae Williams and her then-boyfriend Zay Wilson did when they joined Netflix's hit reality show "The Ultimatum: Marry or Move On," hosted by Nick and Vanessa Lachey. In "The Ultimatum," couples find out if they're ready for marriage by having a trial "marriage" with a contestant from another couple. The show centers around an ultimatum, where one partner is ready to marry while the other isn't.
In the case of Williams and Wilson, Williams initiated the ultimatum and was hoping to settle down with Wilson. During the show, their relationship took a surprising turn when Williams caught feelings for her trial marriage partner, Jake Cunningham. She then broke up with Wilson and accepted Cunningham's invitation to go on a trip together after the show.
Between her rocky romance with Wilson and her connection with Cunningham, it's easy to assume that Williams is only attracted to men. However, the dating show contestant has revealed some new insights on her sexuality and who she dated after "The Ultimatum" wrapped.
Rae Williams opened up about her sexuality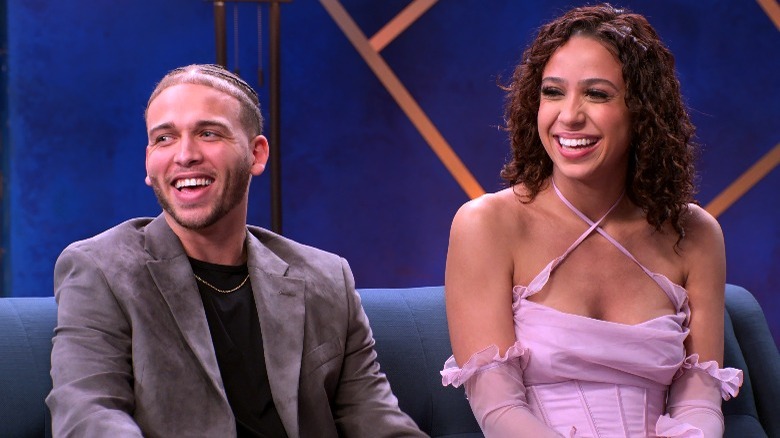 Netflix
In the reunion episode of "The Ultimatum," Rae Williams opened up about her love life after the reality dating show and explained that she never went on a trip with fellow contestant Jake Cunningham after all. She also said that she briefly tried to rekindle her relationship with ex-Zay Wilson, but ultimately things didn't work out.
For "Ultimatum" fans, these updates were surprising, though they didn't end there: Williams also got honest about her sexuality and new dating partner. After leaving Wilson for good, Williams revealed that she dated a woman, saying, "She's amazing and I had a really good connection with her, but we kind of kept it casual and I'm kind of figuring out myself and my sexuality 'cause I was very uncomfortable with being bi for a very long time."
Williams' coming out on the Netflix show was a brave step, especially considering the confusion and, at times, criticism that can surround bisexuality. Thankfully, the "Ultimatum" alum seemed to be met with support and praise during the reunion episode. She also later revealed in an Instagram story (via Today) that both Wilson and Cunningham were aware and supportive of her attraction to both men and women.
Rae Williams wanted to help others by coming out
After "The Ultimatum" wrapped, fans had questions for Rae Williams about her sexuality and love life. She cleared the air on Instagram, explaining that she had been dating a woman before coupling up with Zay Wilson (via Today). She confirmed that even though they didn't see eye to eye in the end, Wilson wasn't "homophobic or bigoted" and had no issues with her bisexuality. When an Instagram follower asked what gave Williams the strength to come out as bisexual, she wrote, "knowing that people are suicidal or depressed over their identity or sexuality and not being accepted or accepting themselves made me want to come out."
On her current relationship status, the "Ultimatum" contestant said she was single, though she's still close with the woman she was dating and they "hope to revisit things after the summer." And though Williams was originally the one to issue the marriage ultimatum on the Netflix show, she realized that she's not actually ready to settle down anytime soon. In an interview with People, she explained that while she had been trying to speed up her relationship with Wilson to fit an ideal timeline, she now realizes "that things can just flow." Whether her next relationship is with a man or woman, we hope it flows better than her "Ultimatum" relationships.