Why Julia Fox Thinks Motherhood Is 'Unfair'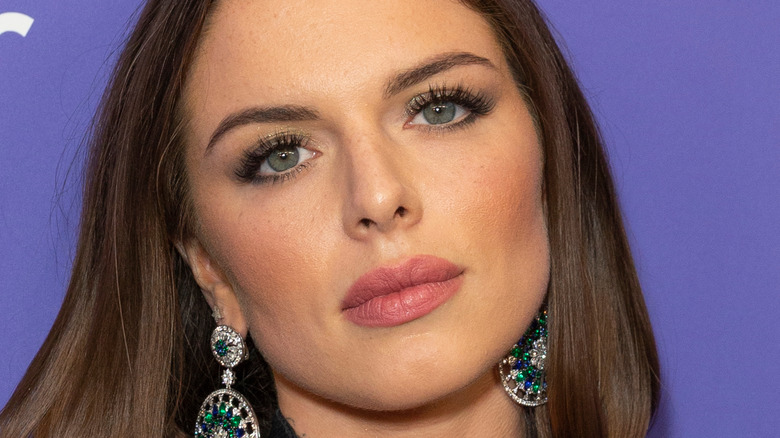 lev radin/Shutterstock
Actress Julia Fox separated from her ex-husband Peter Artemiev, with whom she shares a child, just before the pandemic began. "We're friendly, but we're not together," she explained their relationship to GQ. Soon after, she gave birth to Valentino. When asked what was the biggest change in her life as a single parent, she'd told Interview Magazine, "It's like taking a comb through your whole life and anything extra and unnecessary falls to the wayside. It's really, really nice. I value my time so much more because I have so little of it. It's very humbling to know that this little baby is the boss of me. He decides what we do all the time."
However, Fox also wanted to shed light to the side of motherhood that felt unfair. In candid posts on her Instagram, the actress spoke about single parenthood and its implications for women. On May 12, Fox posted pictures of her son with the caption, "Being a single mom has been the hardest journey I could fathom I'm ngl [not gonna lie] but when ppl [sic] meet Valentino they immediately understand why the way he is. My baby is alllllll me." Read on to know why she thinks motherhood is unfair.
She believes there are double standards for women
On May 12, Julia Fox, Kanye West's ex-girlfriend posted a photo of her son and said, "I used to get angry the way life was so unfair the way women are expected to sacrifice their identities for motherhood, and never get a thank you, while their male counterpart gets so much praise for doing the bare minimum. And I still do."
Fox was referencing her Instagram stories from 2021, where she'd posted a picture of her ex-husband with the caption, "Have you seen this dead beat dad ?" She'd continued, "This man left me with a 5-month-old and a dog and a home and ALL THE BILLS. It's wrong!!! It's not fair." She also emphasized to her viewers, "TAKE CARE OF YOUR KIDS MEN!! AND OTHER MEN, HOLD DEAD BEAT DADS ACCOUNTABLE!!! It's damn near 2022," (via Ace Show Biz)
In a political climate that expects women to almost entirely take responsibility of pregnancies, regardless of circumstance or their health, Fox's experience sheds light on the thankless job of motherhood. Many aren't as privileged as Fox, and the states with restrictive abortion laws are also the states with the weakest social programs for people to raise children, according to an analysis by The Associated Press.
In 2022, it's become glaringly clear that the criminalization of abortion across the U.S. is not a dystopian concept (via CNN).