Kate Middleton And Prince William Pen A Heartfelt Message To Their Ailing Friend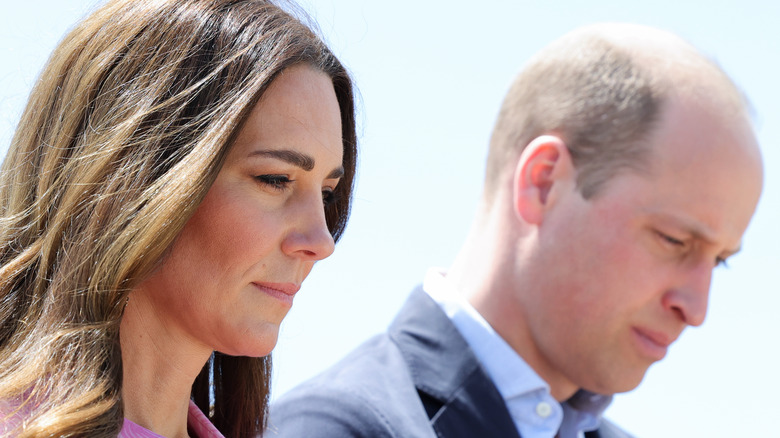 Chris Jackson/Getty Images
Let's just call it like it is, the royals rarely give their opinion on matters. The family is arguably the most tight-lipped family in the world. So, when they make a statement on things, people notice. Most recently, they've given statements on Ukraine and even shocked the world with a groundbreaking statement about the commonwealth on the Caribbean possibly having independence someday. Their latest comments, however, are a little more personal but just as surprising, according to the person involved.
The royal family is not the most active on social media. Of course, they clearly have people who upload for them, which can be seen by some posts having royal initials by them and others being posted in their honor. (Although Prince Harry was known to have a burner Instagram account before, but that's a story for another day.) However, for this recent statement, both Kate Middleton and Prince William hopped on Twitter to write a personal message.
Not only was the message all the more special because of that, but it came with a major honor. 
The royals wrote a personal message to Deborah James
For those of you who might not live in England, Deborah James is a BBC reporter who documents her journey with cancer. After a long battle, the reporter recently announced that her bowel cancer is back and is moving into hospice at-home care. "Nobody knows how long I've got left but I'm not able to walk, I'm sleeping most of the days, and most things I took for granted are pipe dreams," the Instagram post read. "I know we have left no stone unturned."
The royals took to Twitter to write James a personal message. "Every now and then, someone captures the heart of the nation with their zest for life & tenacious desire to give back to society. @bowelbabe is one of those special people. Her tireless efforts to raise awareness of bowel cancer & end the stigma of treatment are inspiring," the royals said on Twitter. "We are so sad to hear her recent update but pleased to support the [Bowelbabe Fund], which will benefit the [The Royal Marsden NHS Foundation Trust] among others. Deborah, our thoughts are with you, your family and your friends. Thank you for giving hope to so many who are living with cancer. W & C."
Deborah James is being honored with damehood
Not only did Deborah James receive a personalized message from the royals, but the message also came with a serious honor. James was officially deemed a dame in England by Queen Elizabeth II, so the entire royal family is in on honoring her. According to BBC, the royals attributed the honor to James' "honesty, warmth and courage" during her battle with cancer.
As if all that wasn't already enough, the prime minister had some kind words for "Bowel Babe," as James goes by on social media. "Through her tireless campaigning and by so openly sharing her experience she has not only helped in our fight against this terrible disease, she has ensured countless others with the Big C have not felt alone," said Prime Minister Boris Johnson, according to BBC.
James said in an Instagram Story that she is "blown away and crying at the honour."