What Raven Bowens Had To Say About Allie And Chanel's Relationship On Days Of Our Lives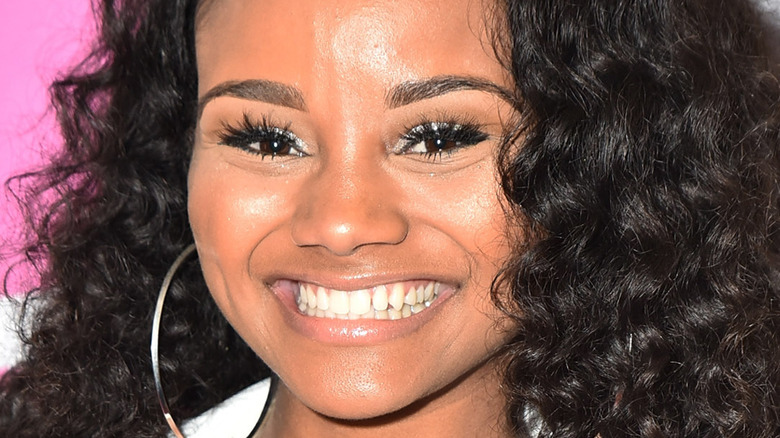 Brandon Williams/Getty Images
Chanel Dupree has only been on the "Days of Our Lives" and in the Salem scene for a little over a year, as of this writing, and she has already had two actresses playing her. She has also been married twice. Precious Way began playing the part in March 2021 (via Soaps In Depth), but she was soon replaced by Raven Bowens who began airing in July 2021 (via Soap Opera Digest).
When Chanel first arrived in town, her mother, Paulina Price (Jackee Harry), had cut off her credit cards. She quickly married Xander Cook (Paul Telfer) after one drunken night when she thought he had money, but she was wrong. After Xander realized Chanel had no money as well, they tried to extort cash out of Paulina but that didn't work and they quickly annulled the marriage. Then, Chanel ran into her old pal from her European traveling days, Allie Horton (Lindsay Arnold), and they shared a kiss. It was spontaneous and a surprise to both young women as they never realized they had felt an attraction to one another. Things just got more complicated from there.
Chanel married Allie's brother and then dated Allie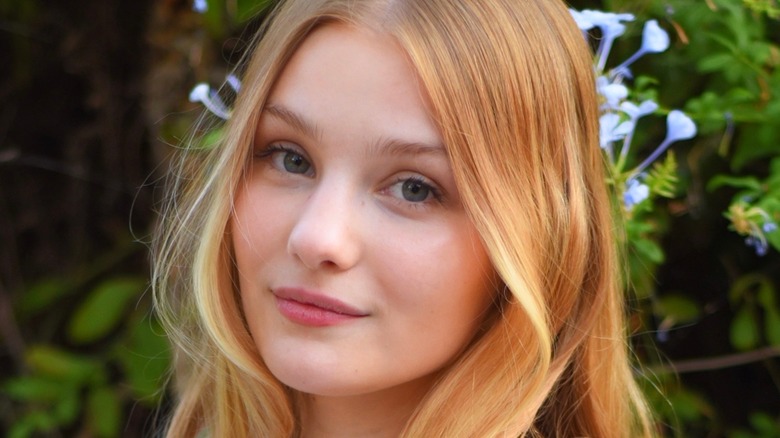 Michael Mattes/Shutterstock
When Chanel met Johnny DiMera (Carson Boatman), she had no idea he was Allie Horton's twin brother as they had two different last names because Sami Brady (Alison Sweeney) had twins by two different fathers. Despite feeling an attraction for Allie, Chanel dated Johnny and went on a European vacation with him. The pair returned married, but by the time their wedding dinner with family began, Johnny had been possessed by the devil and dumped Chanel.
That's when Allie and Chanel could not deny their feelings any longer and made love. This was something her mother, Paulina Price, briefly and secretly witnessed by staying discreet about it and walked away when she realized what was going on (via Soaps.com). Soon, Allie and Chanel started to date, but that didn't last long as the devil had left Johnny and possessed Allie instead. For a second time, Chanel was dumped (via Soap Hub).
Raven Bowens understands the importance of Allie and Chanel's story
Although Chanel Dupree and Allie Horton are not the first same sex relationship on "Days of Our Lives" – Allie's brother, Will Horton (Chandler Massey), is gay and married (via Soaps In Depth) — it is the first relationship between two females who consider themselves bisexual. And Raven Bowens is thrilled to be able to tell their story.
"I know what a range of audiences that this reaches," she said on the "Dishing With Digest" podcast. And she knows that "not everybody is comfortable with it. To be able to place it in the homes of people who, maybe it makes them a little uncomfortable is really an honor and a privilege because I feel like it's necessary. I feel like inclusion is mandatory."
Bowens also acknowledges that the story can make some fans feel uncomfortable, but hopes that if people already love the soap, they might see this story and it could touch them. "If you develop an affinity there," she said, "then I feel like maybe it opens your heart and your mind to someone in the street that you see."
As of this writing, Chanel has just learned that both Johnny DiMera and Allie dumped her due to devil possession, but now that this storyline is about to come to an end, "Days of Our Lives" will have a classic love triangle on its hands as Chanel can't decide between Allie and her brother.