How Did Sami Brady Have Twins By Two Fathers On Days Of Our Lives?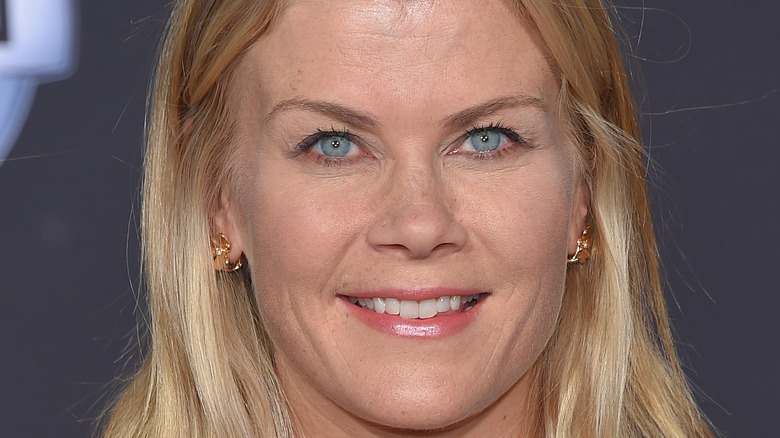 DFree/Shutterstock
Sami Brady (Alison Sweeney) has been a fan-favorite character among "Days of Our Lives" viewers for decades. The rebellious and trouble-making daughter of Marlena Evans (Deidre Hall) and Roman Brady (Josh Taylor) has often stirred up drama in Salem, but fans can't seem to get enough of all of Sami's schemes, as well as her triumphs, per Soaps.com. One thing that viewers have watched Sami endure over the years is her love life. When Sami falls, she falls hard, and she's had plenty of love interests that have entertained fans.
After Sami was rapidly aged like so many other characters such as Ciara Brady, Philip Kiriakis, and more, she fell head over heels for Austin Reed, per Fame 10. However, Austin was the boyfriend of Sami's older sister Carrie. However, Sami schemed to get Austin to the altar. Sami also got romantic with her best friend, Lucas Horton, before the two finally fell in love and gave romance a shot by tying the knot. She was engaged to be married to Franco Kelly, but he was murdered on their wedding day. She was also previously married to Rafe Hernandez before she met and married EJ DiMera.
Sami's love life has always been a huge part of her storylines, but one arc found the character in a bizarre situation when she became pregnant with twins, who had different fathers, per Soaps in Depth.
EJ used Sami's love for Lucas to manipulate her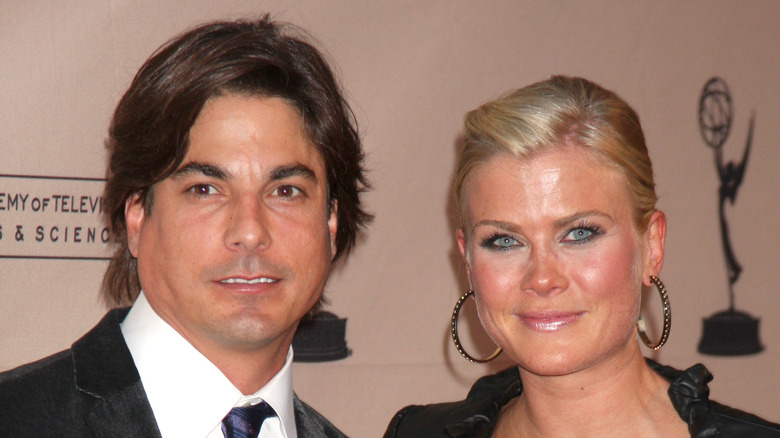 Kathy Hutchins/Shutterstock
In 2006, "Days of Our Lives" viewers watched Sami Brady and Lucas Horton (Bryan Dattilo) appear to be happier than ever. They even headed out for a cozy winter getaway but were faced with tragedy when a dangerous storm hit the area and forced the couple to search for shelter. The pair eventually found an abandoned cabin, where they spent the night. However, after getting intimate, the cabin began to collapse and a large beam fell on Lucas' leg. Sami tried but was unable to move the beam and help Lucas. So, she headed out into the storm to look for help, per Soap Central.
Sami found a road and stopped a car that was being driven by EJ DiMera (then James Scott). At the time, EJ was on a mission to help his father, Stefano DiMera, get revenge on the Brady family and told Sami that he would only help her if she agreed to sleep with him, per Soaps in Depth. Sami was desperate to help Lucas so she agreed. EJ later helped save Lucas and soon after found out that she was pregnant. After sleeping with both Lucas and EJ on the same night, Sami was unsure about which man was the father of her unborn child.
Twins Allie and Johnny were born amid a dangerous Brady and DiMera feud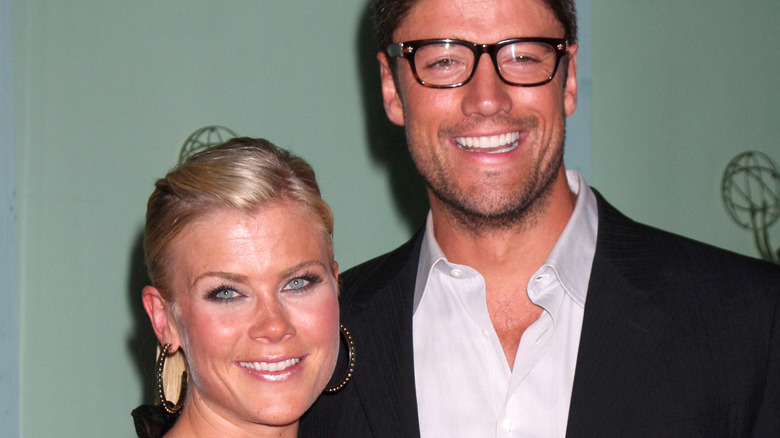 Kathy Hutchins/Shutterstock
After Sami found out that she was pregnant with twins, she and Lucas got married. "Days of Our Lives" viewers then learned that one of the twins, Allie, was fathered by Lucas, with the other, Johnny, was fathered by EJ as a result of their night together. During this time, the Brady and DiMera feud was at an all-time high, and when EJ finally learned that Johnny was his son, Sami agreed to marry him in order to put an end to the dangerous feud, per Soap Central.
Sami told Lucas that she wanted a divorce and he was angry. The couple's oldest child, Will, was also furious and brought a gun to the wedding and shot EJ in the back. Lucas later confessed to the crime to protect his son and was sentenced to prison. Will then went to live with his aunt Carrie and uncle Austin so that he would be safe from the DiMera family, per Soaps in Depth.
Now, Sami's twins, Allie and Johnny, are adults and living back in Salem with drama of their own. However, the story of their conception is one that "DOOL" fans likely won't forget about for years to come.
If you or anyone you know has been a victim of sexual assault, help is available. Visit the Rape, Abuse & Incest National Network website or contact RAINN's National Helpline at 1-800-656-HOPE (4673).