Billboard Music Awards 2022 Fashion Fails And Wins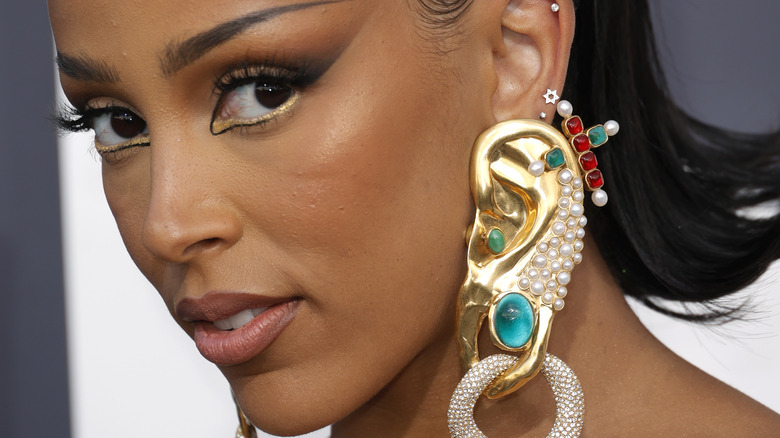 Frazer Harrison/Getty Images
Music's biggest stars were out in full effect on Sunday night at the MGM Grand Garden Arena in Las Vegas, Nevada. Sure, we were there to see who won big at the 2022 Billboard Music Awards, but also, for the fashion.
The big trend of the evening seemed to be black. Some artists and celebrity presenters did the basic color justice, while others, well, may have missed the mark. There were also a few fashions that didn't even register enough to win or fail. We're talking about you, Elle King. The singer looked great, but her date-night-ready LBD wasn't super memorable. 
One of the only stars to stand out in a different color on the carpet was Dove Cameron. Let's just say her decision to don red for the awards was one of the reasons she totally won the night. Although, Cameron did have some steep competition for best dressed (Ahem, Doja Cat).
Here are our picks for the most winning fashion moments from the 2022 Billboard Music Awards, as well as the fashion fails we just couldn't get behind, no matter how much we may love the stars who dared to wear the looks they perhaps should have passed on.
Win: Dove Cameron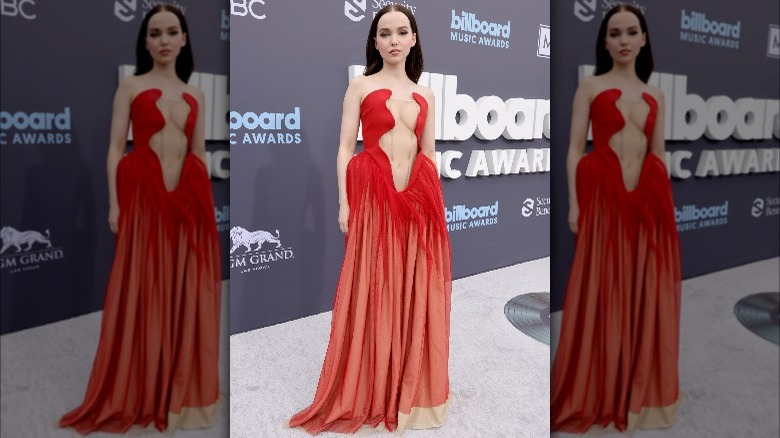 Amy Sussman/Getty Images
Her Disney days felt like a million years ago when we saw Dove Cameron on the Billboard Music Awards red carpet Sunday night. The star stunned in a red gown with a barely-there top that revealed her cleavage all the way down to past her midriff. 
The singer certainly turned heads in the bright red ensemble, with fans on Twitter saying their girl slayed, and another observer expressing disbelief that this was even her! We say whatever Cameron is doing, keep doing it. Because, wow.
Fail: Megan Fox and Machine Gun Kelly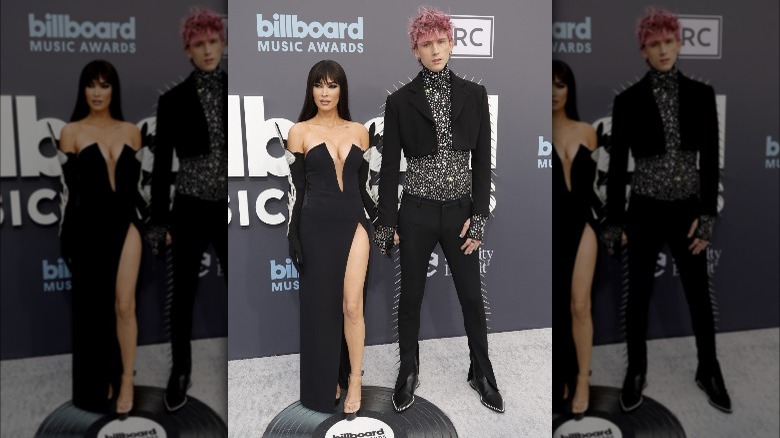 Frazer Harrison/Getty Images
Megan Fox and Machine Gun Kelly definitely like to be noticed on the red carpet, and this look for the 2022 Billboard Music Awards achieved that goal. But the actress looked more like Morticia Addams and her rocker other half, well, what was up with those spikes? 
Of course, we get that this is the BMAs so it's not as if the couple was dressing for the Oscars. We love this duo but tonight's look was giving us Halloween vibes more than anything. In fact, one person on Twitter said Fox was a demon. We wouldn't go that far, but, um, lighten up maybe?
Fail: Miranda Lambert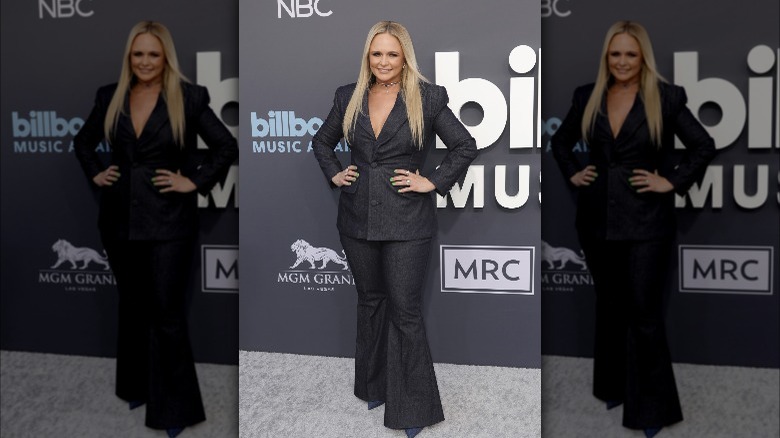 Frazer Harrison/Getty Images
Oh how it pains us to say that Miranda Lambert, who usually lands on our best dressed lists, is a miss tonight. Her look was too business casual for the Billboard Music Awards. What happened to fun Miranda? This version of the country star looked lovely and polished, but we would expect this suit for a marketing meeting, not on one of the industry's most important nights. 
Sorry, to all the Miranda Lambert fans out there — a group which we proudly count ourselves a part of. This just wasn't our favorite fashion moment for the "Bluebird" singer.
Win: Doja Cat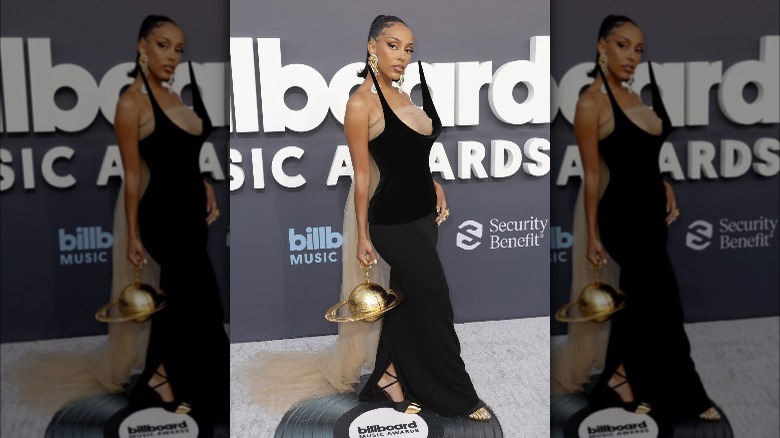 Frazer Harrison/Getty Images
This is Doja Cat's night. Not only did the artist score almost as many nominations as The Weeknd, but her fashion is on point (via New York Post). 
Doja Cat's win was in the details. That handbag! Those earrings! Her black gown was also extremely flattering. And that flowing cape. Oh my. 
But the style choice most fans will likely be buzzing about is the sheer top and golden nipple covers. Hey, it is the BMAs! Overall, this look gave us goddess vibes and may have won the night.
Fail: Heidi Klum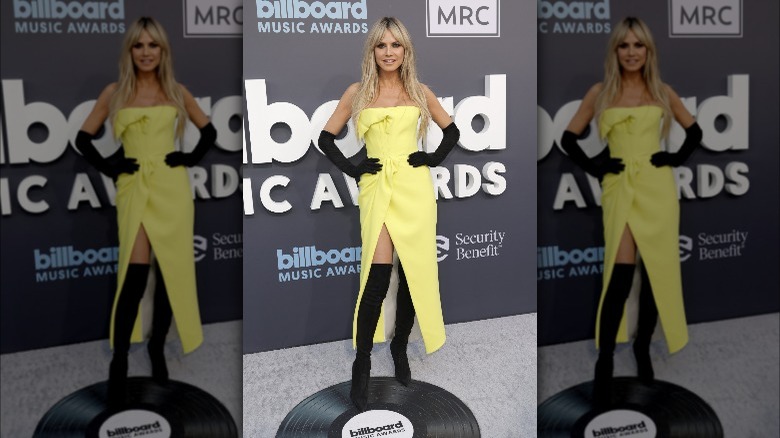 Frazer Harrison/Getty Images
Heidi Klum's look for the Billboard Music Awards did not make the cut with us, sadly. The lime green color of the dress just wasn't our favorite and the black gloves and thigh-high boots made for an odd pairing with the look. 
But hey, others felt Klum's BMAs fashion choice was a win, with TooFab tweeting the model shut down the red carpet. 
No matter what the world may think of her look, judging by Klum's Instagram, the reality star is having a darn good time in Las Vegas this week. Not only is the star partying up a storm, but she's also clearly enjoying a little room service!
Win: Mary J. Blige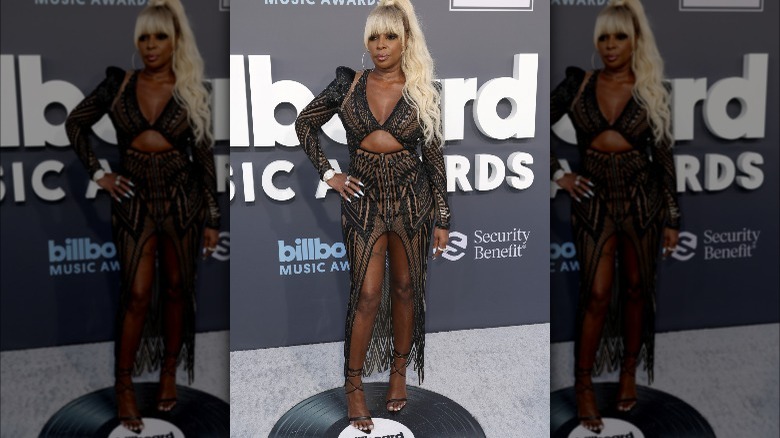 Frazer Harrison/Getty Images
Mary J. Blige is 51 years old. Let that fact marinate for a moment. 
No matter her age, the legendary artist, on hand to receive this year's Icon Award, truly looked like a fashion icon tonight. Blige 100 percent rocked her black and sheer gown with a deep V-neck and cutouts, as well as a high center leg slit. 
She seriously is the queen of music, and making us notice her on the red carpet, too.
Win: Kylie Jenner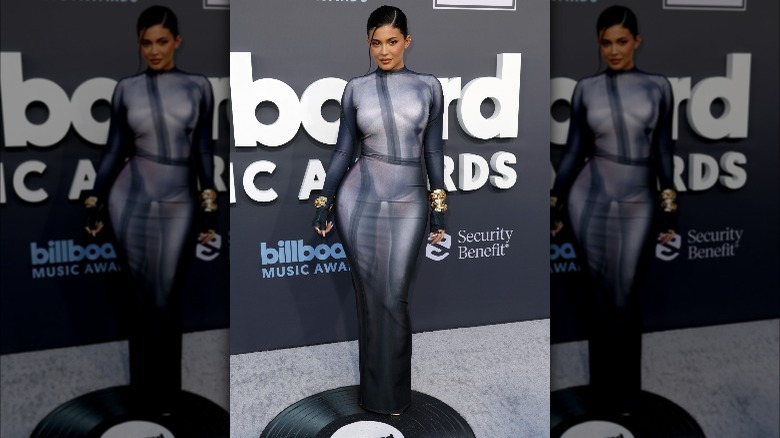 Frazer Harrison/Getty Images
Oh thank goodness! Kylie Jenner has redeemed herself after disastrously landing on our fashion misses from the 2022 Met Gala. On hand to support her boyfriend, Travis Scott, who is performing for the first time since the horrible tragedy at Astroworld last year, the makeup mogul made us sigh in relief when she arrived (via CNN). 
No more bridal attire with a baseball cap! This is the Kylie Jenner we know and love, rocking a form-fitting gown that was serving futuristic vibes with its leg outlines. 
Fail: Megan Thee Stallion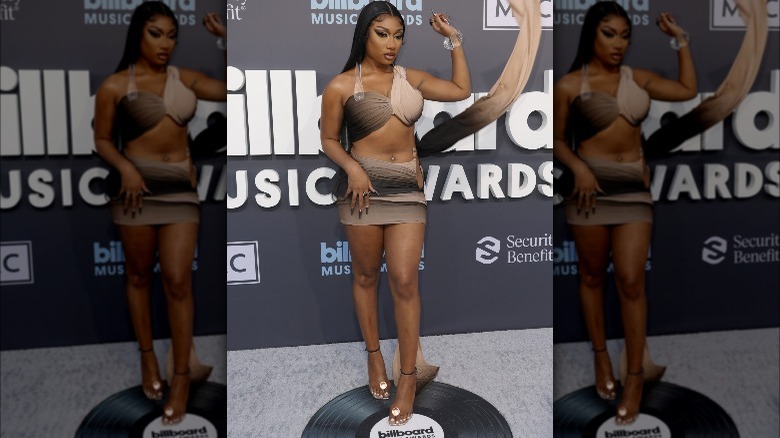 Frazer Harrison/Getty Images
Another star whose fashions are usually winners with us is Megan Thee Stallion. We just didn't get tonight's look, which featured an odd bra top and a super-short skirt. The multi-tonal effect was definitely cool, but somehow the entire ensemble just didn't come together, especially given those pieces of fabric that hung down.
Oh well. Her fashion wasn't for us tonight but we're sure Megan Thee Stallion's performance will be off the charts.