What Meghan And Harry Allegedly Told Elizabeth About Their Presence On The Palace Balcony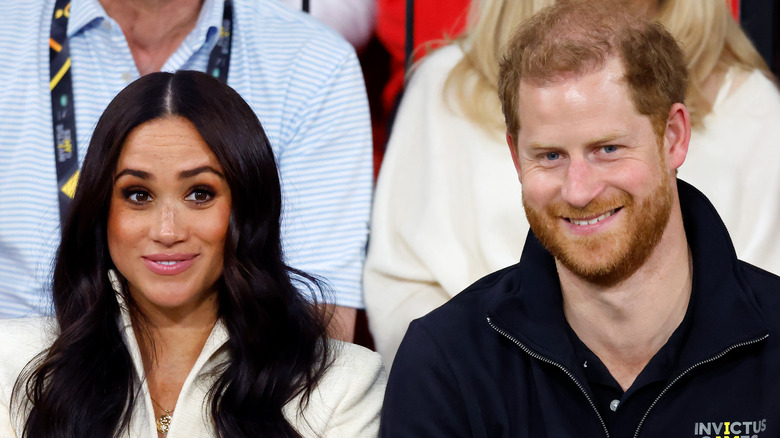 Max Mumby/indigo/Getty Images
After becoming the first British monarch in history to serve 70 years on the throne, 2022 is set to be a major year for Queen Elizabeth II. To celebrate her Platinum Jubilee, a string of exciting events are being held throughout the summer in the United Kingdom, the most notable of which is the traditional Trooping the Colour event on June 2. 
According to Town & Country, the event is known for its much-anticipated balcony appearance, where a large number of royals gather in front of the public on the balcony of Buckingham Palace. This year's appearance is especially important, not only because of the queen's record-breaking reign, but also because of her recent health issues, forcing Her Majesty to cancel recent appearances.
Health concerns aside, the Platinum Jubilee and Trooping the Colour put Elizabeth front and center, and her wishes are top priority during this special event. But when it comes to having a presence on the palace balcony, Prince Harry and Meghan Markle have their own wishes too.
Meghan and Harry will not be present on the palace balcony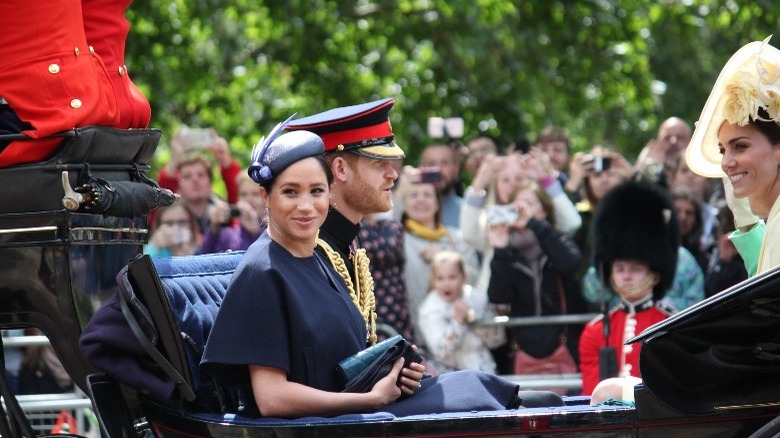 Lorna Roberts/Shutterstock
Declining a prestigious spot on Queen Elizabeth's balcony would be controversial, but that's reportedly just what Prince Harry and Meghan Markle did. According to Daily Mail, Buckingham Palace previously announced that Harry and Markle weren't invited to appear on the palace balcony during the Trooping the Colour festivities. Angela Levin, a royal insider, explained to the Daily Mail that the queen was only opening the balcony to "working royals who support Her Majesty" to create a positive, drama-free atmosphere.
However, sources have revealed that the pair actually didn't want to be present on the balcony anyway. Rather than being banned by the queen, Harry and Markle may have told her long ago that they didn't want to appear on the balcony, per Yahoo! News. And given the controversy surrounding Harry and Markle, along with rumors that the couple quarreled once before on the palace balcony during the 2019 Trooping the Colour (via Insider), it makes sense that they may want to sit this one out.
That doesn't mean Harry and Markle won't participate in the queen's Platinum Jubilee. The two previously confirmed that they will still attend other events honoring Elizabeth following Trooping the Colour. They are also planning to introduce the queen to their daughter Lilibet for the first time.