Melania Trump Unsurprisingly Doesn't Hold Back Her Disdain For Anna Wintour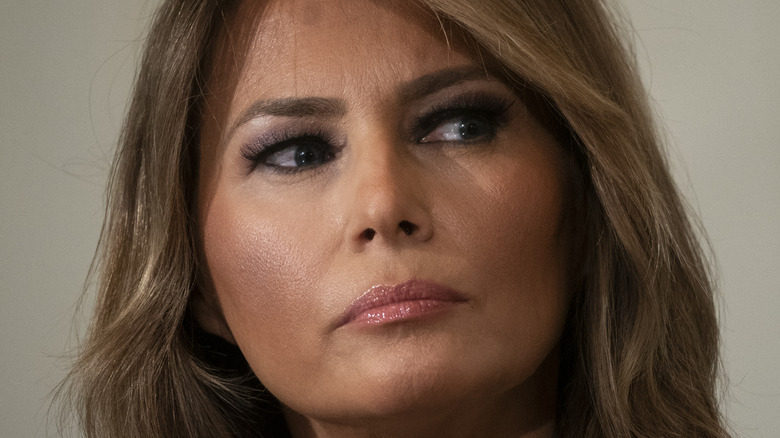 Drew Angerer/Getty Images
Kamala Harris' Vogue cover had fans furious, notably because the VP was photographed looking far more casual than many of her white contemporaries. Even Jill Biden fared better. She appeared on the cover of the fashion bible in August 2021, looking luminous in a floral Oscar de la Renta number. In the accompanying Vogue interview, the First Lady opined that her husband was elected partly because "people wanted someone to come in and heal this nation, not just from the pandemic, which I feel Joe did by, you know, getting shots in everybody's arms." Biden added that her hubby is also "a calmer president" overall, in a clear dig at his fiery predecessor.
As TMZ noted at the time, former President Donald Trump was livid about his wife apparently being snubbed for her own cover, even sharing a tweet from right-wing site Breitbart News which read, "The elitist snobs in the fashion press have kept the most elegant first lady in American history off the covers of magazines for four consecutive years." Donald added that Melania was also "the greatest of all time." Elsewhere, Michelle Obama graced the cover of Vogue three times while her husband was in office, which likely made the Trump family even madder. When it comes down to it, though, Melania reckons there's only one person to blame for her supposed snub.
Melania Trump called out supposed liberal media bias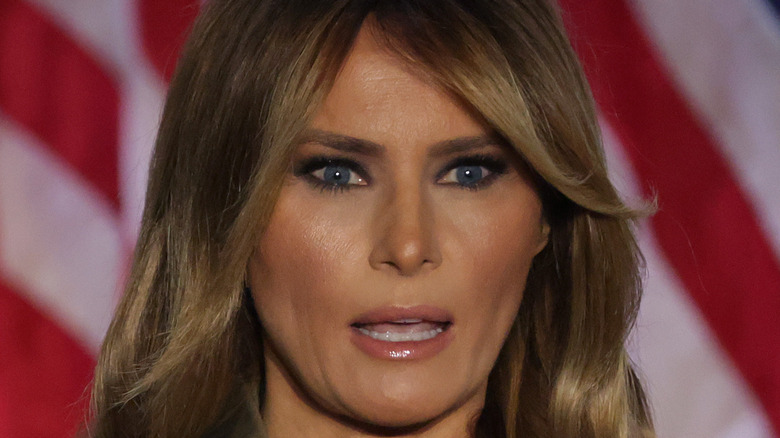 Alex Wong/Getty Images
Melania Trump isn't happy another First Lady was featured on the cover of Vogue — even if it happened more than a year ago. According to People, during a recent appearance on "FOX & Friends," Melania railed against indomitable editor-in-chief Anna Wintour for seemingly playing favorites by giving Jill Biden her cover moment in August 2021. Co-host Pete Hegseth pointed out how Melania's experience in both the fashion and business worlds should have made her the ideal candidate to be a Vogue cover girl, suggesting there was a double standard at play when Biden was supposedly chosen instead of her.
Melania confirmed the fashion bible is "biased," arguing, "They have likes and dislikes, and it's so obvious." It's worth noting Laura Bush, Barbara Bush, and Nancy Reagan — all conservative first ladies just like Melania — appeared in the pages of Vogue, though none were gifted a cover. "I think American people and everyone sees it," Melania argued. She noted, "It was their decision, and I have much more important things to do — and I did in the White House — than being on the cover of Vogue." The former model did, however, cover the magazine back in 2005. 
Elsewhere in Melania's "FOX & Friends" interview, her first since Donald Trump left office, the frequently frosty former First Lady clarified she enjoyed her husband's White House tenure, per The Hill. In fact, Melania might even want to be the First Lady again someday.