Why Kamala Harris' Vogue Cover Has Fans Furious
A Vogue cover isn't just a picture. Like The Washington Post's Robin Givhan points out, it's a keepsake: a memory, a symbolic representation of a moment. Kamala Harris' first Vogue cover should have been breathtaking. It might have been worthy of an extraordinary, long-overdue moment. (In case you've just woken up from a coma, Harris is making history as the first female vice president, as well the first Black woman and woman of Asian heritage to hold the office.) Instead of instilling awe, her Vogue cover ignited fury.
Sources have confirmed to CBS that Harris' team was "blindsided" by the cover that Vogue sent out to its subscribers. It depicted Harris in a black Donald Deal jacket and Converse sneakers, against a backdrop that gives a nod to her Alpha Kappa Alpha sorority. Harris had agreed to a different cover, in which she, arms crossed, smiles confidently in a powder-blue Michael Kors Collection power suit. The agreed-upon picture became Vogue's digital cover only. As per Givhan, Harris herself chose her outfits for the shoot. Vogue's photographer, Tyler Mitchell, and the shoot's chief editor, Gabriella Karefa-Johnson, are both Black.
But Vogue's Editor-in-Chief, Anna Wintour, has faced searing criticism from both inside and outside of Vogue's walls for her approach to fashion. A Black ex-staff member told The New York Times, "At Vogue, when we'd evaluate a shoot or a look, we'd say 'That's Vogue,' or, 'That's not Vogue,' and what that really meant was 'thin, rich and white.'"
Why Vogue's print cover is problematic for Harris followers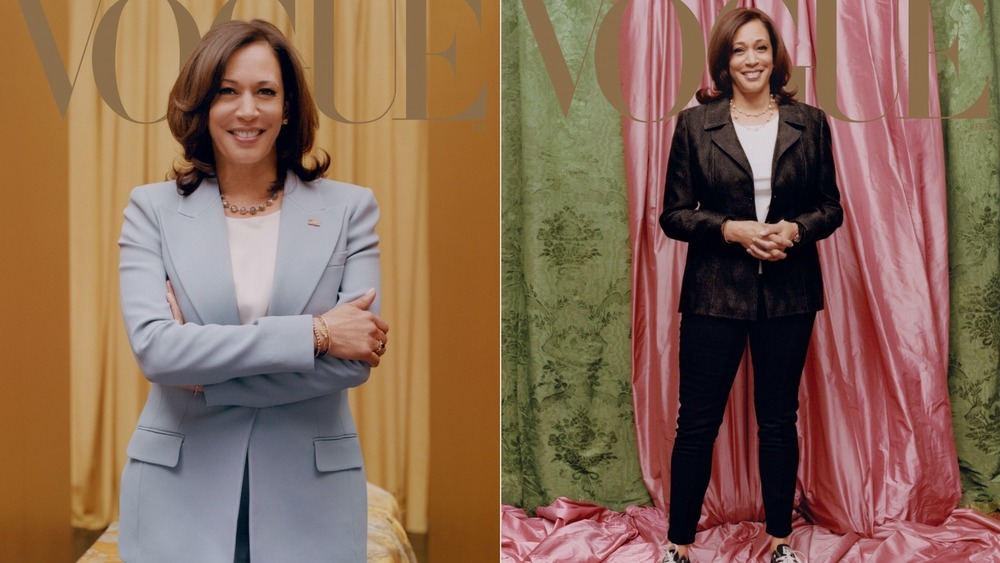 Vogue
Two issues with Kamala Harris' Vogue cover have social media screaming. First is that Vogue ignored Harris' cover choice. As one photographer wrote on Twitter, "it's incredibly rude for that change to have been made by the Vogue team alone. It's a violation of the photographer-subject relationship and of the agreement between the VP's team and Vogue." The shoot's photographer, 26-year-old Tyler Mitchell, who shot Beyoncé's cover in 2018, and in doing so became the first Black photographer to shoot a Vogue cover in the magazine's 125-year history, did tweet out the agreed-upon cover with the caption, "Madam Vice President-Elect Kamala Harris by me for the cover of American Vogue February issue." 
Second, there is a clear difference between the two photos in question. In response to Vogue's physical cover, The New York Times writer and author Wajahat Ali snarked, "I'll shoot shots of VP Kamala Harris for free using my Samsung and I'm 100% confident it'll turn out better than this Vogue cover." Ali's sentiments capture the essence of the Post's Robin Givhan's argument: while the picture Harris chose exudes power, the picture Vogue chose was "overly familiar" and is the equivalent of calling "Harris by her first name without invitation."
Vogue, meanwhile, has excused itself to CBS. "The team at Vogue ... felt the more informal image captured Vice President-elect Harris' authentic, approachable nature — which we feel is one of the hallmarks of the Biden/Harris administration," the magazine told the news outlet.
Harris' Vogue cover should not be controversial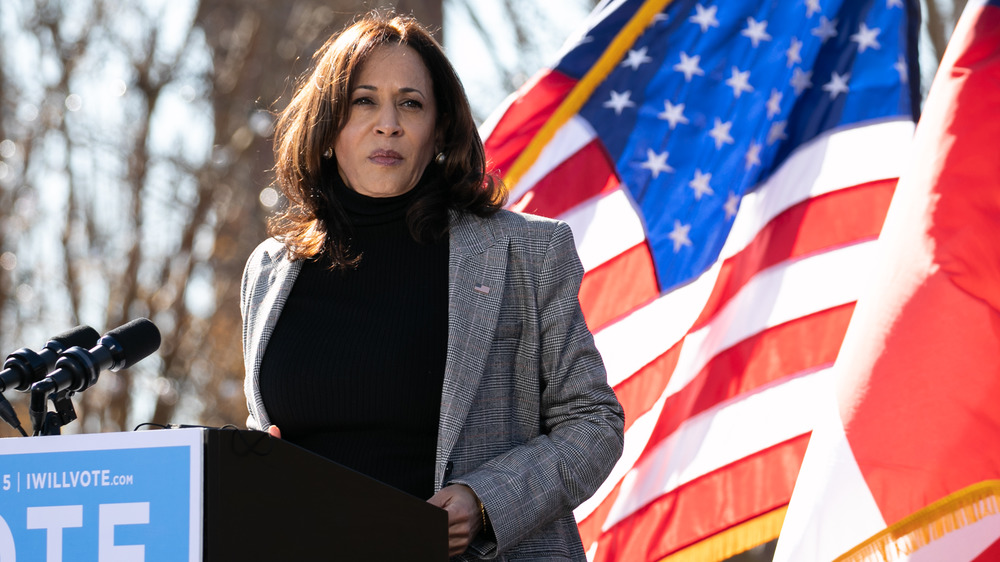 Jessica Mcgowan/Getty Images
Kamala Harris' office has so far declined to comment on the cover controversy. The next vice president of course has more pressing matters to deal with, specifically the nation's unprecedented coronavirus surge and the aftermath of the deadly U.S. Capitol attack. This said, it's confirmed that her team learned of the cover choice at the same time as the rest of the world, via Twitter (per The Los Angeles Times).
In addition to photographer Tyler Mitchell and chief editor Gabriella Karefa-Johnson, the writer of Harris' Vogue cover story, Alexis Okeowo, is also Black. The publication looks to have been heedful in how it went about handling Harris' historic cover/story, and yet with its unveiling, has only prompted backlash. Between the two Mitchell images, the choice is clear as to which should appear on the inside — at least to everyone other than the Vogue team it would seem. As Vogue itself quoted in its tweet of Kamala Harris' cover story, the 46th veep said of her history-making win, "I always say this: I may be the first to do many things — make sure I'm not the last."
The bottom line is that this should not be a controversy at all today. Rather, the public should be celebrating Kamala Harris' first Vogue cover and discussing what she shares in her story, in her own words, as a historic Inauguration Day approaches on January 20. All Vogue had to do was respect Harris' choice: that's all it had to do. Instead, it made the executive decision to override it.