How To Recreate Julia Roberts' Iconic 90's Curls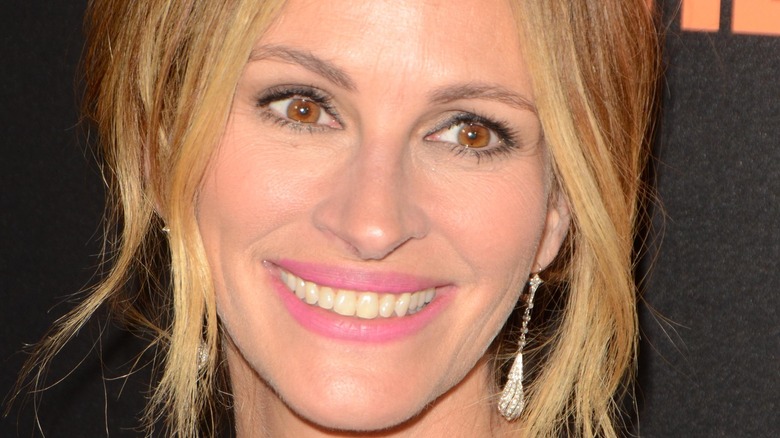 Kathy Hutchins/Shutterstock
If there's anything that we've noticed about style and beauty, it's that if a trend was in once, it'll inevitably circle back and become popular again. Recently, trends in both beauty and fashion from the 1990s have come knocking on our doors begging us to let them in. Frankly, we don't hate it. Who doesn't love that look of the '90s style? It was the epitome of grunge, carefree flair. We all miss the good old days, right?
Back in the '90s, we had style icons that we truly looked up to and worshiped for all of their best looks. From Drew Barrymore to Gwen Stefani, there was something for every girl in that glorious decade (per Marie Claire). Aside from the baggier jeans and flannels, we all had those signature hair and makeup looks we were dying to replicate. Who can forget Julia Roberts' luscious curls? (via Refinery29). That head of hair was every girl's dream, especially after we all became obsessed with "Pretty Woman." So, how can you get the effortless '90s hair trend look without going full-on perm at the salon? 
The natural way to get Julia Roberts' curls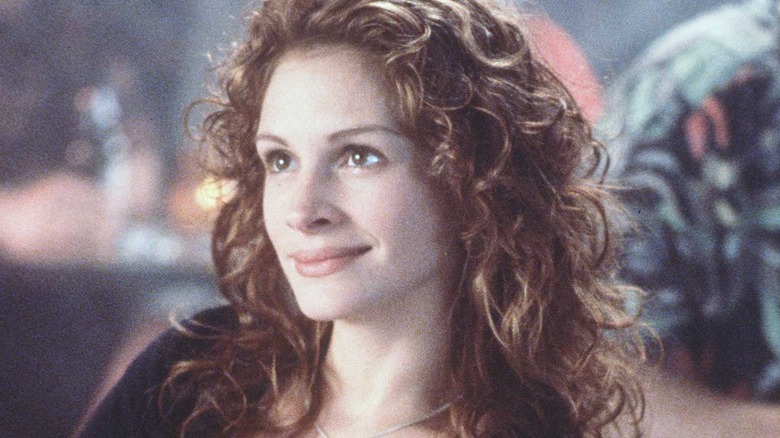 Getty Images/Getty Images
Any stylist will tell you that recreating Julia Roberts' signature '90s curls would require a really good perm, but not everyone is down to damage their hair with perm treatments or excessive heat. Let's face it, we're all looking to keep our locks as healthy as humanly possible. Fortunately, if you want to channel these curls in your own hair, there's a way to get them done without the whole perm process.
According to the popular college website Her Campus, you can use some everyday items you have at home to master this look with ease. One way to accomplish the Roberts' curls involves using your own fingers to form the tightly set coils. The "cocoon method" requires you to take sections of your hair and literally twirl them around two fingers at once. Then, wrap the rest of your hair around the section on top of your two fingers. Basically, you create a cocoon out of your hair naturally.
The longer you keep your hair in this cocoon sac, the better the curls will come out. A bonus tip is to use curling products or to wet your hair to "activate" the curls first, per Her Campus. You can even get curl-activating products to help with this heatless process.
If the cocoon method doesn't work, try this instead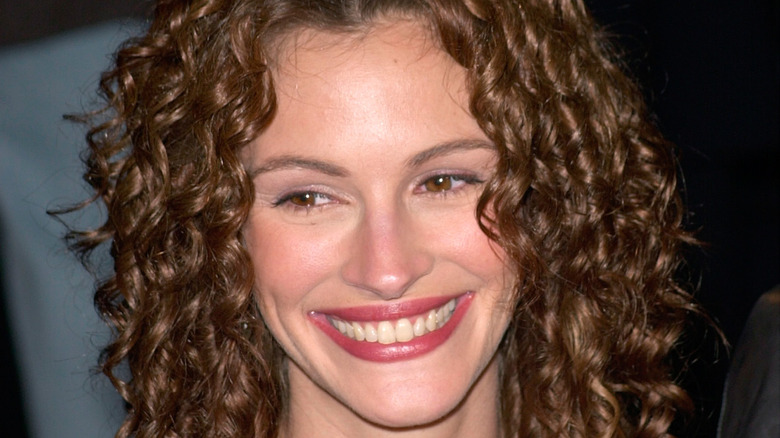 Featureflash Photo Agency/Shutterstock
If the finger curls aren't working out for you, there are other tricks you can try instead. Buying some good foam curlers can be a great way to achieve those flawless '90s curls without any heat. While our grandparents may have used a heater to prep their curlers, today, many hairstylists use heatless, foam curlers to get those perfect ringlets. You can put foam rollers in place while your hair is wet and fresh from the shower. Sleep with the rollers in and allow your hair to form the curls as it dries overnight.
When all else fails, get to scrunching! Scrunching is something we're all familiar with — many of us can still remember our hair mousse days from middle school. Expert hairstylist Luke Hersheson told Vogue U.K. that to get the "effortless," natural look, you want to do "lots of scrunching and lots of air-drying." The less heat, the better. Doesn't that sound like a dream? If you have a microfiber towel, it's a total help in terms of getting that frizz right out. Before you know it, you'll be transported back in time to the better days of the '90s.