Did Kourtney Kardashian Really Not Invite Her Kids To Her Wedding?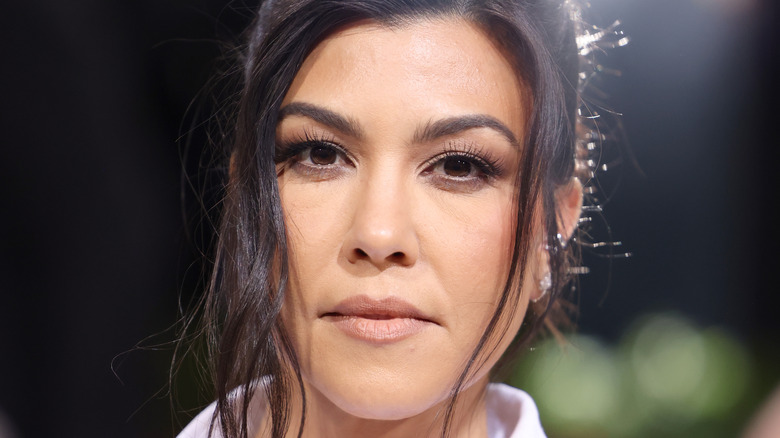 John Shearer/Getty Images
The first wedding was just for fun. Now it seems Kourtney Kardashian and Travis Barker are legally wed. Back in April, the reality star chronicled her Las Vegas nuptials to the Blink 182 drummer, complete with "an Elvis" and captioned the lovey-dovey shots, "Practice makes perfect," thereby confirming that the wedding was not official.
TMZ is reporting that the Hulu couple got married for real in Santa Barbara, California this past weekend. The outlet shared photos of Kardashian and Barker leaving their courthouse ceremony in a car with a sign that said "Just Married." She's in a short, white wedding dress and he's wearing a suit. But where was the rest of the family for the big day — including the reality mom's three kids she shares with ex Scott Disick?
First, remember how Mason, Penelope and Reign were not invited to the engagement party that included the rest of the Kardashian and Jenner clan as well as Barker's children (via Today)? Did their famous mom decide not to include them again?
Kourtney Kardashian's kids will be on hand for her third wedding
Page Six reports that Scott Disick chronicled his weekend with his kids whom he shares with Kourtney Kardashian via his Instagram Story, leading fans to conclude Mason, Penelope and Reign were not with their mom on her courthouse wedding day. Indeed, it looked like a pool day and some horsing around was taking place for the Disick kids while their mother said "I do" to Travis Barker in Santa Barbara.
To be fair, TMZ reports that Kardashian is planning a big wedding in Italy which will include the entire family. And, we didn't spot any of the oldest sibling's sisters or mom in the photos published by the outlet, nor were Barker's kids on hand for the courthouse nuptials, judging from the initial photos.
The Daily Mail confirms the Italian affair will include all of the star couple's family members. Although we don't yet know exactly when the romantic third wedding will take place, a source told People over the weekend about the lovebirds, "They had to legally get married first ahead of their big Italian wedding, which is happening very soon." The source added, "All the details are set and the whole family, including all the kids, are very excited."