Nicki Minaj's Natural Hair Has Everyone Saying The Same Thing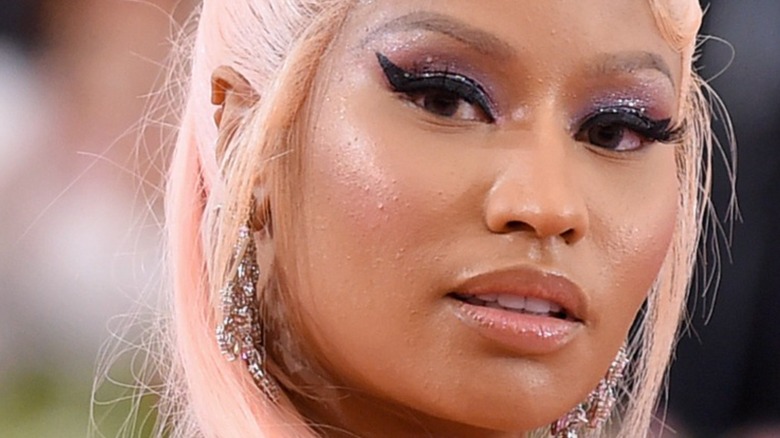 Jamie Mccarthy/Getty Images
Nicki Minaj's hair journey has been a colored one. When the 10-time Grammy-nominated rapper shows up to an event or performance, there's a 99% chance that her hair will be as elaborate as her costume. The new mom is equal parts performer and beauty icon — her hair and makeup make as much noise as her music does. Even her wig and make-up free moments trend online.
Minaj told Allure that her massive wig collection clocks in at 100, and is an extension of her mood. The "Roman's Revenge" rapper even teased her musical alter egos to the entertainment outlet and how she uses her wigs to reflect their differing "personalities."
Minaj dominates every red carpet she steps foot on, intricate hairstyle or not. She won the 2017 Met Gala with her sleek locks and on-theme accessories, per Cosmopolitan. Nylon dubbed her blond and pink split colored wig from her 2011 "Super Bass" music video as one of her most defining looks from her "Pink Friday Era." 
The "Beam Me Up Scotty" rapper uses her hair as a form of creative expression, but she makes just as many waves whenever she rocks her natural hair.
Nicki Minaj's surprising length check made everyone do a double take
Nicki Minaj rarely shows off her natural hair, but when she does, it's bound to get everyone's attention. In November 2020, she turned to Instagram to post a surprising shot of her thick and long natural hair, then asked her followers if she should get a perm. Her comments section went wild at the reveal. Many people celebrated her for her "natural hair moment," per Allure.
Minaj shocked fans again with a follow up of her natural hair journey. On May 16, she showed off her long hair in a series of Instagram videos. She switched up her look and tied her hair back in a ponytail, complete with slicked back edges. The music icon was in a playful mood as she captioned her post with a short rap about her trimmed locks. Her caption also referenced her previous question about possibly perming her hair. 
The compliments poured in. One user praised her healthy locks, writing, "That's that good moisturized scalp!!" Another user gave her advice on protective styling, writing, "[D]on't put no perm in your head mother!! [D]o a Silk Press, it's healthier for your hair." Minaj followed up her post two hours later with another video showing off her length check, effectively shutting down haters who questioned whether it was real.