Ice-T Reveals How He Wants His Plotline To End On Law And Order: SVU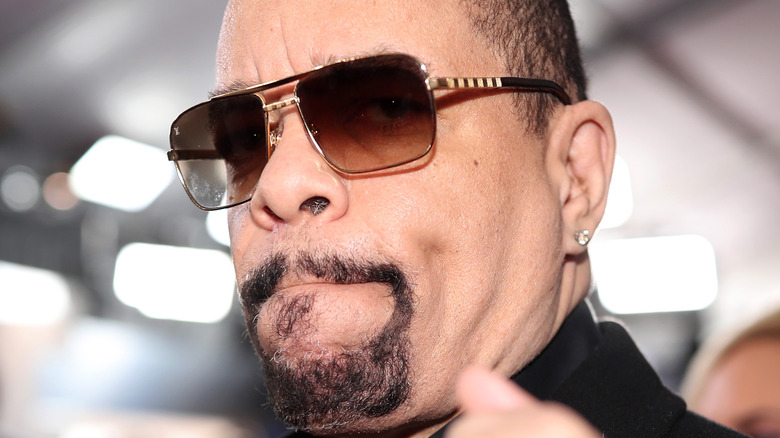 Christopher Polk/Getty Images
In February 2022, rapper, actor, and reality star Ice-T took to Twitter to share before-and-after shots from his first and most recent appearances as Sergeant Odafin "Fin" Tutuola. "My first scene on SVU... 23yrs ago. Detective to Sergeant," he wrote alongside them. Funnily enough, in an interview with Access Hollywood the previous year, Ice revealed Fin was originally only supposed to appear in four episodes of "Law & Order: SVU." The "Ice Loves Coco" star had previously worked with executive producer, and "Law & Order" creator, Dick Wolf on "New York Undercover" and "Exiled," describing Wolf as a "mentor" to him.
These days, Ice is more focused on acting than music, though he told The Desert Sun if the moment was right, he'd consider recording something. The rapper caused major controversy when Body Count, his popular heavy metal band, released their infamous song "Cop Killer." Naturally, then, playing a member of law enforcement on TV might seem contradictory to long-time fans. As Ice explained, "I don't have a problem with cops, I think they're human ... The problem is a lot of times you're putting too much power into a human's hand, and humans are flawed." Indeed, he's brought much of that inner tussle to his portrayal of Fin. 
Fin Tutola no longer says his famous "Law & Order" catchphrase, but he remains a total fan favorite. And, if Ice ever decides to walk away from him, this is how he wants to see Fin go.
Ice-T wants Sergeant Tutola to get a fitting send off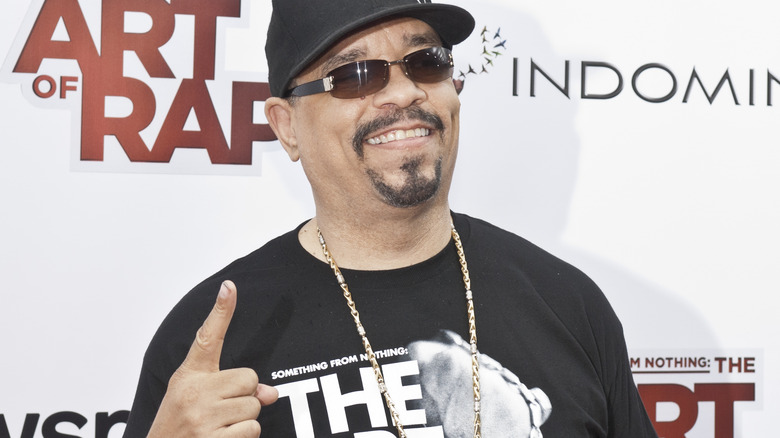 lev radin/Shutterstock
Rapper turned actor Ice-T has been a key part of "Law & Order: SVU" for more than 20 years but, naturally, he can't stay on the show forever. In an exclusive interview with Mashed, Ice explained how he'd like to see his beloved character exit "SVU" if and when the time comes. "If I got to go, I want to go in a blaze of glory. Blow me up in a car. I want to be murdered!" Ice opined.
Otherwise, there aren't any particular storylines he envisions for Fin, with the "Law & Order" stalwart reasoning he's there to do his job and trusts the writers to do theirs. If the legendary rapper tried to stick his oar in, the ensuing episode would probably be garbage, as far as Ice is concerned. However, if Fin does leave "Law & Order" at some stage, that doesn't mean the end of the road.
As Ice explained, "[I'm] in the Wolf Universe ... 'Law & Order' could end and I could be climbing a ladder on 'Chicago Fire.' I could be over on ['Criminal Intent']." Fans can rest assured he has no plans to move on any time soon, though. The reality star is under no illusions about the kind of work he's doing either, telling The Press-Enterprise, "The one thing about acting is you're acting. I call acting grown-up make-believe and that's all it is."
Playing a cop really didn't appeal to Ice-T at first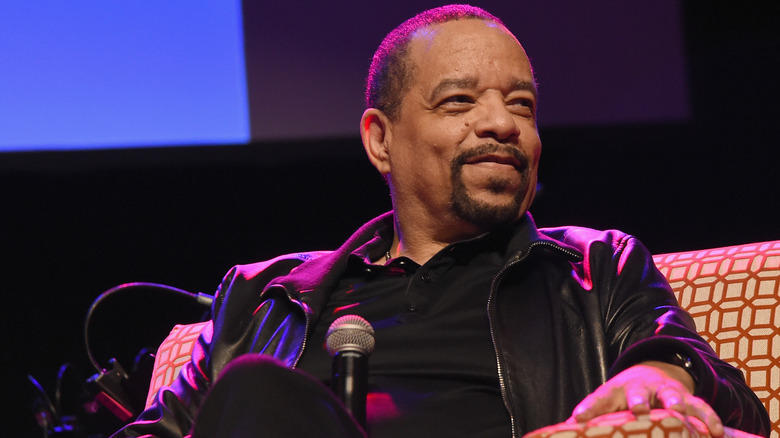 Rick Diamond/Getty Images
Ice-T has been playing Fin since Season 2, but it's worth noting the gangster rap icon initially didn't want to portray a police officer — for obvious reasons. While chatting to Vice, Ice admitted he'd had a discussion with "Law & Order" creator Dick Wolf early on about his issues with cops. Wolf reasoned that the world needs the police to keep things in check, and advised the rapper to "play the cop we need." As Ice explained, "So that's what you're really seeing. It's kinda like, if I was a cop, that's how I'd act."
The musician turned actor also pointed out that, if he has to play a policeman, at least Fin is someone who's collaring the worst of the worst, with Ice noting there's no "gray area" with "SVU." After more than two decades on the show, the rapper is comfortable playing Fin. In a 2018 interview with Seth Meyers (via YouTube), he shared, "I think the best thing about our show is, everyone on our show that we work with is so wonderful. It's easy."
In fact, working on "Law & Order" is so fun that it doesn't even feel like he's been there so long. After all, as the old adage goes, if you love what you do, you'll never work a day in your life, hence why Ice-T has remained on "Law & Order" full time all these years later.