What Are RuPaul Charles' Pronouns?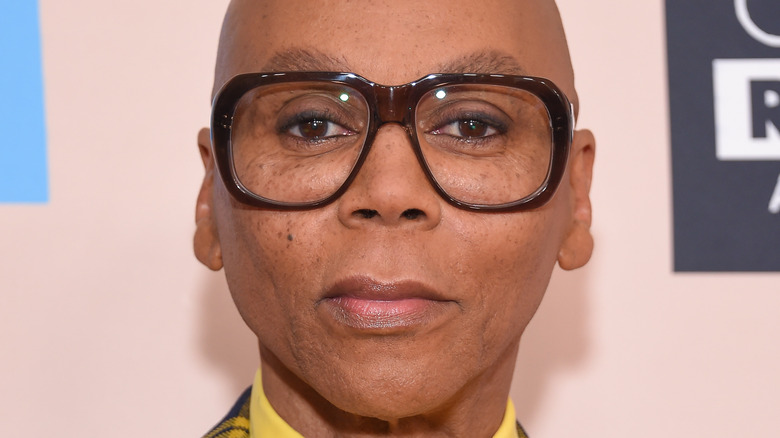 DFree/Shutterstock
"RuPaul's Drag Race" has seen hundreds of drag queens transform into full-blown superstars, and none of this exposure and success would be possible without the name behind it all: RuPaul Charles. The New York City-based drag performer originally rose to fame with the 1992 release of the instant hit song "Supermodel (You Better Work)" and RuPaul soon became a global sensation, per an interview with The Guardian. With the 1993 release of the full "Supermodel" album, a deal with MAC cosmetics, and an autobiography published in 1995, RuPaul was a bonafide culture-maker by the mid-90s and expanded business ventures throughout the following decades.
RuPaul created "Drag Race" in 2009 as a send-up of "America's Next Top Model," per The Guardian. When the interviewer asked about the meaning behind the drag, RuPaul told the outlet, "For people to do drag and make it their profession in a male-dominated culture, they have to go through so much emotional tug-of-war, because society says, 'You're not supposed to do that.' So, the strength and humanity it takes to maintain yourself and your dreams create many different layers of consciousness. That's where the humanity comes from." 
Though RuPaul's comments in the interview were originally open-minded, the star soon ran into roadblocks that would upset the trans community and alienate fans.
RuPaul has gotten into hot water for his comments on transgender drag queens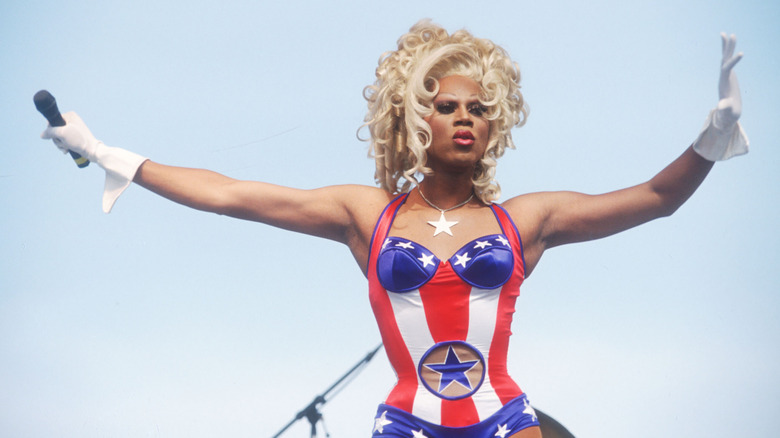 Porter Gifford/retired/Getty Images
In RuPaul Charles' 1995 autobiography, published in the early days of his fame, the star wrote, "You can call me he. You can call me she. You can call me Regis and Kathie Lee; I don't care! Just as long as you call me." (via Distractify). This flexible attitude toward gender and presentation is also evident in the star's  Twitter bio; "You're born naked & the rest is drag."
To further confirm RuPaul's fluid use of pronouns, when a fan wrote that they were upset by news outlets gendering RuPaul with male pronouns, the star tweeted, "If the intention is love, I don't give a sh*t about pronouns. We are everything & nothing at all."
Despite these comments, when an interviewer asked if he would allow trans women to compete on "Drag race" RuPaul told The Guardian that it was unlikely for the show to cast a trans woman who had undergone a physical transition. Fans felt the statement disrespected the identity of trans women.
The host also shared, "Drag loses its sense of danger and its sense of irony once it's not men doing it because at its core it's a social statement and a big f-you to male-dominated culture. So for men to do it, it's really punk rock, because it's a real rejection of masculinity." The star seemed to fear that this cultural subversion would be lost if the dichotomy between the hyper-feminine presentation and a traditionally masculine actor was not evident, thereby reinforcing the gender binary the show was made to disrupt. 
RuPaul set the record straight on Drag Race's Casting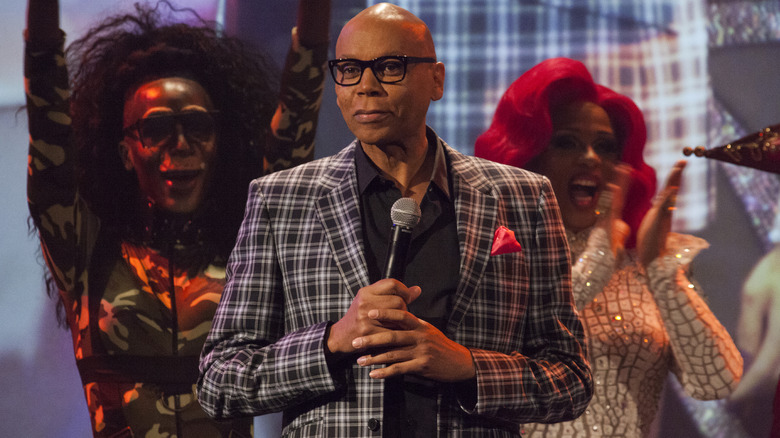 Santiago Felipe/Getty Images
However, since these statements, it seems that RuPaul Charles came to understand that it's possible to reject traditional ideas of gender from any positionality. The star apologized for his comments and clarified that he will be working toward broadening "Drag Race" as an inclusive space for drag queens of a range of identities. In a now-deleted tweet, he wrote, "Each morning I pray to set aside everything I THINK I know, so I may have an open mind and a new experience. I understand and regret the hurt I have caused. The trans community are heroes of our shared LGBTQ movement. You are my teachers" (via Entertainment Weekly). He followed up with a statement about the casting process for the show, writing, "In the 10 years we've been casting Drag Race, the only thing we've ever screened for is charisma uniqueness nerve and talent. And that will never change."
RuPaul has since made adjustments to the "Drag Race" formula that back up his espoused support of the trans community. Per Popbuzz, RuPaul changed the opening lines before the series' runway show — "Gentlemen, start your engines, and may the best woman win," — to "Racers, start your engines, and may the best drag queen win!" The show has also featured queens from a range of identities, including non-binary contestants, trans women, and trans men.