Taylor Swift Referenced One Of Her Fearless-Era Songs In NYU Graduation Speech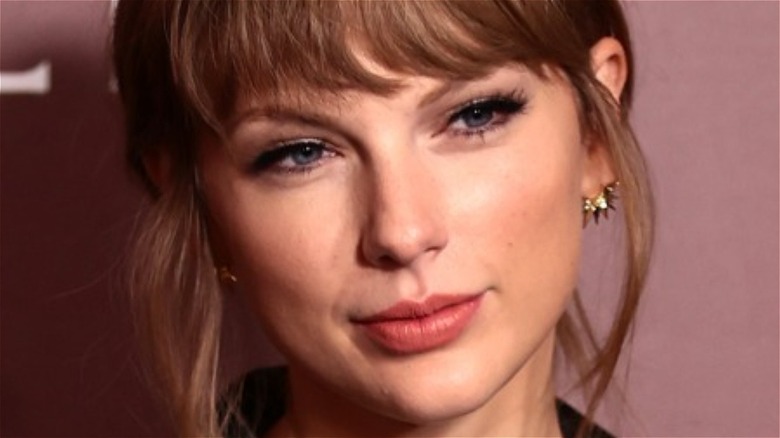 Dimitrios Kambouris/Getty Images
Taylor Swift keeps hitting milestone after milestone. The 11-time Grammy winner and most awarded artist at the American Music Awards are a few of the accolades she has accumulated over the years, per Billboard. Presented with the legendary Hal David Starlight Award in 2010 (complete with an induction into the Songwriters Hall of Fame), Swift's musical genius has made her one of the most successful and influential artists in the world.
As Taylor Swift continues to transform with every musical era, her impact on the pop industry is indisputable. According to Billboard, her 2022 re-released single "All Too Well (Taylor's Version)" earned her the honor of having the longest-running No. 1 song on the Billboard Hot 100 charts. There's a reason why her re-released albums are doing so well — the fans are ready to hear what she has to say.
But Swift's influence isn't limited to her music, lyrics, or social media presence. In May 2022, Swift added an honorary degree for "Doctor of Fine Arts" and commencement speaker to her repertoire thanks to New York University.
Taylor Swift was fearless during her NYU graduation speech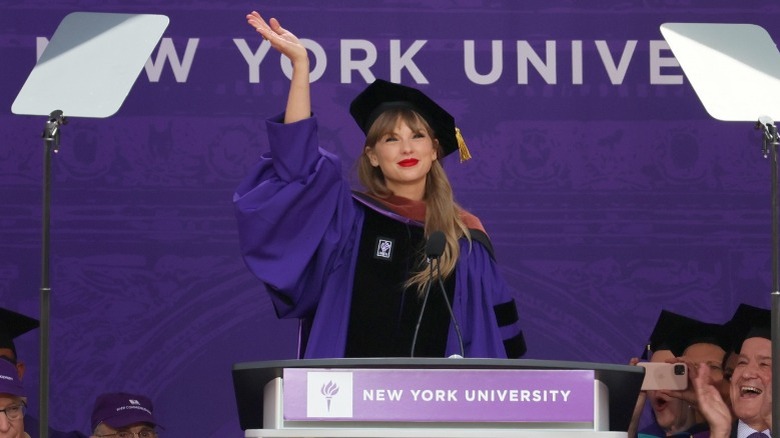 Dia Dipasupil/Getty Images
NYU's 2022 graduation went off without a hitch. On May 18, Swift shared her wisdom with the class of 2022 in her commencement speech, per Pitchfork. Per TMZ, the ceremony took place at the famous Yankee Stadium. As she addressed the NYU graduates, perseverance, community, and dream chasing were recurring themes. 
The "Lover" singer opened up about her personal education journey that, while different from the students sitting in the audience, still resonated with many. "I never got to have the normal college experience, per se," Swift stated, via Pitchfork. "I went to public high school until tenth grade and finished my education doing homeschool work on the floors of airport terminals. Then I went out on the road on a radio tour, which sounds incredibly glamorous but in reality it consisted of a rental car, motels, and my mom and I pretending to have loud mother daughter fights with each other during boarding so no one would want the empty seat between us on Southwest."
Though Swift's unconventional schooling didn't deter her from following her dreams, she has admitted in the past that it's all a part of her plan. She told Marie Claire that her goal is to attain a college degree one day. Mission accomplished — even if it is honorary!
This iconic song made it into her speech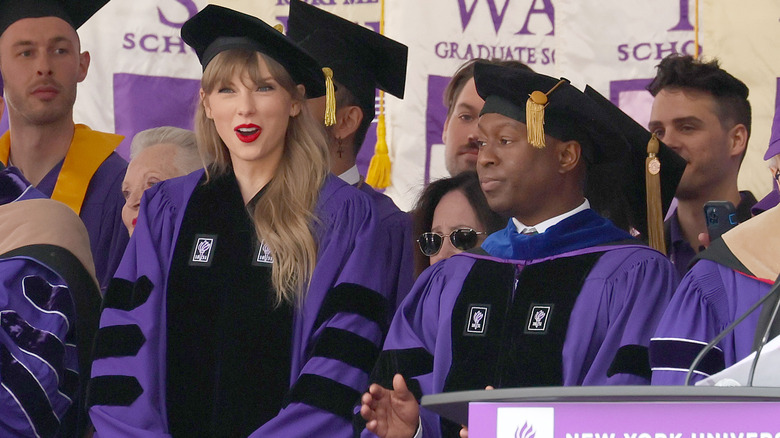 Dia Dipasupil/Getty Images
Forever the master of Easter eggs, Swift also cleverly referenced her smash single "Love Story" in her speech, per Pitchfork. She spoke freely about her past dream of going away for school and getting the full college experience, before sharing how these aspirations inspired the music video for the song. 
"I even set the ending of my music video for my song "Love Story" at my fantasy imaginary college where I meet a male model reading a book on the grass and with one single glance, we realize we had been in love in our past lives," she explained. She then quipped, "Which is exactly what you guys all experienced at some point in the last four years, right?"
Throughout her speech, Swift sang the graduates' praises for earning their degrees during a global pandemic, and being able to roll with the punches.