Why Kim Kardashian Is Finally Winning Online Praise After Weeks Of Bad Press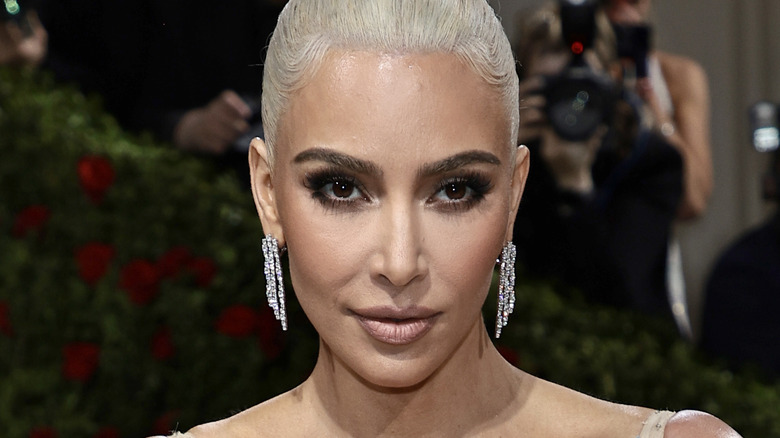 Dimitrios Kambouris/Getty Images
Kim Kardashian is always in the news but the headlines have not been complimentary of late. First, historians and the creator of Marilyn Monroe's dress himself bashed the reality star for donning the famous garment to the Met Gala (via EW).
Then, fans came for Kardashian once it was announced that she had been chosen to cover the 2022 Sports Illustrated Swimsuit edition, with many people calling her out for looking overly-photoshopped. In fact, Twitter got vicious with its criticism of the mogul, with one person declaring whoever put her on the cover should "be fired" and claiming her inclusion represents everything that's wrong with our society. Ouch.
But after weeks of unflattering news stories, Kardashian is winning with fans again. This week's episode of "The Kardashians" saw her getting life-changing news that she'd passed the baby bar — in the parking lot of Red Lobster! Fans were loving this down-to-earth moment and what's more, they are now largely praising Kardashian for her work behind the scenes to help marginalized members of society.
Fans praise Kim Kardashian for her work behind the scenes
On the episode featuring the Red Lobster moment, fans also saw Kim Kardashian having a heartbreaking conversation with inmate Brandon Bernard (via Bustle). Although the star has helped to overturn the sentences of more than a dozen prisoners, this accused murderer was ultimately killed via lethal injection.
"This is why I do what I do, because the system is so broken," the star explained during the episode. She added her goal is to share the process and opined that the death penalty is "inhumane." Kardashian also told viewers, "I have to fight harder to make sure this doesn't happen to someone else."
Fans on social media were largely impressed after seeing this side of the star we are more accustomed to associating with glam and undergarments. "Y'all can say what y'all wanna say about Kim Kardashian but at the end of the day you can see Kim genuinely cares about the people she is helping. She is most definitely going to change a lot of [people's] lives and I am here for it!!" tweeted one person.
Someone else reminded us about her role in helping Julius Jones to be granted clemency in 2021 (via NPR). And as one person also tweeted, the star deserves more "recognition" for her work to help death row inmates, especially now that she's officially a lawyer.