Was Kim Kardashian's Sports Illustrated Cover Photoshopped?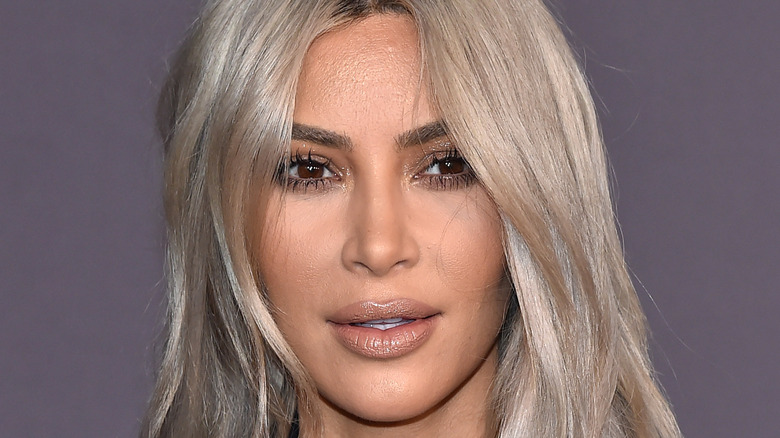 DFree/Shutterstock
After it was announced that reality star Kim Kardashian had landed the cover of the 2022 Sports Illustrated Swimsuit edition, Twitter definitely had a lot of opinions. Many people displayed disappointment with the choice to feature the mom of four. One fan called her inclusion in the iconic issue an "embarrassment." Another Twitter user even called for a boycott of the issue. Then, social media users began weighing in en masse that the photo of Kardashian looked filtered and photoshopped.
This is far from the first time the famous family has been accused of doctoring photos, with Khloé even recently admitting to a photoshop fail involving her daughter, True. In fact, some fans are obsessed with finding evidence of an altered image, with amateur sleuths pointing out instances like when the SKIMS founder seemingly photoshopped the carpet in a post featuring herself with boyfriend Pete Davidson (via Marie Claire).
Given this level of photo scouring by fans, it should come as no surprise that the details some are alleging were altered in the Sports Illustrated shoot are extremely specific.
Fans and experts debate the likelihood that Kim Kardashian's cover was photoshopped
Taking to Twitter, fans who saw Kim Kardashian's Sports Illustrated Swimsuit edition cover immediately detected some heavy editing. One person called the magazine's editing job "shamefully bad," while someone else tweeted "the amount of photoshop in this is cringe." Another nonplussed individual noted that the reality star is the "queen of photoshop."
Beyond fans simply floating the idea that the cover had been altered on social media, a photographer and photo editor named Gabriella Csapo backed up their claims, telling the New York Post, "From a professional standpoint, you can look at [the picture] and just know that there's photoshopping that's been done."
Specifically, Csapo notes that Kardashian's nose looks like it was altered to appear more narrow. The star's hairline also looks suspiciously perfect according to her, with the photographer adding that the Hulu star's skin appeared more "buttery" than it could possibly be with being digitally enhanced.
Despite the rampant criticism, Kardashian enthused how proud she is of the opportunity, sharing on Instagram that making the cover was "an honor and a dream." It's also worth noting that according to a 2020 survey, most people assume magazine photos are digitally altered.