What Happened Behind The Scenes During Valentina's 'I'd Like To Keep It On' Drag Race Snafu?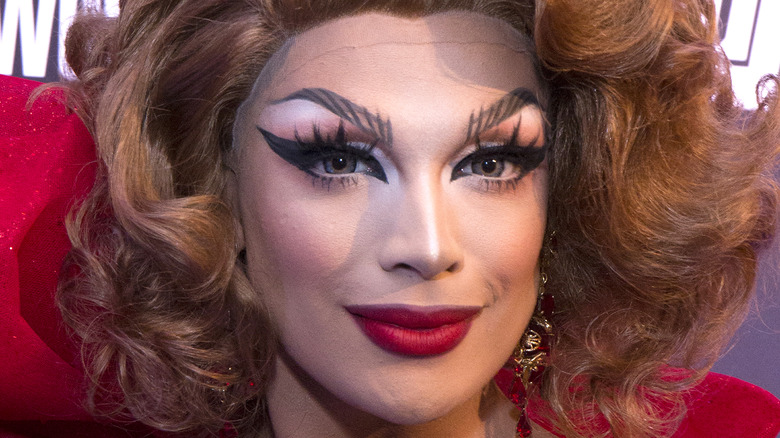 Santiago Felipe/Getty Images
Competing on "RuPaul's Drag Race" can be problematic, particularly for those queens who are slightly more divisive. Take Valentina, whose Season 9 exit was one of the most dramatic eliminations in "Drag Race" history. Likewise, as Cheat Sheet notes, when she was crowned Miss Congeniality at the reunion, the rest of the cast kicked off. Farrah Moan revealed she hadn't heard from Valentina since they wrapped, despite the duo being close friends during their time on the show, while Aja claimed Valentina didn't deserve the honor in the first place. It was such a massive upset, in fact, host RuPaul Charles subsequently ensured the contestants voted for Miss Congeniality rather than the fans. 
Valentina admitted, during an appearance on "Hey Qween," that she'd received major backlash from the drag community after seemingly cultivating a reputation for being a diva. "There's something about the way that I do things that either irritates people or people just live," she reasoned. Valentina was believed to be the subject of an anonymous post, later revealed to be about several queens, and as a result, even her fans revolted. The "Drag Race" star was left feeling stressed out and eventually took some time off. Valentina has bounced back exponentially since "Drag Race," however, from starring in "Rent" to competing in "All Stars 4," establishing her as an icon in her own right.
Meanwhile, Valentina's elimination remains totally iconic, especially considering how it really went down behind the scenes.
The infamous moment was even more awkward in the room
It's one of the most iconic moments in "Drag Race" herstory, as Screen Rant notes. The Season 9 lip-sync face-off between Valentina and Nina Bo'nina Brown began with the former's face covered by a mask, forcing RuPaul to stop the music and ask her to take it off — since it's a lip-sync, so Valentina's mouth had to be visible for judging purposes. After Valentina infamously stated, "I'd like to keep it on, please," Ru demanded she remove the mask before continuing. And, if you can believe it, being there was even more awkward than watching at home.
Speaking on NikkieTutorials' YouTube channel, "All Stars 5" winner Shea Couleé, who also competed in Season 9 with Valentina, shared how the mood in the room plummeted. "After she said: 'I would like to keep it on, please,' you could tell the physical reaction RuPaul had to that because she snapped back at her like: 'So I stopped this lip-sync for nothing,'" she revealed. Valentina got a shock, too, since she'd been a favorite to win and the judges clearly adored her, "So, she literally froze and just stood there staring at RuPaul blankly, and RuPaul was like "Hello?'"
Similar to RuPaul's feud with Pearl, which was characterized by a workroom stare-down, Shea admitted, "There was just this stand-off, this awkward silence... It was insane." Naturally, the rest of the cast was gagged as they watched from the back of the stage.
Does Valentina regret what happened on Drag Race?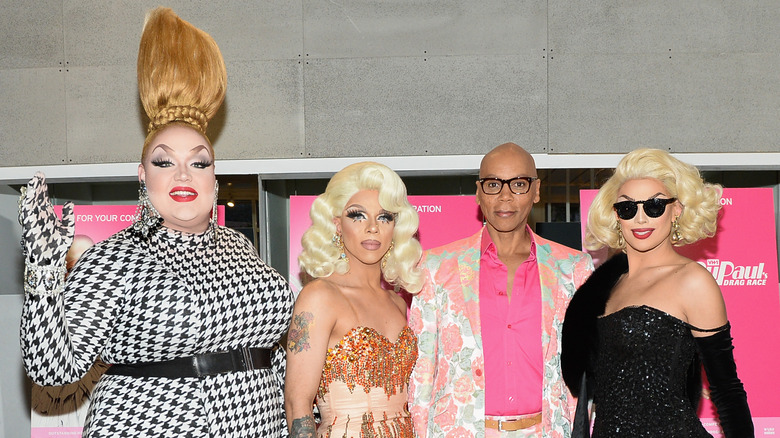 Tara Ziemba/Getty Images
Valentina's "I'd like to keep it on, please" snafu was so iconic it actually became a meme during the COVID-19 pandemic, as people fought to protect themselves in the face of anti-maskers. "Drag Race" production company World of Wonder even sold a special cloth mask emblazoned with the phrase, to capitalize on its renewed popularity. In an interview with Entertainment Weekly, Valentina admitted she didn't want to take the mask off because she didn't know the lyrics to the song. And, despite being disappointed by her elimination, the Season 9 star acknowledged, "In that moment, I did deserve to be in the bottom." 
Much like Shea Couleé, Valentina felt the atmosphere in the room change when RuPaul stopped the track. However, the performer doesn't regret anything from her time on "Drag Race," asserting she can only learn from it. Valentina shared, "In that moment I lost all control, so for moments like that I've learned to embrace my perfectionistic qualities and to see them more as an asset, to make sure that I'm always prepared ... and to always live in the moment and realize what I have in front of me." Speaking to Interview magazine about why she came back for "All Stars," Valentina confirmed it was solely to make her fans proud. 
It might have been a long road to get here, but the "Drag Race" breakout has more than redeemed herself.