Are Viral Colorwash Shampoo Products Worth It?
Coloring your hair can be a lot of fun and a refreshing change. If you are bored with your hair color, changing it up can freshen up your look, and you can feel like a whole new person. Are you struggling with dull, flat hair? Well, hair color can help with that. Clairol Color Consultant Luis Pacheco told Elle Canada, "Colouring your hair can emphasize texture and add luster to bring back your hair's shine due to overexposure." Some hair dyes have volumizing ingredients that help your hair look fuller, and bonus, your hair always looks shiny after a color job. Also, updating your hair color can make you look so much better if your natural hair color does not flatter your skin tone.
Getting your hair colored professionally can be such a treat but not always great for your wallet as they can cost you a few hundred dollars. Thankfully, there are salon-quality box hair dyes available for all the thrifty babes without the hefty price tag. However, when you color your hair with a permanent or demi-permanent hair dye, you change the protein structure of your hair, which could result in weakening and damaging your hair (via Healthline). That's where color depositing shampoos come in because, according to AMR, their pigments "are not as strong as hair dye" and can be a safer option to change up your hair color without the same level of hair damage.
Celeb Luxury Viral Colorwash shampoo can strengthen your hair
Most color depositing shampoos can tone and tint your hair with a slight color change, but this shampoo might be perfect for you if you want a more drastic change with minimal damage. If you are looking to experiment with some bright colors without the long-term commitment or damage of a permanent hair dye, you might want to check out Viral Colorwash shampoo. According to Celeb Luxury, their Original Colorwash Color Depositing Shampoos line adds semi-permanent color in vivid and pastel shades to blonde and brunette hair. They have a build-in Bond Rebuilder that helps "strengthen, repair and hydrate" hair every time you shampoo, and it only takes 2 to 5 minutes. The brand considers itself a "Clean Beauty Hair Color" made with plant-based ingredients and is completely vegan and cruelty-free. This Original line has 11 colors to choose from. They also have a Gem Lites collection in 10 shades to brighten natural hair colors. Each bottle retails for $35 on Amazon for 8.25 fl. oz.
Their site boasts an impressive 4.6 out of 5 stars, with one review stating, "I made my daughter's pink hair dreams come true." This shampoo has an average rating of 4.3 out of 5 stars on Amazon, with one of the reviewers gushing, "OMG, I love it! It's the exact perfect shade for a natural redhead, it just makes it more vivid, brighter, but not that fake-looking red."
Viral Colorwash shampoo is rated among the best color depositing shampoos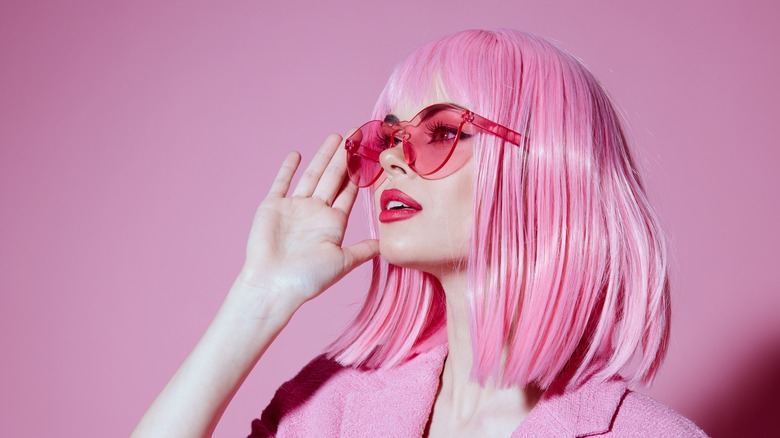 ShotPrime Studio/Shutterstock
The Viral Colorwash shampoo is safe enough to use daily to refresh and maintain bright and natural hair colors, and several beauty sites are impressed with the results. Byrdie has chosen this shampoo as the best overall color depositing shampoo because you get a ton of color options like electric blue and soft orange. Unlike other hair colors, it also strengthens and hydrates your hair with every wash. If you want to go brighter and bolder, you can reuse it till you get the color you want.
Cosmopolitan considers it the best color-depositing shampoo for bright colors because "the bright pigments are intense" and show beautifully on people with lighter hair. Plus, they love how it comes in a 22 shade range. However, they do add that the Gem Lites are less pigmented than the Original. Women's Wear Daily has included this shampoo among the best because the bright pigments work as a "color-extending formula" to keep your tresses looking bolder for longer. If you use it on already colored hair, which is usually drier, the hydrating ingredients help keep your hair healthier. If you are looking for a fun way to update your hair color without all the potential damage of permanent hair dye. Whether you want vibrant colors like purple and green, or just want to brighten your blonde, brown, or red hair — this shampoo is totally worth the investment.