Katherine Schwarzenegger And Chris Pratt Share Happy Family News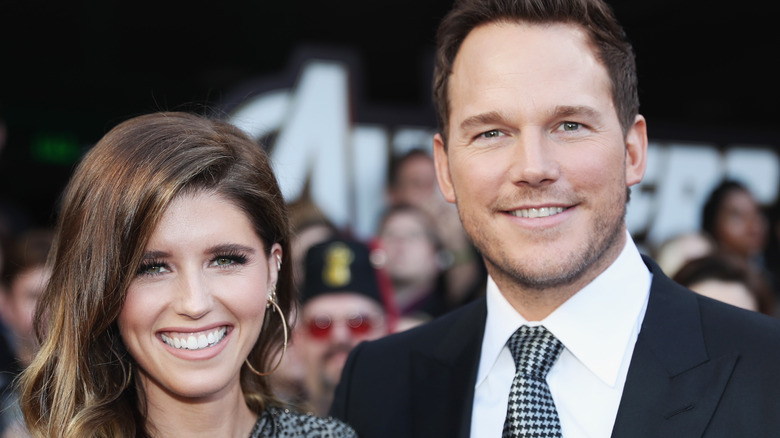 Rich Polk/Getty Images
Katherine Schwarzenegger and Chris Pratt are all about putting family first. The couple was introduced by Schwarzenegger's mother, Maria Shriver, in 2018 and tied the knot just one year later (per Us Weekly). Schwarzenegger's close relationship with Pratt's son, Jack, whom he shares with ex-wife Anna Faris, apparently played a big part in the actor's decision to pop the question.
"Instead of mostly enjoying solo, romantic dates, Chris' son from early on was a very big part of their dating life," an insider told People. "Katherine never minded that her dates with Chris many times involved a kid activity, like a matinee movie, or going to Disneyland. Katherine is like a big kid and loves doing activities with Jack. She loves that Chris is a dad." So, it came as no surprise that the couple didn't wait long to expand their family. One year after they wed, Pratt and Schwarzenegger welcomed a daughter, whom they named Lyla Maria, per People. 
"I've always wanted to be a mom and I have always really looked forward to this time in my life and been really excited about it," Schwarzenegger told the PEOPLE Every Day podcast. She added, "And I feel really just so blessed to be able to experience it and also experience it with my husband, and she's [Lyla] just the best."
Now, the couple is sharing the happy news that they have welcomed baby number two into the family.
Katherine Schwarzenegger and Chris Pratt have welcomed a second daughter
Katherine Schwarzenegger and Chris Pratt have welcomed a new addition to their family. The couple announced the birth of their second daughter — Eloise Christina — on Instagram. "Mama and baby are doing well," Pratt wrote about the baby's May 21, 2022 arrival. "We feel beyond blessed and grateful."
This is the third child for Pratt, who has revealed that his son, Jack, loves being a big brother. "He's really great with her. He just loves her. He's so gentle and sweet," the "Guardians of the Galaxy" actor told Entertainment Tonight about Jack's relationship with his stepsister, Lyla. "She always wants to pull his glasses off his face and he's very patient with her. You know, he's a great big brother."
While Schwarzenegger and Pratt were delighted to share the news of their newest daughter's birth, they likely won't be sharing a photo of the baby on social media anytime soon. After all, they've yet to share a picture of Lyla's face online. "I didn't grow up with social media being a thing at all. ... I feel like we share so much in today's world," Schwarzenegger told Hoda Kotb on Today. "I think one of the greatest gifts that my parents ever gave me and my siblings is the gift of privacy and having a really normal upbringing, or as normal of an upbringing as possible," she said.