Who Is The New Young And The Restless Star Allison Lanier?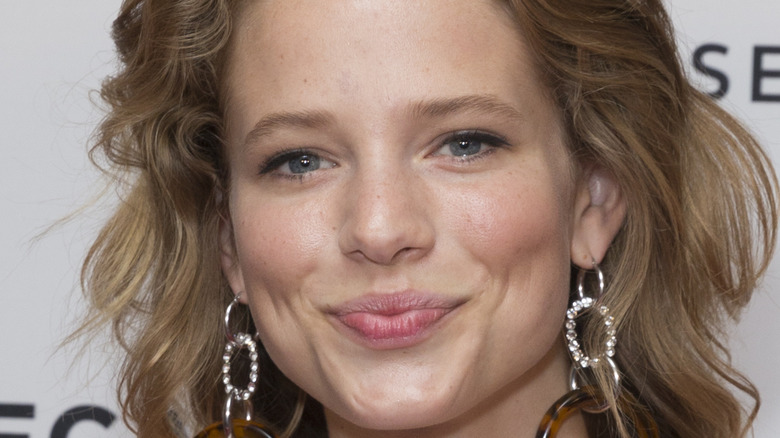 lev radin/Shutterstock
While Kyle Newman returned to "The Young and the Restless" and its fictional Wisconsin town of Genoa City when Michael Mealor made his comeback to the soap in April 2022 (via Soaps.com), his new wife, Summer Newman didn't join him until May, and when she did, she had a new face. Actress Hunter King had played Summer off and on from 2012 until 2021 (via Soaps In Depth) and that's who fans had been used to in the part, as she became a beloved member of the cast taking the character from her teenage years to young adulthood.
Alas, King decided to move on from the role and try new things in life. That prompted "Y&R" to put out a casting call for a new Summer in February (via Soap Hub). By April, the show finally announced that it cast the daughter of Nick Newman and Phyllis Summers with soap opera newcomer Allison Lanier (via Soap Opera Digest), who made her debut in mid-May (via Soaps.com).
A few facts about Allison Lanier
While Allison Lanier doesn't have any soap credits to her name, she did appear in the TV series "Red Oaks" in 2017 as Annabelle (via IMDb). However, as she readied for her big break as Summer Newman Abbott, Lanier had a few other jobs that still involved show biz.
According to Soap Hub, when Lanier lived in New York, she worked for a production company known as La La Land. She even sold old antiques and props for productions as a salesperson for NEWEL, another company in the Big Apple.
In addition to acting, Lanier is also quite the artist. Back in 2015, she showed off a drawing she made of two beloved family members. "Turned my great grandparents into a couple of cartoons," Lanier wrote next to a photo of her work on Instagram. It looks like Lanier may be as creative as her new "Young and the Restless" alter ego as Summer works in the fashion industry.
Allison Lanier makes a big soap debut
When daytime newcomer Allison Lanier brought legacy character Summer Newman Abbott back to "The Young and the Restless" in May 2022, she did so in a big way, surprising her family and friends at Mariah Copeland and Tessa Porter's big 70s-themed wedding, according to Soaps.com. After all, Kyle had earned his internet license and was officiating the wedding, so she wanted to be there with her husband. Lanier also looked as if she was thrown right into the fire her first week on the soap as Kyle and Summer shared a sexy love scene after the wedding (via Soap Hub).
So far, fan reaction to Lanier has seemed mostly positive, with one Twitter user saying, "Allison Lanier fits right in as Summer on The Young and the Restless."
Indeed, Lanier has already shown fans how much Summer has matured since leaving town last year to marry Kyle and become stepmom to his little boy, Harrison. It also looks like Lanier's Summer may have a new best friend in Jack Abbott's newfound granddaughter Allie Nguyen.