The Truth About Prince Harry And Meghan Markle's Unexpected Connection To Michael Jackson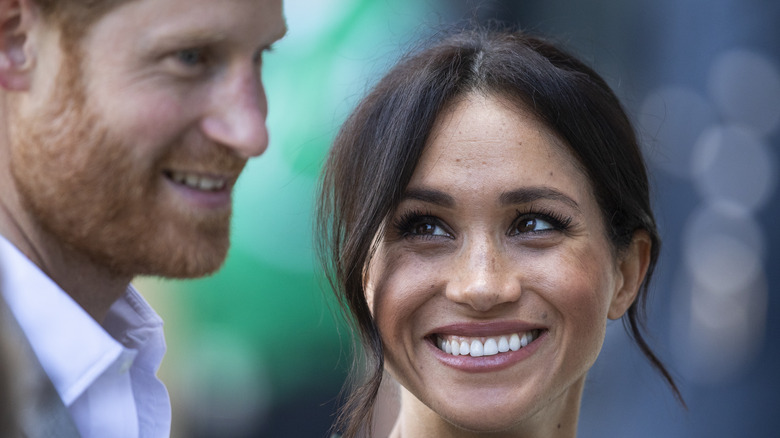 Dan Kitwood/Getty Images
Some Brits aren't celebrating Meghan and Harry's involvement in the queen's Jubilee celebrations, but the celebrity couple is attending whether critics like it or not. According to The Guardian, before their attendance at the event was confirmed, the Duke of Sussex admitted that security issues were stalling their plans. 
During his recent "Today" interview, Harry acknowledged, "This is what I'm trying to do, trying to make it possible that, you know, I can get my kids to meet [the queen]." The prince had just been reunited with his beloved grandmother, alongside wife Meghan Markle, and shared how lovely it was to have a proper catch-up after months apart.
As Insider notes, the Sussexes gave up their right to taxpayer-funded security when they defected from the royal family in early 2020. However, according to Simon Morgan, who worked with the queen from 2007 to 2013 as a royal protection officer, the couple shouldn't be allowed fund their own protection for the Jubilee. 
"When you get to a point where you can pay for it, that would set a difficult precedent. Because if you can pay for it, it can effectively go to the highest bidder," he argued. "Anyone with a certain degree of wealth could pay for it ... you're looking at needs versus wants for protection." Likewise, Morgan asserted there aren't enough people working in the field to satisfy the demand.
Although it remains to be seen how the couple will tackle their upcoming visit to the U.K., at home in California, Meghan and Harry have a celebrity bodyguard leading their team, with a surprising connection to Michael Jackson.
The Sussexes have hired Michael Jackson's former bodyguard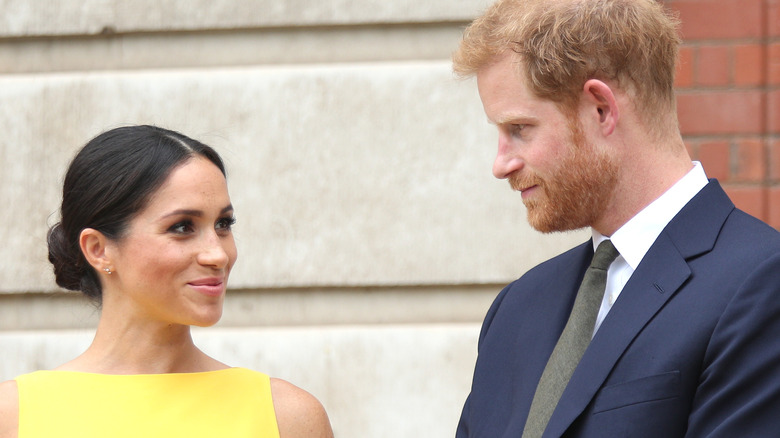 Wpa Pool/Getty Images
Prince Harry and Meghan Markle aren't taking any chances with their security team. The Sun confirms the beloved couple has hired Michael Jackson's former bodyguard, Alberto Alvarez, to protect their family going forward, with photos showing the burly man biking alongside Harry in California. The rest of their team followed behind the duo in a car. 
Alvarez notably testified at the legendary pop star's 2011 trial and was also the one who called 911 on the night Jackson died in 2009. In a preliminary 2011 hearing to decide whether or not Jackson's physician should stand trial for manslaughter, the bodyguard provided crucial testimony. According to The Guardian, when Alvarez took the stand, he told the jury about how Jackson's doctor claimed the star was just having a "bad reaction," and instructed him to perform several tasks before calling emergency services.
Elsewhere, Alvarez has worked with the likes of One Direction and other high-profile stars over many years in the industry. According to a source, Alvarez "knows every trick in the book of keeping them out of harm's way." They added, "He is discreet and was extremely loyal to Michael. He and Harry seem like a good match and Harry hopes he's the man to look after him and his family." 
Per the Daily Mail, the well-established security guard asserted he has "a track record of scoping, prioritizing, planning, and implementing appropriate safety/security measures to secure personnel and valuable assets across various environments." He should be an ideal fit, particularly since Meghan and Harry's security has been a major issue for a while now.
Meghan and Harry have been fighting for proper protection in the U.K.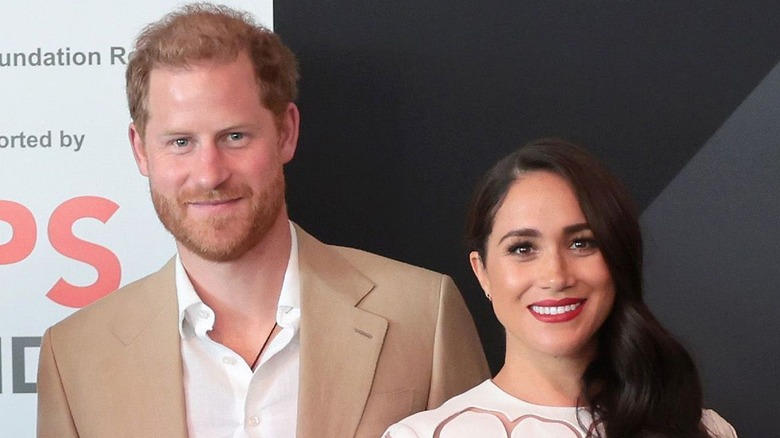 Chris Jackson/Getty Images
As Express notes, Meghan Markle and Prince Harry's security, or lack thereof, has been in the spotlight recently after the duke claimed he was unable to visit the U.K. after being refused police protection. 
The Home Office prohibited Harry from paying for a security detail himself so as "not to impose on the British taxpayer," but he appealed the decision. According to a legal representative, he needs protection due to the "inherited security risk" associated with Harry's royal status and his worldwide fame.
As the prince's lawyer explained, "He remains sixth in line to the throne, served two tours of combat duty in Afghanistan, and in recent years his family has been subjected to well-documented neo-Nazi and extremist threats." He continued, "While his role within the Institution has changed, his profile as a member of the Royal Family has not. Nor has the threat to him and his family." 
At home in California, the Sussexes fund their own team, but, in the U.K., the government currently prevents them from doing likewise.
Per Express, during Harry's recent visit to the Netherlands in support of the Invictus Games, he was ably protected by the local police, leaving their British equivalents looking even worse in comparison. Footage shared on social media showed police stopping traffic to allow for an escort to transport the duke through The Hague. Fans railed against England for neglecting to adequately support one of their own.