Jenny Slate Opens Up About Her Role In Everything Everywhere All At Once - Exclusive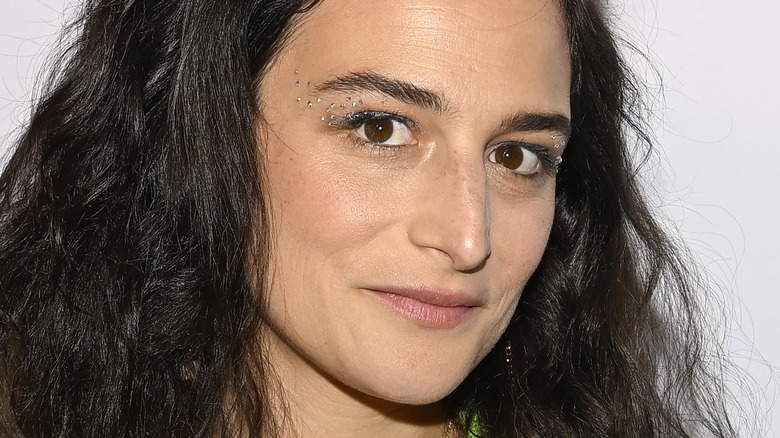 Steve Jennings/Getty Images
It's no secret that the A24 film "Everything Everywhere All at Once" has been, well, everywhere — all at once! — since its March 30 release in theaters nationwide. A24 previously released films like "Midsommar" and "Hereditary," which both received wide love, with its recent films including "The Green Knight" and "Men." However, no one expected "Everything Everywhere All at Once" to take off in the grandiose — and deserved — manner that it did.
As reported by NME, the Michelle Yeoh-led film is its highest-grossing project ever, dethroning 2019's "Uncut Gems." Yeoh's prior credits include "Shang-Chi and the Legend of the Ten Rings" and "Crazy Rich Asians," so it might be safe to say at this point that Yeoh's inclusion in projects lead to profitable results. Appearing in a screen-stealing capacity in "Everything Everywhere All at Once," too, is Jenny Slate, the actor known for projects like "Zootopia" and "Obvious Child."
Though she's credited simply as Dog Mom, which may make viewers believe she isn't involved much in the film, Slate appears in many parts of the story, both in comedic and action-filled scenes. What's more, Slate's film "Marcel the Shell with Shoes On" hails from A24, too, and will be released on June 24, making Slate somewhat of an A24 veteran. 
Luckily, we recently got the opportunity to chat with Slate, and in an exclusive interview with The List, the "Big Mouth" star not explained why she's "picky" about working with brands but also opened up about her experience working on "Everything Everywhere All at Once."
Jenny Slate knew Everything's directors 'for years before' filming it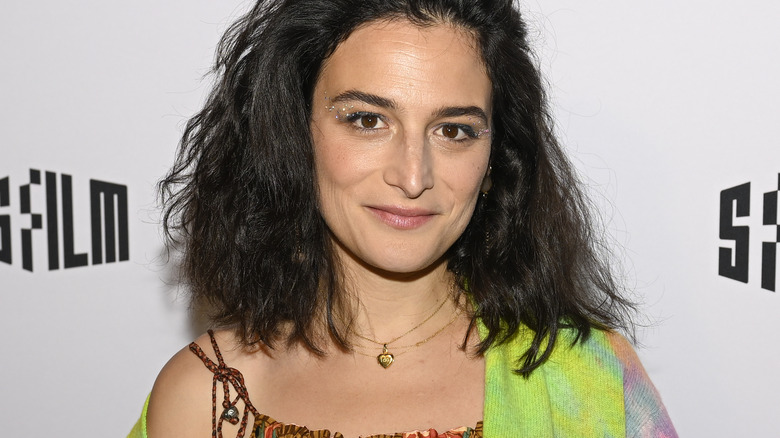 Steve Jennings/Getty Images
Jenny Slate fans can rejoice, for the talented actor and comedian can be seen in theaters right now in "Everything Everywhere All at Once" and in June upon the release of "Marcel the Shell with Shoes On," a decade-long project that's finally making its way to the big screen. (Everyone loves Marcel, right?)
When it comes to "Everything Everywhere All at Once," Slate opened up to The List about how much fun she had with the project. "I have a small part in that movie. I knew the Daniels, the directors, for years before," Slate explained. "I had done a Gap campaign with them and Paul Dano and they emailed me and were like, 'We have this part in our movie that we want you to do.'" Naturally, she said, "I'll do it."
The twist? "I didn't know anything about it. I had not read the script, nothing," Slate continued. But this meant nothing. "They are brilliant. I love their style," Slate explained of the directors. "I love their energy. They take everything to the maximum and they have such gigantic, creative energies."
"I showed up with the highest expectations and even those were blown out of the water," Slate added regarding filming. "The onset experience was fun and incredibly supportive." In fact, she called working with her "Everything" castmates a "huge honor."
The final twist? "And [director] Daniel Kwan, his wife Kirsten Lepore is our animation director on our 'Marcel the Shell' movie," Slate concluded. "So, we've all known each other for a bit now.
Ice cream lovers can participate in Tillamook's Partnership for Creamier Ice Cream on Instagram and TikTok. Jenny Slate's new movie, "Marcel the Shell with Shoes On," lands in theaters on June 24.