A Typically Tight-Lipped Member Of The Duggar Family Speaks Out About Josh's Sentencing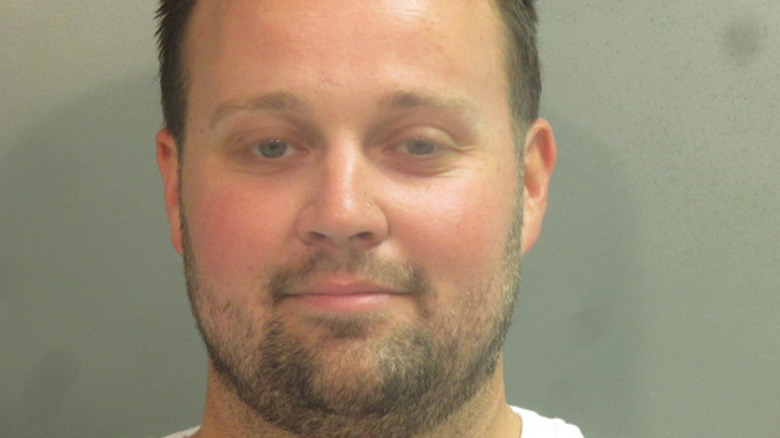 Handout/Getty Images
Trigger warning: The following article includes language regarding the sexual abuse of children.
In a decision that was months in the making, a judge sentenced Josh Duggar to 12.5 years in prison on May 25, 2022, for his conviction on charges of receiving and possessing child sexual abuse material. The judge also took into account Duggar's past history of abusing his own sisters years earlier, per NPR. Duggar will serve out his time in a Texas penitentiary, and afterward will spend another 20 years on parole, forbidden to have unsupervised contact with minors. He was also ordered to pay more than $50,000 in fines (via People). 
The scandal not only shocked reality-show fans, but it also divided what was once believed to be a rock-solid family. While parents Jim Bob and Michelle have stood by their older son, their daughters Jill, Jinger, and Joy-Anna all publicly supported the conviction and offered their support for all victims of child sexual abuse. Another estranged family member, Amy Duggar King, didn't hold back when it came to her opinion of the sentencing, saying, "I hope that every single second he's [in jail] feels like an eternity." She has also urged Duggar's wife to divorce him for the sake of their seven children. It's more likely, however, that Anna Duggar will stay with her in-laws while Josh is in jail.
Up until now, none of the other Duggar sons have spoken out about their older brother's fate. But the day after the sentencing, one of them surprisingly broke his silence, slamming Josh for hurting his family and going against the principles of their faith.
Jason Duggar believes Josh's sentence was fair
Jason Duggar is one of the lesser-known members of the "19 Kids and Counting" family. At 22, he is single and the owner of his own construction company. His social media use is sporadic, and unlike other family members, he has stayed silent about his oldest brother — until now.
Jason, along with his parents, sister Joy-Anna Duggar Forsyth, and Josh's wife Anna, were present at the sentencing, according to The U.S. Sun. The following day, Jason made a shockingly frank statement on his Instagram Stories. He wrote in part, "In my opinion, Judge Timothy L. Brooks was fair in his ruling giving Josh a sentence that would be considered below the median for the crimes he has committed. My heart is grieved over the choices my brother has made, his actions do not reflect that of a Christian believer and have doubtlessly defamed my Lord and Savior's name!! Joshua's poor decisions have greatly affected [sic] those around him, in particular his wife, seven children, and our family as a whole." Jason closed by saying that he still loves and forgives Josh, and prays that his brother will turn his life around.
Commenters on the Instagram blog page, Without a Crystal Ball which follows the Duggars, had mixed feelings. While some praised Jason's boldness, others were angry that he didn't say more: "I can't even imagine spending feels for an adult while not expressing a single ounce for the victims."
If you or anyone you know has been a victim of sexual assault, help is available. Visit the Rape, Abuse & Incest National Network website or contact RAINN's National Helpline at 1-800-656-HOPE (4673).