Why Sharon Osborne Thinks Meghan Markle Should Reconnect With Her Father ASAP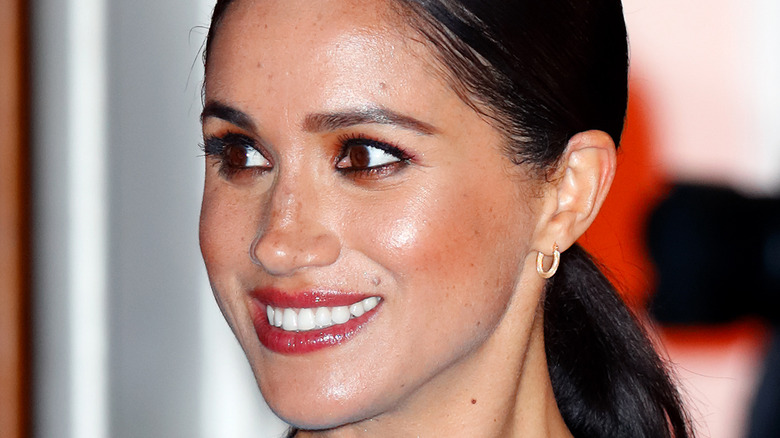 Max Mumby/indigo/Getty Images
News broke in May 2022 that Meghan Markle's estranged dad, Thomas Markle, had suffered a suspected stroke at his home in Rosarito, Mexico. TMZ confirmed Thomas had been transported to a hospital in Chula Vista, California, after being attended by paramedics. He was photographed wearing an oxygen mask, and reportedly lost his ability to speak, leading the former lighting director to share his symptoms by writing them down on a piece of paper. Thomas has been getting ready to travel to the UK for the queen's Platinum Jubilee next month, but his health scare has put the trip in jeopardy. 
Meghan's half-sister, Samantha Markle, told the Daily Mail their father "just needs peace and rest." The author explained, "My father is recovering in hospital. We ask for privacy for the family, for his health and wellbeing." During an appearance on "Good Morning Britain," royal author Tom Bower revealed Thomas had fallen over while out shopping shortly before his stroke. Per the Daily Mail, Bower confirmed Thomas was fine and had been helped to his feet by other shoppers, "But he is a man who's already had heart problems and he wasn't feeling too good." Thomas was looking forward to the Jubilee, though.
It remains to be seen whether the duchess's father will still attend, but regardless, Sharon Osbourne reckons Meghan should make an effort to fix their relationship ASAP. 
Sharon Osbourne spoke from her own personal experience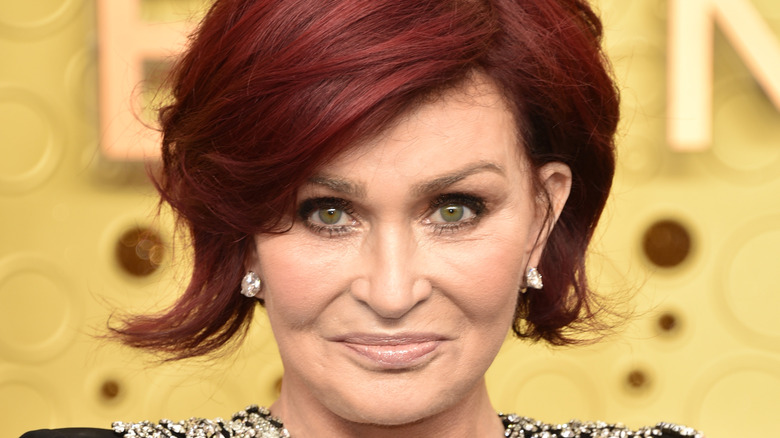 John Shearer/Getty Images
Sharon Osbourne used her own experience with her dad to warn Meghan Markle about what happens when you wait too long to reconnect. Speaking on "The Talk UK" (via Instagram), the British star opined, "Should she go to her father? Yes, she should." According to Osbourne, she was estranged from her own father for 18 years, leaving her millions of dollars in debt after "he used me in his companies and all of that." However, following his Alzheimer's diagnosis, "I went to him and took care of him because he's my father." 
Sadly, the former talk show host acknowledged that, by the time she attempted a reconciliation, it was too late because his health issues had progressed to such an extent making things right wasn't possible. Meanwhile, Meghan's estranged half-sister, Samantha Markle, who is still currently suing her, railed against the duchess for not doing enough to support their father in his time of need, during an appearance on "Dan Wootton Tonight."
The author decried the former "Suits" star for standing by as Thomas lays in a hospital bed. "He's been through so much," Samantha pointed out. "Two heart attacks, a pandemic and now a stroke. None of us have heard from Meghan — that's negligence." The duchess's outspoken half-sibling cautioned that Meghan is running out of time to fix their relationship, and if she doesn't reach out, she's going to "have to live with that for the rest of her life."
This royal expert reckons Prince Harry needs to reach out to Thomas Markle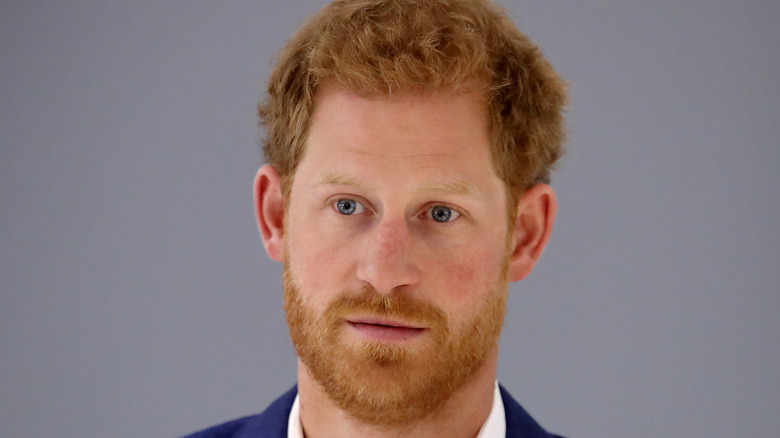 Chris Jackson/Getty Images
Princess Diana's longtime friend offered his unfiltered advice to Prince Harry following Thomas Markle's stroke, suggesting the duke should reach out while he still can. In a lengthy screed for the Daily Mail, Richard Kay argued Harry needs more support, particularly considering his frosty relationship with his own family — Thomas could be an ally for Harry, especially now that he's living in the States. The royal expert warned, "If Harry doesn't now reach out to Meghan's poorly father, I fear he may come to regret it." 
The duke may not have any interest, though, since Thomas has made his dislike for him clear. Per The Sun, immediately following the Sussexes' Oprah interview, the former lighting director took aim at his daughter's "snotty" husband after Harry allegedly called Thomas when he was in the hospital recovering from a heart attack. Meghan had shared her heartbreak over Thomas's decision to fake paparazzi photos of him preparing for their wedding. 
In response, Thomas reasoned, "We all make mistakes ... but I've never played naked pool and I've never dressed up like Hitler," in reference to scandals involving the prince. Thomas claimed to have apologized several times, claiming Meghan and Harry didn't want to reconcile and were simply ignoring him. "I was in a hospital bed the last time we talked, and I never heard from them again — they didn't care if I died," he notably said at the time.