The Real Reason BTS Is Meeting With Joe Biden At The White House
Frazer Harrison/Getty Images
It has long been rumored that President Joe Biden is a K-pop fan, dating back to a speech he gave after meeting with South Korean President Moon Jae-In in 2021, according to Audacy. While Biden is famous for having slips of the tongue, his words seemed sincere when he said, "Our people, our people-to-people and cultural connections are only growing. K-pop fans are universal." Not long after, a video spliced together by "The Tonight Show" showing Biden singing the BTS song "Butter" went viral, much to the delight of the BTS ARMY, which was eager to claim the American president among its ranks. Now, Biden is proving his implied membership by inviting the popular band — which includes Jin, Suga, J-Hope, RM, Jimin, V, and Jungkook — to meet with him at the White House on May 31.
However, he extended an invitation to the South Korean boy band for a reason that might surprise you, and no, it's not so he can congratulate BTS members for breaking awards records. Instead, to observe Asian Pacific American Heritage Month, Biden hopes to take advantage of BTS's influence and knowledge "to discuss Asian inclusion and representation and to address anti-Asian hate crimes and discrimination," according to a White House statement (per USA Today).
Biden understands how universal the BTS ARMY is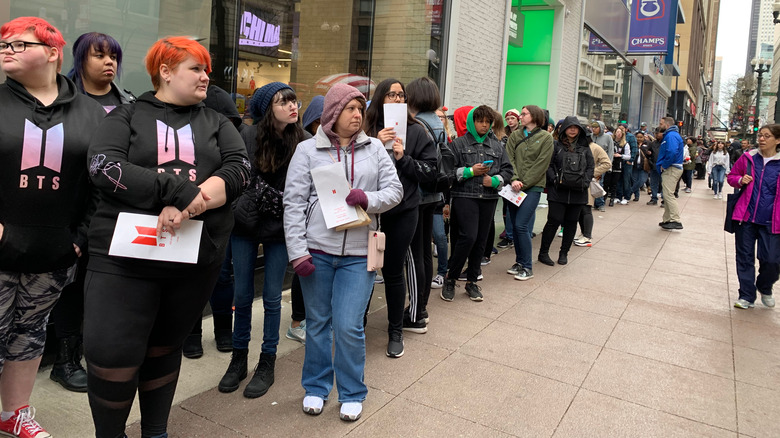 Liz Hughes/Shutterstock
The meeting between President Joe Biden and BTS next week is expected to include a discussion about Asian-American inclusion after a rise in hate crimes against Asian-American communities during the COVID-19 pandemic. The White House's statement also noted "BTS' platform as youth ambassadors who spread a message of hope and positivity across the world," indicating the president is very aware of the band's global fanbase, known widely as the ARMY. Even TIME has reported on the massive legion of fans who frequently push the band to trend on social media, sell out concerts, and top the world music charts. The official BTS YouTube channel currently has more than 66 million subscribers, while the BTS Twitter account has close to 50 million followers, made up of fans of all ages and from across the world. 
A discussion on Asian-American inclusion is one BTS is likely eager to have after taking a brief hiatus from the spotlight earlier this year. In 2021, eight people were killed in a series of deadly shootings at Asian-owned spas in Atlanta, including four women who were of Korean descent, which prompted nationwide rallies to protest the hate crime (per the BBC). In response, BTS released a statement on Twitter that noted how powerless the shootings made them feel. "We recall moments when we faced discrimination as Asians. We have endured expletives without reason and were mocked for the way we look. We were even asked why Asians spoke in English," they said. "We cannot put into words the pain of becoming the subject of hatred and violence for such a reason." (per CNN)