Meghan Markle's Half-Sister Makes A Bold Statement About Her Treatment Of Their Father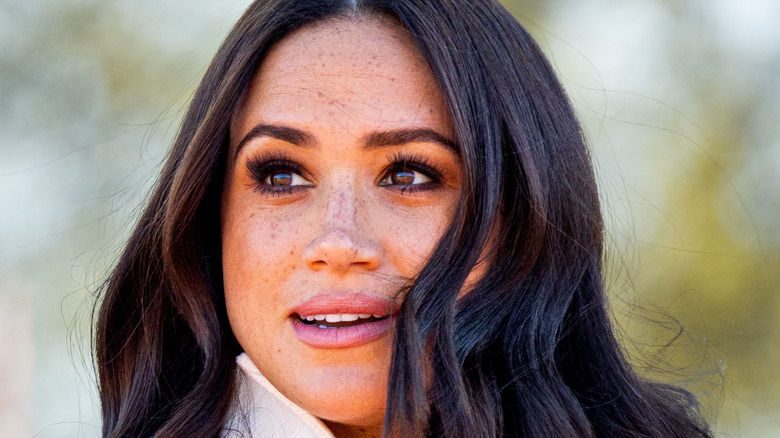 Patrick Van Katwijk/Getty Images
Meghan Markle's estranged father, Thomas Markle, was rushed to hospital on May 23, 2022, following a suspected stroke. TMZ published photos of the former lighting director wearing an oxygen mask as he was bundled into an ambulance by paramedics, confirming Thomas was transported to a hospital in Chula Vista, California.
Thomas raised the alarm after losing his voice, jotting down his symptoms in a note accordingly. His health problems are well known: He suffered two heart attacks in the run-up to Meghan's wedding, which ultimately rendered him unable to attend.
At the time, he was under fire from royal fans for staging paparazzi photos in a bid to make some money off of Meghan's newfound status. As People reported, the former "Suits" star told Oprah Winfrey that her father initially lied about working with the press. "I genuinely can't imagine doing anything to intentionally cause pain to my child," Meghan said. "I can't imagine it. So, it's hard for me to reconcile that." 
Her half-sister, Samantha Markle, meanwhile, had no problem cashing in. "Let's face it — we all have to survive," she said on "Good Morning Britain." "Money makes the world go round, so if you want to call that cashing in, that's fine, but I think no one in media would refuse a paycheck for talking about the royal and, as a family, we're not subject to royal protocol." 
Now, Samantha is criticizing her half-sister for refusing to make things right with their father.
Samantha Markle charged the duchess with harming their father
Samantha Markle isn't holding back when it comes to her estranged half-sister, Meghan Markle's, treatment of their ailing father. During an appearance on GB News' "Dan Wootton Tonight," the "Diary of Princess Pushy's Sister" writer railed against Meghan's apparent lack of care following Thomas Markle's suspected stroke. 
"He's been through so much," a tearful Samantha explained. "Two heart attacks, a pandemic, and now a stroke. None of us have heard from Meghan. That's negligence. If she can't find it in her heart or have the moral conscience to step forward, then shame on her."
She argued that Thomas may not have long left, and, if Meghan continues to ignore him, she may come to regret that decision once he's gone. When Wootton wondered whether the duchess should cover his medical costs, Samantha reasoned, "She sees all of this. I'm getting the feeling that I would be spinning my wheels to try and appeal to her heart now." 
Samantha also reckons that Meghan could have reached out at any time to reconcile with their father, but she's chosen not to. Especially now, with Thomas in the hospital, Samantha described the duchess' behavior as especially cold, even likening it to "elder abuse."
According to The Mirror, Samantha immediately traveled from her Florida home to be at Thomas' bedside. Meghan's half-sister previously spoke out about their father's health scare, releasing a short statement asking for privacy during the difficult time for the family.
Will Thomas Markle still be able to attend the Platinum Jubilee?
Thomas Markle's health scare couldn't have come at a worse time since he's been looking forward to attending the queen's Platinum Jubilee for weeks. Per Express, he shared his excitement for the event during an appearance on GB News. 
"I'm going to show my respect for the queen and I'm going to make sure that the queen understands that my entire family respects the queen and the royals," he shared. Thomas was looking forward to meeting Prince Charles, in particular, since he not only walked Meghan down the aisle but has been similarly "ghosted" by his child, Harry, who defected from the royal family.
Moreover, Meghan's estranged dad was excited to finally meet his grandchildren, even though he wondered whether the Sussexes would pull out of the Jubilee once they knew he was attending. "But if they do come I would love to reach out, speak with them and try to figure out what was wrong and how we can repair it," Thomas said. "I don't see that happening. But I certainly would like to try."
Earlier this week, Sharon Osborne shared why she thinks Meghan should reconnect with her father ASAP, but it remains to be seen whether their relationship can be repaired. In a scathing editorial for Sky News Australia, Piers Morgan argued that, if Meghan and Harry were really as virtuous as they claim to be, the couple would rush to Thomas' bedside rather than focusing on the Jubilee.