Meghan Markle's Half-Sister Speaks Out About Their Father's Health Scare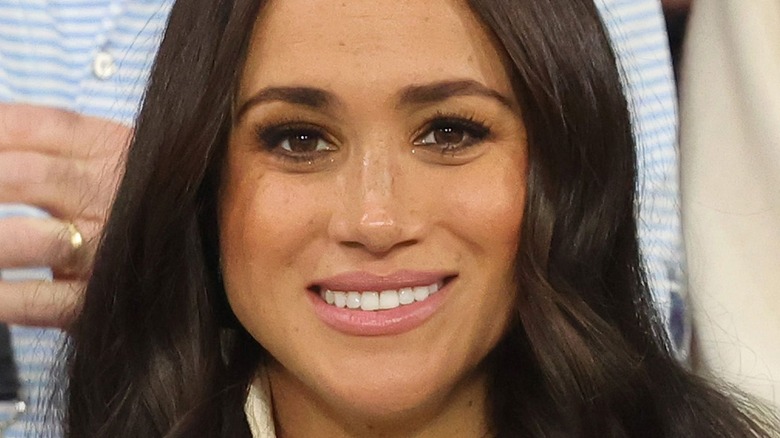 Chris Jackson/Getty Images
Meghan Markle's relationship with her extended family is complicated, to put it mildly. Her half-sister, Samantha Markle, is currently suing the duchess for defamation following comments Meghan made about her troubled upbringing. Per Us Weekly, Samantha charged the former "Suits" star with constructing a fairy-tale version of her life that would endear her to people all over the world. Ever since Meghan first hooked up with Prince Harry, Samantha has sought to undermine her, even writing a tell-all memoir depicting the duchess as a controlling, spoiled brat. 
As for their father, Thomas Markle, his relationship with Meghan has been tough ever since, as Us Weekly points out, he was caught staging paparazzi photos in a bid to earn some money off his daughter's newfound fame. According to Meghan's former boyfriend, Joshua Silverstein, "Meghan's relationship with her dad was complicated and I understood that as most teenager-to-parent relationships are." Things don't seem to have gotten any better between the father-daughter duo in the ensuing years, especially since Thomas, like Samantha, continues speaking out about Meghan. 
However, despite their previous behavior — and somewhat surprisingly — Samantha is making it clear that what their family needs most right now is to be left in peace. 
Thomas Markle needs space and time to recover in peace
Thomas Markle needs space to continue recuperating following his recent, suspected stroke. Daughter Samantha Markle, half-sister of Duchess of Sussex Meghan Markle, told Us Weekly simply, "Peace and rest is best." Thomas was hospitalized earlier this week, per TMZ. He was photographed being attended by paramedics, while wearing an oxygen mask, and was then taken to a hospital in California. Karl Larsen, Thomas's co-host on YouTube channel "Remarkable Friendship," confirmed to Us that his buddy "lost his voice" and believed he was having a stroke, writing a message down to raise the alarm with Larsen.
"A neighbor rushed him to Rosarito hospital and then he was transferred to a hospital in Chula Vista across the border. This was last night. The neighbor was with him," he confirmed. Thomas's health issues have been well-documented. Most notably, he missed Meghan's 2018 wedding due to a heart attack and subsequent surgery. Thomas even claimed, during a 2021 appearance on "Good Morning Britain," that he'd most recently communicated with Prince Harry while laid up in hospital. 
As Express points out, this latest health scare may prevent Meghan's estranged father from attending the queen's Platinum Jubilee in June. He's been looking forward to it for a while, with Thomas even comparing himself to Prince Charles as a result of their allegedly difficult children, and expressing a desire to chat to the royal face to face about it.
Meghan's father hasn't stopped speaking out about her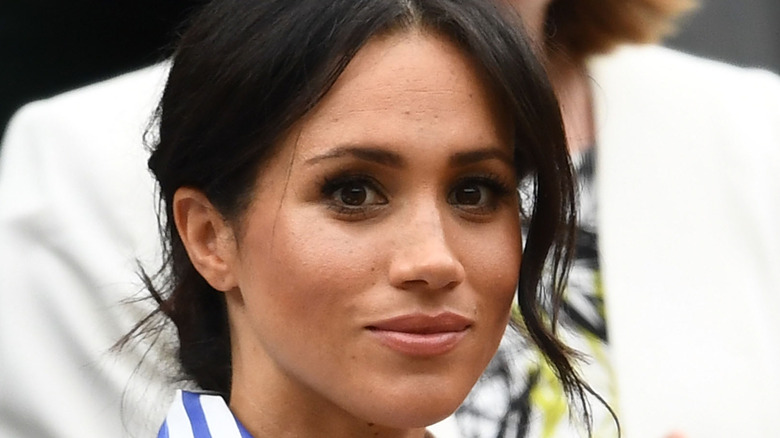 Clive Mason/Getty Images
Thomas Markle's photographer pal has taken his snooping to the next level with the launch of the pair's YouTube channel, "Remarkable Friendship." The Mirror reports Thomas and Karl Larsen, a known paparazzi, will be covering all manner of current affairs issues. Unsurprisingly, in the debut episode of "Remarkable Friendship," Thomas shared that he's taken Samantha Markle's side in her defamation lawsuit because, in his view, Meghan Markle isn't being honest about their relationship. Larsen revealed Thomas is eager to speak from his own perspective and to share his feelings about how hurtful the Sussexes' behavior has been. 
"He wants his truth to be out there, just like Meghan's truth came out a year ago in her Oprah Winfrey interview," Larsen added in the episode. The celebrity photographer may have already crossed the line though, with Newsweek confirming Larsen recently attended an open house next door to Meghan's mother, Doria Ragland. During an episode of their show, Larsen claimed to have heard children playing next door and speculated they may have been the Sussexes' kids.
The photographer even suggested he and Thomas should purchase the property and record their show there, so he could be closer to the grandchildren Thomas has yet to meet. Larsen reasoned that he was kidding, when questioned by Newsweek. "To be honest with you I don't want to start the rumor any further than it is. It was to make the show interesting actually," he said.