If You're An Enneagram 4, This Is The Cocktail You Must Try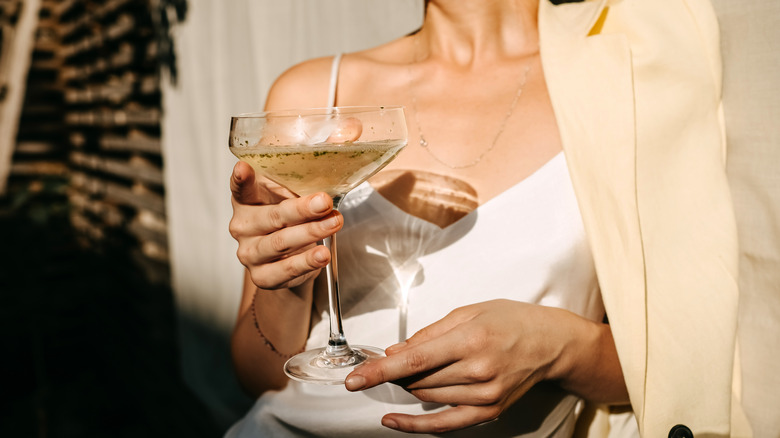 Natalia Bostan/Shutterstock
We all want to venture out and try something new, but figuring out where to start can be a challenge in itself. Using your personality as a starting point may be the answer you're looking for, though. The Enneagram is a personality test, and it's similar to the Myers-Briggs Test in that it can help you identify key personality traits. Armed with knowledge about your Enneagram Number and what it actually means, you can learn more about your strengths, weaknesses, and which other number you're most compatible with. 
Your Enneagram doesn't have to just be about work — what's work without some play anyway, right? Enneagram Type Fours, according to the Enneagram Institute, are known as The Individualist. Their "basic desire" is "to find themselves and their significance," while "creat[ing] an identity," (per the Enneagram Institute). Knowing your signature drink from a long list of vintage cocktails is an important part of anyone's social identity. If you're an Enneagram Type Four dying to be more of an Individualist on the cocktail scene, there's one drink that's sure to make you stand out.
Bloody Mary mania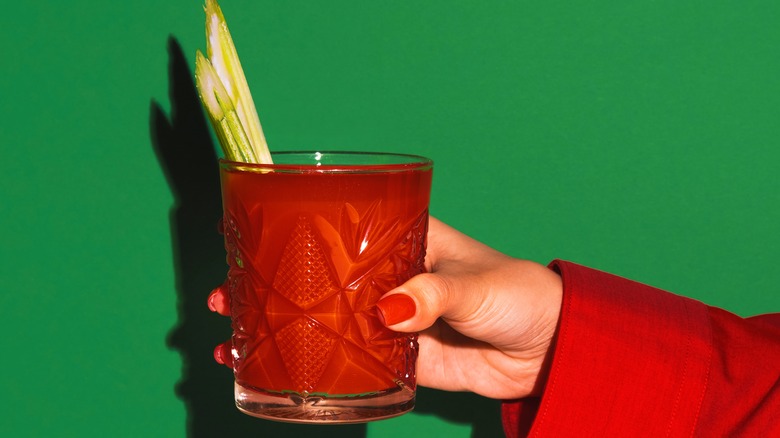 Master1305/Shutterstock
The Bloody Mary — which should be made with a precise method — is one of the most iconic cocktails for a reason. Whether it helps walk you through your hangover at brunch after a night out, or it's paired with dinner during the evenings, the Bloody Mary will have an Individualist like yourself standing out from the crowd. According to the Enneagram Institute, Enneagram Type Fours have the "key motivation" of "want[ing] to express themselves and their individuality." No other cocktail comes to mind when trying to compare the two. 
According to Liquor.com, the first Bloody Mary was likely created in the 1930s by Fernand "Pete" Petiot at the St. Regis' King Cole Bar in New York. Legend says that the first Bloody Mary was a concoction of "vodka, tomato juice, Worcestershire sauce, black pepper, celery salt, Tabasco, and lemon juice" (per Liquor.com). However, bartenders and mixologists have progressed beyond those seven ingredients for different versions of the classic hangover cure.
Stand out from the crowd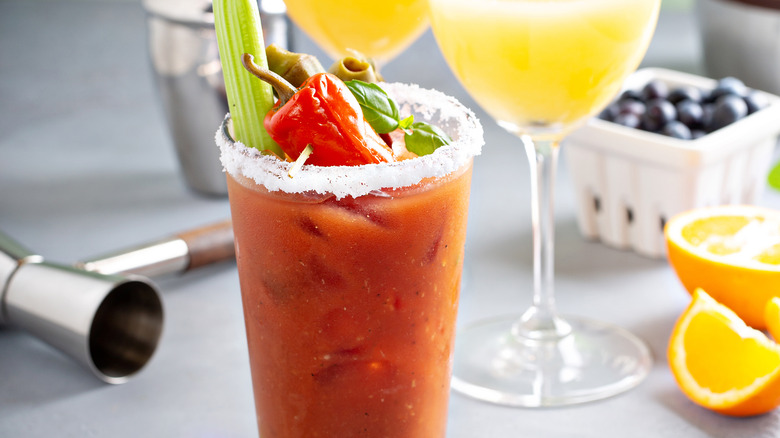 Elena Veselova/Shutterstock
If you're a true Enneagram Type Four who is terrified of sticking to the status quo, no worries! There are plenty of ways to make the base of a Bloody Mary even more unique. According to Liquor.com, a fashionable variation of the Bloody Mary is the Bloody Maria, in which the vodka is swapped for tequila. You could also try a Red Snapper, which is a Bloody Mary with a shot of gin added to it. 
For a Canadian twist, order the Caesar, which includes Clamato juice. If you can stand the heat, add in extra Tabasco sauce and fresh jalapeño for a spicy Bloody Mary. A Couple Cooks highlighted the Michelada as well, which is a tangy mix found by combining elements of the Bloody Mary with a beer margarita (yes, you read that right). If you're taking a break from alcohol altogether, that's totally okay, too! A virgin Bloody Mary makes the perfect mocktail that doesn't include alcohol but is still full of flavor.