Here's How To Incorporate Glitter Eyeliner Into Your Makeup Routine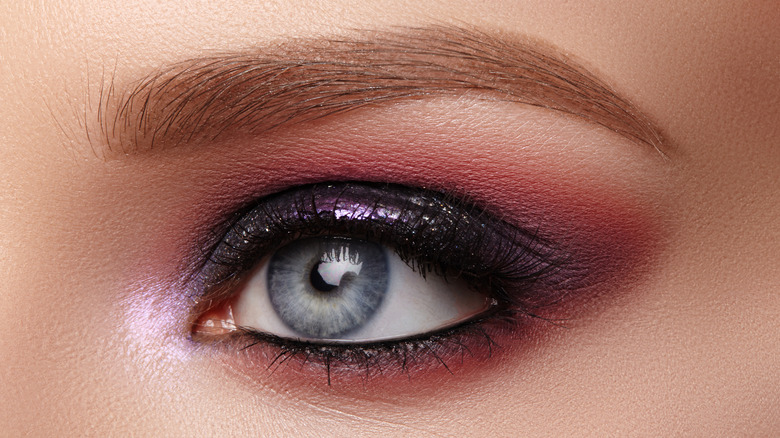 marinafrost/Shutterstock
A little glitter here and there can sure make a gal feel snazzy when getting ready to go out. It can also bring out the child in you. After all, who didn't love using glitter as a kid in art class? Though as an adult you're likely less extravagant with how you place your glitter, you can still go choose to go vibrant and eye-catching when the mood strikes.
The shiny substance, which dates back to the ancient Egyptians, is available in various types of today's makeup (via Heavy). It's ideal for summer beach parties as well as the holidays when you might want to add a little more or color coordinate it to the season. From shimmery body spray to iridescent powder, glitter can instantly change a look and create a look that screams fun. Body glitter is one of the hottest makeup trends of 2022 (via StyleCraze). There are also full glitter lip glosses and eyeshadow to bring out the bold you.
However, if you want to use sparkles in a slightly more understated way, glitter eyeliner may be just what you're seeking.
Using glitter for work and daytime
Most people think of using glitter makeup to produce a big, extravagant look that makes a statement. However, using a very light glitter on the bottom of your top eyelid can open up your eye and make it pop in a very low-key way. Cosmopolitan says that if you're new to using glitter, you might want to start slowly. First, try a thin silver eyeliner and brush it lightly along your lash line. As long as you keep the line thin, it can be delicate enough for everyday wear, including at the office.
Want to start out even more subtle? Choose a light-colored glitter eyeliner. Use a shiny rose gold to create a thin line across your lash line. Then top it off with black mascara and a light or nude lip gloss. According to L'Oréal Paris, rose gold looks good on everyone because it has both warm and cool tones. The result is stunning.
Glitter for nighttime, holidays, and parties
Once you've grown accustomed to drafting a glittery eyeliner, you can take it to the next step and use it to try some sparkly designs. You'll first want to use your regular black eyeliner and create a winged top line. Once that is done, very carefully, trace the glitter of your choice right above the black line. Extend the glitter a bit beyond where your black eyeliner ends for a more dramatic look.
Another way is to line your top lid with black (no wings) and then use the glitter eyeliner to create wings on top. Want to go further? Line under your bottom lash line, too. However, Byrdie recommends selecting your glitter eyeliner carefully because the wrong type can give off an unpolished teen look. Go for eyeliners that are smooth and fine — instead of grainy or clumpy — to create a sleek, sophisticated look that gets just enough attention, but not too much.
The more you experiment, the more you'll know just the right times to use glitter and which looks work best for you.