Sister Wives Season 17: Details We Know So Far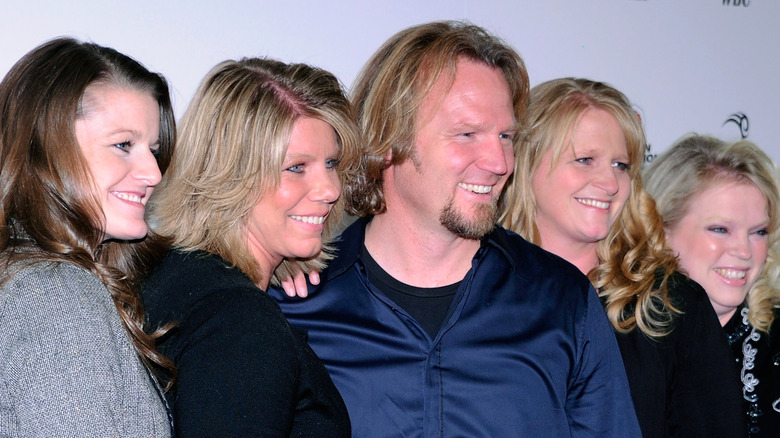 Ethan Miller/Getty Images
"Sister Wives" first gripped our attention when the TLC hit aired back in September 2010, and 16 seasons later, the polygamist family-centered reality show isn't letting up on the drama anytime soon. Over the years, fans have seen the Brown family, led by patriarch Kody Brown and his wives Meri, Janelle, Christine, and Robyn evolve over the years. Viewers have watched the Browns go from living together in one house in Utah to residing in separate compounds in Las Vegas, and most recently, Flagstaff, Arizona.
All 18 children of the Brown family (yes, you read that right) between the four wives have grown up before viewers' eyes, and many of them are now young adults and starting their own families, making Kody and Christine grandparents, according to People.
After a roller-coaster ride throughout Season 16, "Sister Wives" is rumored to be renewed for a whopping 17th season. Here's everything we know so far.
Despite multiple breakups in the Brown family, Season 17 is in the works
Though there hasn't been an official network announcement of a "Sister Wives" return for another season, a certain member of the Brown family have fans breathing a sigh of relief because it looks like Season 17 is most definitely on the horizon.
Paedon Brown, the sole son between Kody and Christine Brown, told TikTok users that his mother would indeed be appearing in Season 17, which they began filming earlier this year, when he confirmed the speculation in his comments on the platform, CheatSheet reported. This is important to note because Kody, Meri, Janelle, and Robyn are all currently living in Flagstaff, Arizona, while Christine continues to live in a stunning Utah home, per The Sun.
As we wait for Season 17 to premiere, fans of the show are able to watch Christine's cooking web series spin-off available on TLC. 
Some of Kody's marriages seem to be on the rocks
As any "Sister Wives" fan can attest, it's safe to say changes have hit the Brown family throughout the years. Unfortunately, change hasn't always been positive for the Browns. In Season 16, Christine Brown revealed in a November 2021 clip that her marriage to Kody is "hard, but I never wanted the kind of marriage that I have now." That same month, Christine revealed via Instagram that after more than 25 years together, the two were splitting.
As for his first wife, Meri, Insider reported that in 2014, Kody and Meri legally divorced for the sake of adopting his other wife Robyn's children from a previous marriage. Meri revealed to Robyn on the latest season that the two seem to have more of a friendly type of relationship instead of a romantic one. But she's not the only one to be seemingly distanced from Kody.
As for the remaining wives, Janelle and Robyn Brown, Us Weekly reports that Kody and Robyn are continuing to spend lots of quality time together, with a source telling the publication in January that "the others are in their own world, living their own lives." Whereas by the looks of Janelle's Instagram, Kody's second wife seems to be enjoying time in Flagstaff, Arizona with her children and friends with no hubby in sight. Guess we'll have to wait until Season 17 to get some more details about the current state of the Browns' marriages.