Fans Are Tired Of Watching Riverdale Abandon Major Storylines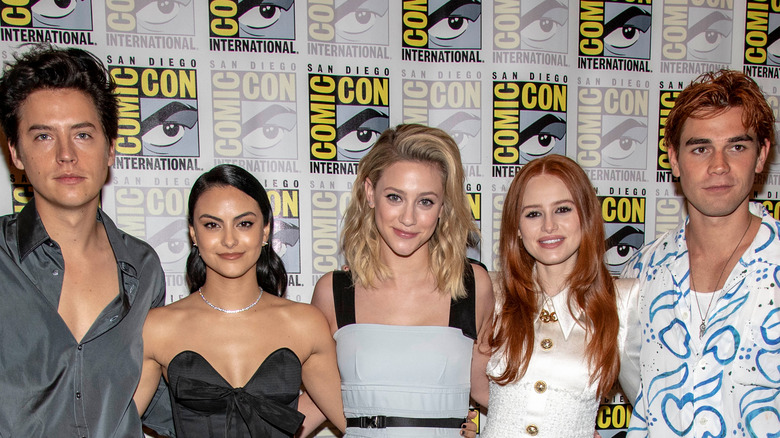 Eugene Powers/Shutterstock
Bold, undeniably creative, and sometimes hard to follow, "Riverdale" is a show that won't be forgotten any time soon. Based on the "Archie" comics first published in 1941 (via Heat World), the gritty CW reimagining took the well-known characters — mainly Archie, Betty, Veronica, Cheryl, and Jughead — and involved them in a whole different kind of teen drama. The show started out relatively simple when it first aired in 2017, with the main plot focusing on finding out who killed Cheryl's brother, Jason (via Bustle). Of course, there was also a highly inappropriate teacher-student relationship (via Cosmopolitan). Who knew a small town had so much drama?
As the show went on, heaps more characters and plots were introduced. Although it was recently announced that "Riverdale" won't be returning after next year, there are still quite a few unresolved storylines. In light of this announcement, people have been looking back at some of the most outlandish plots. Some of these storylines include main character Archie being sacrificed, Cheryl being possessed, and characters having babies who disappear after a few episodes (via ScreenRant). With all of this going on, it's challenging to keep track of things, and in the chaos, some subplots have vanished entirely. Let's revisit some of the worst offenders.
Out of many 'Riverdale' storylines, The Farm was one of the wildest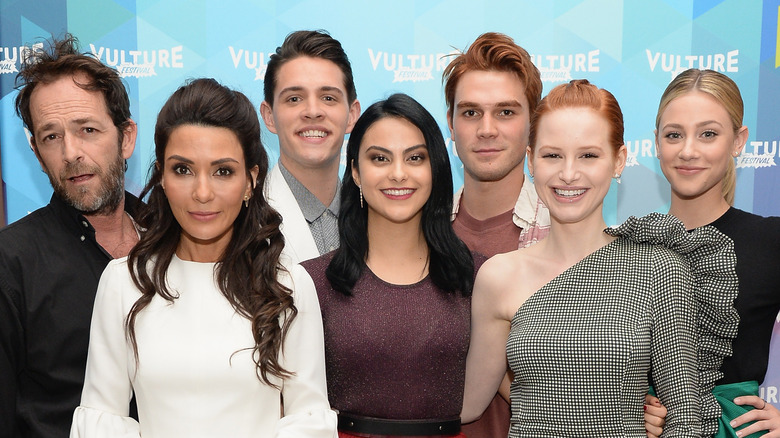 Andrew Toth/Getty Images
According to Collider, there are seven "Riverdale" storylines that were either never heard of again after a while or came to a premature end. Among these storylines, one of the most confusing is definitely the drama revolving around The Farm.
Season 1 planted the seeds for this subplot, with Betty's sister, Polly, saying that she and her boyfriend-slash-cousin (it's complicated), Jason, planned to move there (via StyleCaster). In Season 2, it becomes clear that The Farm is very cult-like. Still, it's pretty low-key for "Riverdale" until Season 3, when the leader of this cult (played by Chad Michael Murray) shows up (via Seventeen). At the end of Season 3, it is revealed that Murray's character has been hypnotizing people into donating their organs, which he then sells on the black market (via Elite Daily).  A lot of potential, right? Wrong, because only three episodes into Season 4, Betty's mom, Alice, shoots and kills the cult leader, rendering both him and the storyline dead (via NME).
Mad as it seems, this definitely isn't the only subplot to have gone nowhere after a big buildup.
The Cooper family on 'Riverdale' have gone through a lot of drama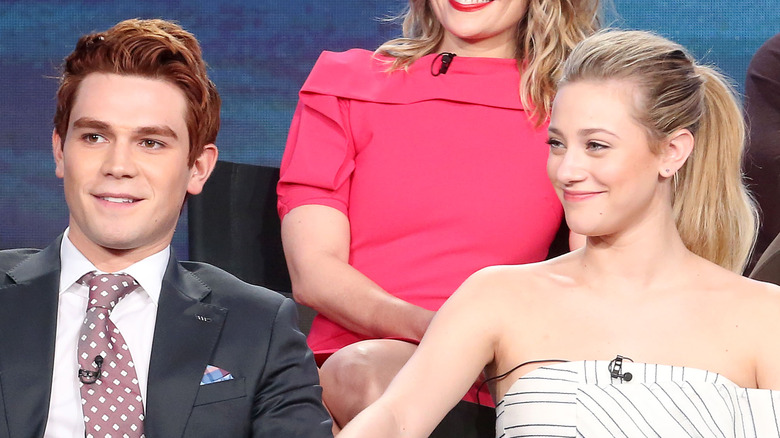 Frederick M. Brown/Getty Images
As part of the Cooper family, Betty has had some of the wildest storylines over the years. According to Collider, another unfinished subplot is the Charles — aka Chic — storyline. Charles is the child of Betty's mom, Alice, and Jughead's dad, FP, who was given up for adoption. Because this is "Riverdale," Charles shows up renamed as Chic. It is then revealed that Chic actually killed the real Charles and is impersonating him. Oh, and he's also a serial killer (via Seventeen). His story never got a real end, because in true "Riverdale" fashion, Chic escapes from prison and then just sort of vanishes (via Devdiscourse).
Not as dramatic but just as frustrating, fan favorites Betty and Archie — or "Barchie" — have gotten together briefly several times now. However, each time has been sadly short-lived. From first kisses to superpowers (via Comic Book Resources), they have been through it all but never fully committed. As of Season 6, their relationship seems to be heading towards romantic again. Showrunner Roberto Aguirre-Sacasa has confirmed viewers will experience "Barchie" in a "fuller way," calling them "pretty bonded" (via Entertainment Weekly). 
Hopefully when the last season airs next year, some answers will be revealed. However, given the track record of "Riverdale" and unresolved plotlines, it's all up in the air.