The Hack That Will Keep Your Gray Hair Luminous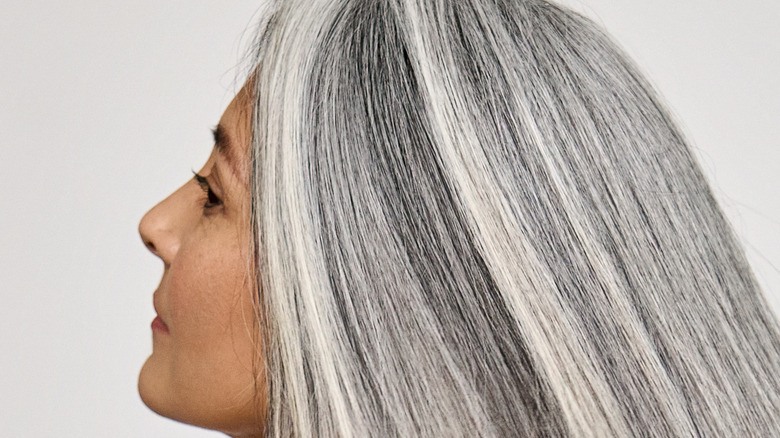 insta_photos/Shutterstock
Gray hair once conjured up memories of grandmas and bridge clubs, but now the natural hue is making a comeback. And it's not only in middle-aged women, but also in young women with early graying hair who have decided to embrace their silver strays (via Glamour).
For many, the decision to go gray began with the COVID pandemic (via The New York Times). Salons closed and women were forced to either dye their hair themselves (if they could get ahold of hair dye) or just let their natural hair grow out. Many chose the latter and are now delighted they did.
Yet, it wasn't just the pandemic. In today's world of what seems like constant chaos and upkeep, more people are seeking a lower-maintenance life. They're also realizing that who they are in the world goes far beyond their appearance, and that growing older is an honor (via Scary Mommy). Going gray has become part of their personal journey. However, many women who grew out their gray hair have discovered that it's stunning and never want to go back to an artificial color again.
What's great about gray hair and how to grow it out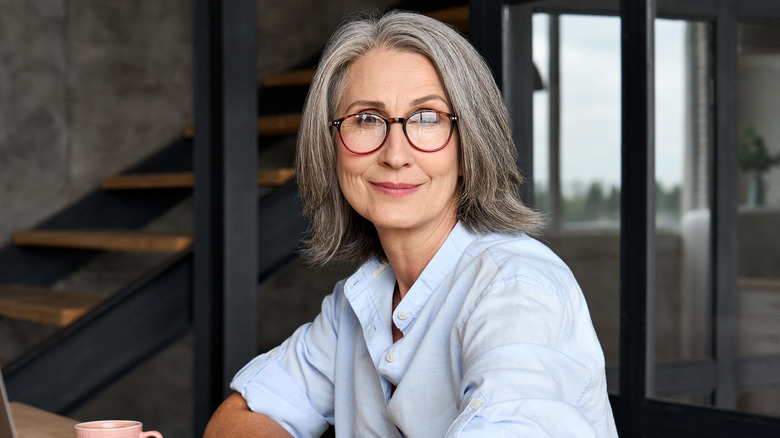 insta_photos/Shutterstock
Gray hair is such a wonderful enigma, mostly because up until now so many women have tried to avoid sporting it. While men with gray hair were considered distinguished, women with gray hair were viewed as old. But no more, because ladies have stepped up to reclaim this silky shade.
When gray hair starts to pop up in hair that hasn't been dyed, it can look like blonde highlights, depending on your hair. Never dying it to begin with is the easiest option for growing it out naturally. Yet, if you're like many — if you've been dying your hair for a while and want to grow it out — you have a few options (via Good Housekeeping). 
You can go to a salon and ask them to match your roots. This will require that you grow your roots out a bit and also that you find a colorist who is skilled in this type of dying. Another option is easy but for the purely patient: Grow it out. Some women cut their hair shorter to help quicken the process (via The Right Hairstyles).
Do this to gray hair to keep it vibrant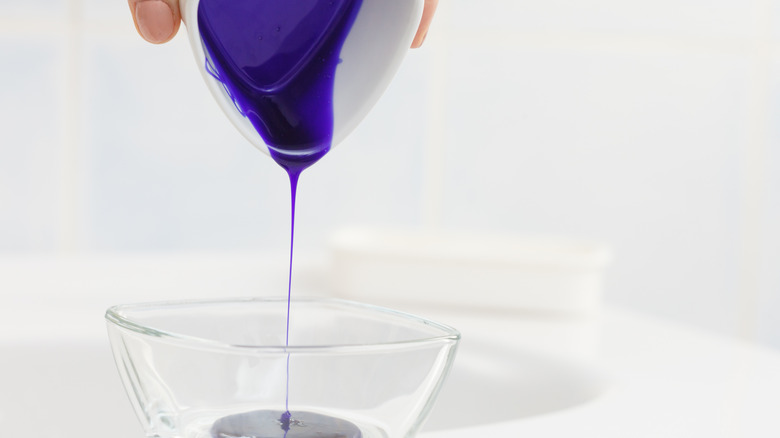 Anetlanda/Shutterstock
Once you go fully gray, it's a learning curve to find out the right way to take care of gray hair. It takes a little effort to keep hair looking luminous, simply because gray hair can get dull if it is not nourished. If you've ever had blonde hair or highlights, you know how much a purple shampoo can brighten your dull blonde strands.The same can be done with gray hair.
Purple shampoo can help hair look less brassy and more vibrant. Hairstylist Christin Brown says, "Gray hair grabs what's in the atmosphere, so it can turn yellow very quickly" (via mindbodygreen).
Since gray hair is natural, it will be less damaged than dyed hair. Using a purple shampoo is a simple way to brighten it. "It really gives it that luminescent vibe — it feels so uplifting," says Brown. Do this a couple of times a week to ensure shiny, silky locks.