Michael Evans Behling Dishes About His New Clubhouse Series And More - Exclusive Interview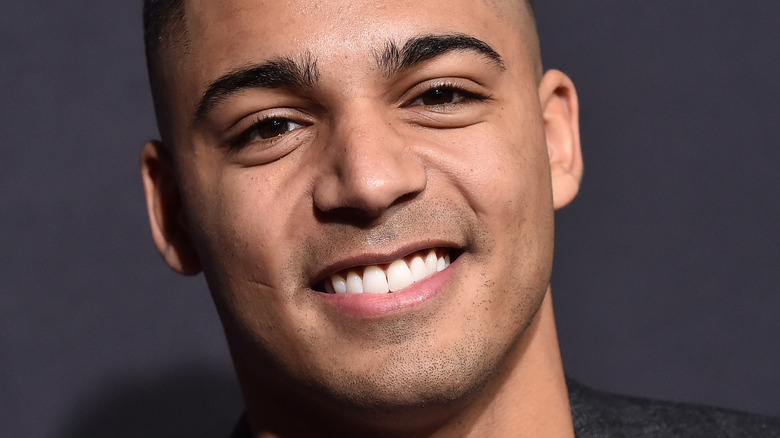 DFree/Shutterstock
Over the years, The CW has brought to the screen many unparalleled series full of twists and turns, unexpected plotlines, and beloved characters. Think of the likes of "Riverdale" and "Dynasty," or "Charmed" and "Nancy Drew" — shows that have not only defined generations but also breathed new life into old classics. Of course, The CW's drama genre wouldn't be complete without "All American," the gripping drama that forces two completely different Los Angeles cultures to crash into one another, all on the shoulders of a high schooler. And "All American" wouldn't be complete without Michael Evans Behling, the young, Indiana-raised actor who brings Jordan Baker to life on screen.
Behling has been involved with "All American" since the very beginning, but don't think that his acting chops started and stayed with The CW. The 26-year-old's IMDb credits include some of the biggest shows on television, including "Empire" and fan-favorite medical drama "Grey's Anatomy." Having worked with some of the best of the best, it's no wonder that Behling has taken inspiration from their example, inspiring the actor to dive into his next venture.
Launching a new phase of his career, Behling is working with Clubhouse to release an interview series titled "Who Inspires Me with Michael Evans Behling." Sitting down with creative minds who have influenced him personally, the young actor's first interview was with none other than Jimmie Allen, and he's just getting started. During an exclusive sit down with us, Behling dished about his career, his Clubhouse series, and what — and who — inspires him.
Michael Evans Behling reflects on his Clubhouse series and first guest, Jimmie Allen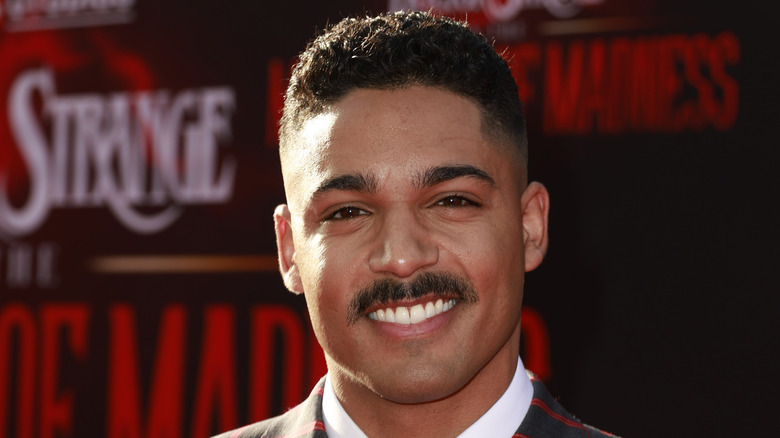 Frazer Harrison/Getty Images
Let's chat about your latest project, "Who Inspires Me with Michael Evans Behling." But before we dive into the details, I'd love to know what motivated you to share your life and inspirations in this format.
That's a good question. First and foremost, Clubhouse approached me and tossed the idea around about doing a show, and I was trying to find something to do. But I tapped into my mind five years ago — I was thinking about my inspirations, as far as people I looked up to whenever I was trying to jump into this business, and then upon entering this business and meeting more and more people. 
I've been fortunate enough to be continually inspired. If some of these people have [been] an inspiration to me, and maybe I can showcase some of that inspiration to some of the listeners, [then] they can potentially have someone that they look up to, or these people can gain a new fan. In this world, we need our inspirations. We need people that we look up to in and out of our field to continue to give us motivation through our day-to-day.
Speaking of inspiration, the world feels particularly heavy as of late. Many people are looking for stories to uplift them. I'm sure that this will resonate with people who tune in, and we'll get into that a little bit. Your first guest was Jimmie Allen. What was your relationship with him, if any, beforehand? Was this a very fresh experience?
Yeah. I was fortunate enough to meet Jimmie almost a year ago at the Indianapolis 500. We connected there. We connected — he was a fan of "All American." I hadn't heard of his music. I had heard of his name but never heard of his music. Like I said, we just connected. Then, whenever he came out to LA, we had some dinner and we shared a bunch of stories with each other about our lives and how we came up.
The relationship has become a friendship, which is great. I consider him a friend, and now, we're both so busy, so trying to find the time to connect and to sit down and have conversations is tougher. But I talked about it on the show. He's an inspiration to me because he works so hard. He has his family; he's got so much on his plate. He moved from Delaware to Nashville with 20 bucks or something and decided to make it happen. [Jimmie's] an impressive person to me.
He killed it on "Dancing With the Stars."
Yes, he did. He's got a new album coming out, so I'm excited for him.
Michael Evans Behling found sitting in the interviewer's seat a bit daunting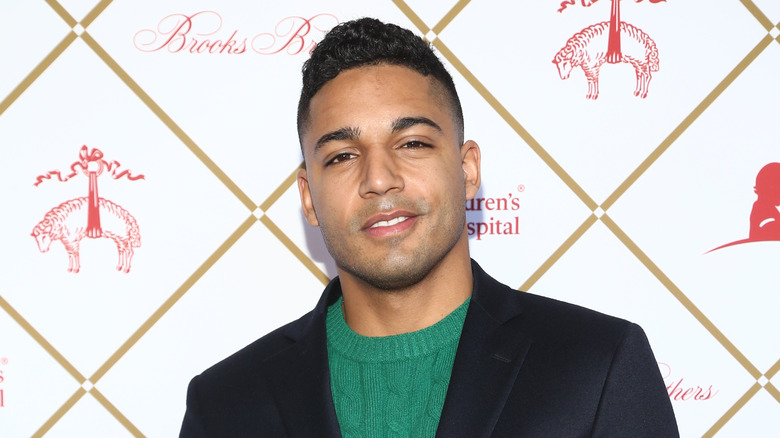 Tommaso Boddi/Getty Images
What was that first episode experience like for you? Did you find yourself challenged? I'd love to know in what ways you learned more about yourself throughout the experience.
Here's the thing I was talking to my manager about. I tend to do pretty well when it comes to live things, as far as Instagram lives, TikTok lives — those are easy to me. But when it came to me speaking and [having] less interaction from people, it was a little bit more nerve-wracking. That whole interview, I was sweating underneath my shirt, I'm not going to lie to you. But the experience itself was nice because I got to have these eye-opening conversations with Jimmie with an audience, and people were able to come and jump in and say their piece by dropping a comment or popping in. The overall experience was challenging. In a sense, the nerves got to me, but I think that this week would be pretty solid. The more and more I'm doing, the more comfortable I'll become, as with anything. How is [interviewing] for you?
It's a unique experience. I find it such a privilege, and I'm sure you're in the same boat as well, to have someone open up to you about their lives in such a profound way. I've been lucky throughout my career to have interviewed some amazing people. I consider it to be quite a thrill to be interested in people's lives and their stories.
What is Michael hoping Clubhouse viewers will take away from his new series?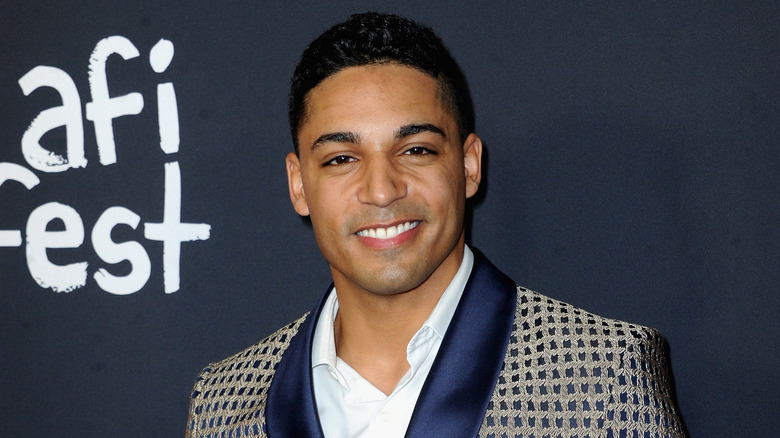 Albert L. Ortega/Getty Images
For you and for the people who tune into the series — specifically the first episode — what are you hoping they'll take away from you as an interviewer, from Jimmie in the first episode, and also the series in general?
What they'll take away from Jimmie — you're going to get a brief glimpse into his heart, and into his passion, what he does. The fact that he gives 120% to everything — whether it's his music, whether it's his writing or he's about to jump into some acting ... Whatever it is, you can hear the passion in Jimmie's voice from what he's talking about. So that's exciting for people. 
For me, hopefully people take a look at it and think, "Oh, okay, he's kind of a natural." If not, then hopefully [they'll] see the light that I'm trying to shed on people that I am inspired by. I hope that what I'm doing will make a fan for either myself or for some of my guests and [listeners] will find some inspiration.
Then, the overall idea of the show, the flow of the show — it's a time to sit back, unwind, listen to some artists, listen to some people who have made it fairly high in their careers, and listen to what it took for them to get there. [It's a time for them to share] who their inspirations are and what they do to keep up with things. It's overall a learning experience for a lot of listeners.
Absolutely. If you're able to share what guests you have lined up for the series, are there any that you're particularly excited about?
This week, we have the lovely Miss Geffri Maya, who is from "All American" and "All American: Homecoming." I'm very excited for her. I know her personally, but her story being shared with others and to hear what her inspirations are will be exciting for people to see. She's on the come up very, very quickly. 
We have a musical artist, Alec King. He's a little bit underground, but I'm excited for people to be able to hear him and hear his story because I've known him for a little over a year — maybe two years now. He's an inspiration to me. Then we have a few others that I'm still lining up, but I'll leave that under wraps for now.
That's very exciting. I'm sure it's a reflective process for you as well to really think about who you want to dig deep with.
Absolutely. I want to dig deep with everybody at the end of the day, but you have eight weeks. You got eight slots [where] you want captivating, inspiring content. Hopefully, the guests that I have lined up will be able to encapsulate that.
Michael Evans Behling reflects on personal challenges amid the pandemic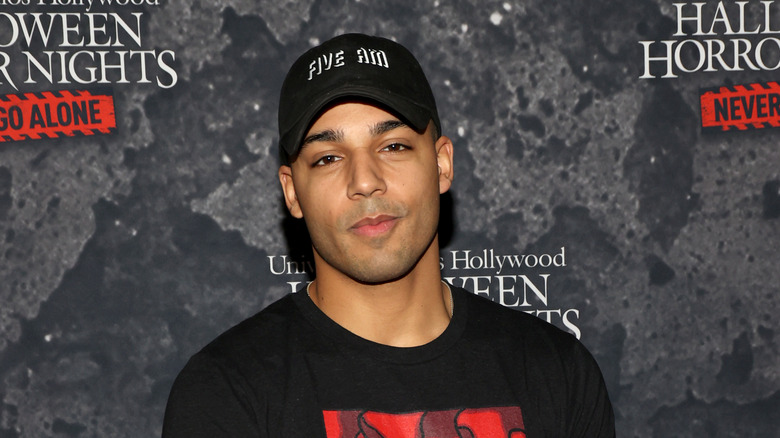 Rich Polk/Getty Images
Let's dive a little bit into your acting career and how you got to this point. I know you came from an athletic background, but you've been on "Empire," you've been on "Grey's Anatomy," and of course, "All American." Before we dive into some of those details, given that we're talking about inspiration, I'm curious as to what has been the most challenging hurdle for you to overcome in your professional pursuits, and what you learned from that experience.
On the professional side, the work is tough, but the work occurs before work. The most challenging thing for me was my personal life getting into the mix of my professional life. Post-pandemic, trying to get back into shooting after eight months of sitting in the apartment, being cooped up like everybody was, [my] mental health started to deteriorate. That really took a toll on me personally, which slightly affected my work in Season 3 [of "All American"], unfortunately. But having those low moments in Season 3 propelled me to work that much harder for Season 4. So as far as professional hardships, if you will, it's been mostly trying to overcome some personal things — to be able to go to work and do it to the best of my ability.
Michael dishes about his inspiring experience on Grey's Anatomy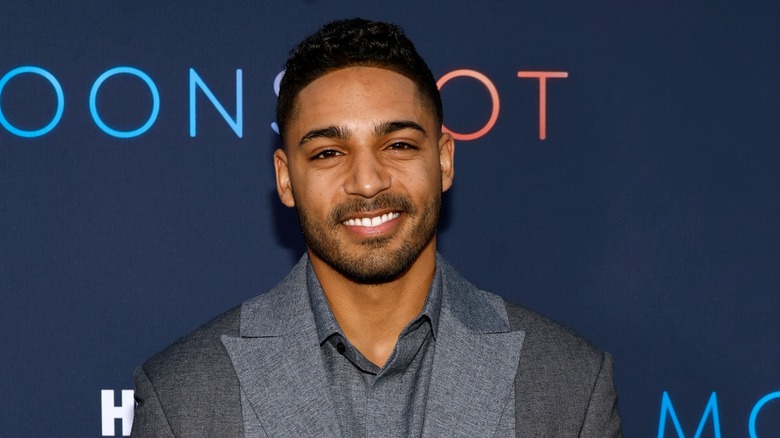 Frazer Harrison/Getty Images
Before we get into "All American," let's take a moment to reflect on "Grey's Anatomy," as it's such a huge show. What was your experience like with the cast members and on set?
After Season 1 [of "All American"], it was during our hiatus and that audition came in. I thought, "Wow, is this real life? 'Grey's Anatomy'? I have an audition for 'Grey's'? That's so weird."
It's a big show. It's huge.
Yeah, it's the show. My mom used to watch it all the time. To have an opportunity to sit in on a table read with all of those actors who have been doing it for 10 plus years, and Miss Shonda Rhimes sitting at the table as well, that was very surreal.
I'd had a year of being on a set, so I wasn't terribly green anymore. I felt comfortable and confident in that, but to be sitting at that table with Caterina Scorsone [and] several others of the original cast, and then you see Shonda Rhimes, and you see Bill D'Elia, the director ... The fact that I can still remember all these names might say something that it was a very meaningful week and a half to me. 
People shot for a week and a half on that set over [in Chatsworth, California], but as far as getting to work with them, they were nice people. The set itself was like a well-oiled machine. It was very, very clear they had been doing it for 15 years, and it was just in and out, quick cuts. Bill, the director, knew what he wanted. The other actors knew their lines like it was nothing, all of this medical jargon. It was very impressive to see. When the camera wasn't on me and I was behind the camera, I sat back and watched the art. That was a really fun thing to do.
I can't even imagine.
To get that front-row seat to watch it ... Then, having a one-on-one scene with Caterina was cool, because she also knew Taye [Diggs] from "Private Practice." To have that connection was awesome too, because Taye and I worked very closely, and she and Taye worked very closely years ago. Overall, it was a very eye-opening experience. It made me strive for more.
Michael reflects on his All American experience and his acting future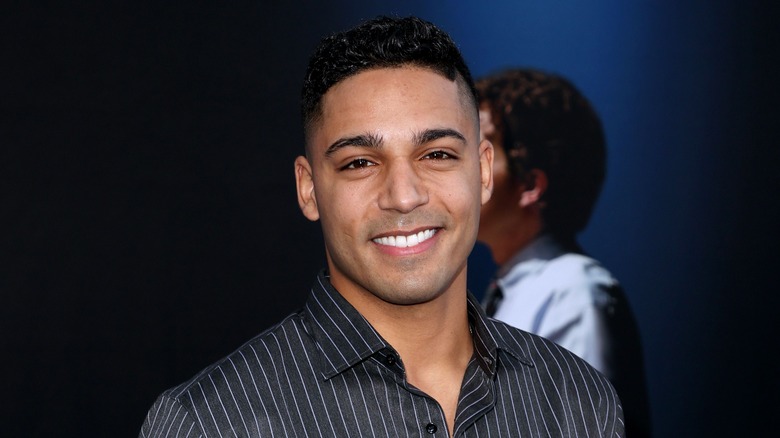 Kevin Winter/Getty Images
With that in mind, obviously, "All American" has been so successful. Did you ever expect for it to reach the heights that it has?
I didn't expect whenever we shot the pilot that we'd be sitting at Season 5 with a spin-off with a second season. I did not expect that. I knew after we shot the pilot that, "Hey, there's a potential we could do something here." After that first season, things were a little rocky. Then, once Netflix saved us, I knew that, in my opinion, there were a lot of opportunities that would [be there], and maybe [those] will be opened. To see those come to fruition four years later, it's beautiful. But from the jump, I can't say that I expected all of this — not at all. I was just very happy and excited to have a job and wanted to rock and roll, and we'll take it one day at a time from there.
You're looking at an increasingly successful career. And while you just said, "We'll take it one day at a time" ... I'm going to sound like a job interviewer, but in five years' time, what are you hoping your life will look like? Is there a particular project or experience or film, or anything that is on the top of your list of things to accomplish?
My family really wants me in the Marvel movies. That's what they want. Here's the thing — I like Marvel, but I think I like DC better, but that's neither nor there.
Five years from now I want to have ... I don't know. I want to be secure [and] I want to continue to be secure. Within the next five years, I'd like to be able to be in the driver's seat, to be able to prepare some of my own things, some of my own concepts, projects, or already completed one or two. Whether that's a TV show, whether that's a film, whatever it may be ... 
I want to be in the quarterback position to create some of these projects that I might have in mind — to have more creative control. That's what I'm looking forward to in the next five years, but we will see. But I'm happy, and I want to see what comes in. Whatever comes in, we'll roll with the punches and see what we can come up with, and if it's a dope project, it's a dope project.
"Who Inspires Me with Michael Evans Behling" began on Sunday, May 22, with guest Jimmie Allen. Episodes will drop via Michael's house, with more information available on the episode platform and Michael's Clubhouse profile.
This interview was edited for clarity.