Why The Young And The Restless Used The Wrong Character Name In Their Script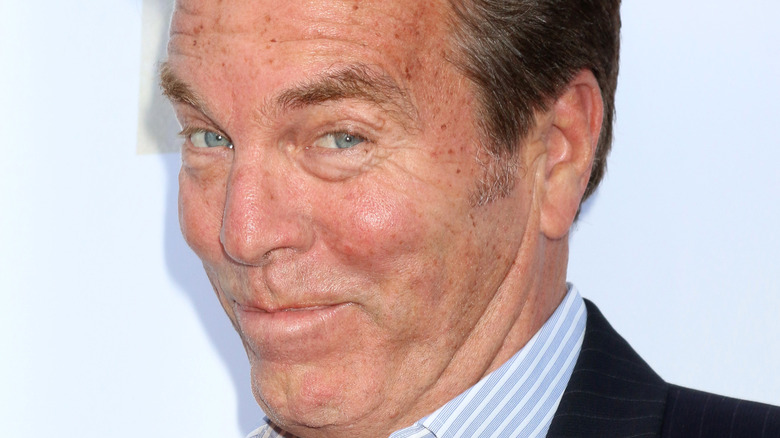 Kathy Hutchins/Shutterstock
Fans were stunned in March 2022 when Diane Jenkins showed up in Jack Abbott's (Peter Bergman) life once again on "The Young and the Restless." After all, the character had been dead for more than 10 years and barely ever spoken of, except by her now-adult son, Kyle Abbott. And unlike many deaths on a soap, viewers saw Diane's bludgeoned body so there could be no doubt the character met her maker — or so we thought. Apparently, she faked her own death with the help of Deacon Sharpe (Sean Kanan), the man who supposedly killed her, according to Soaps In Depth.
When Diane was allegedly killed, she was played by Maura West. However, when she made her appearance in 2022, she was once again played by Susan Walters, the second actress to make the role her own from 2001 to 2004 (via IMDb). However, the soap was determined to keep Walters' return as Diane top secret and took every precaution to make sure that news of this character resurrection didn't leak to the press or on social media.
Diane Jenkins' name didn't appear in Susan Walters' first scripts
In the age of social media, keeping shocking casting coups or storyline twists a secret has become infinitely more difficult as information somehow makes its way into the Twitterverse or onto Instagram. "The Young and the Restless" made sure that didn't happen with Diane Jenkins' return, not even releasing their promo for the week she appeared until Wednesday, March 23, the day Diane fans first saw Diane.
The soap also helped ensure fans would be stunned by Diane's arrival by not using the name "Diane" in the script. Instead, the name Taylor appeared in those early scripts, which was a decoy name in more than one way. While longtime fans knew immediately who the woman was who wanted to buy the house that Allie Nguyen (Kelsey Wang), Jack Abbott's (Peter Bergman) newfound granddaughter was selling, she went by the name Taylor Jensen (via Soap Hub). Taylor was also the name used in the script to make sure actors in other storylines didn't even know about her return, according to Soap Opera Digest.
Susan Walters recalls her first few days as a 'Y&R' secret character
While the name Taylor appeared in "The Young and the Restless" scripts when Susan Walters was taping her first few episodes back on the soap, she was also told to take precautions so that most of her fellow performers didn't even know she was on the set either.
"I was also told, 'Best not go out for lunch,' and whenever I was called to the set, they used my character's faux name," Walters told Soap Opera Digest. "It was actually kind of fun."
Walters was also anxious to tell some of her old friends from her first run on the show that she was back, but was warned against it. "I didn't tell anyone," she admitted. "I wanted to reach out to a couple of people in the cast but I couldn't do it. And then, Christian [J. LeBlanc, Michael] sent me an old picture of him and me at work and I thought, 'I don't dare tell Christian.' I just responded about something else and he didn't reply. But when Peter [Bergman, Jack] found out, he called me and it was just so great to talk to him. He was very excited and I was just thrilled."
Now, all of Genoa City finally knows that Diane is alive and well, ready to reclaim her life. However, LeBlanc's Michael Baldwin might be the only person who has been happy to see her, asking her to share drinks with him when out at the GC nightspot Society (via Daytime Confidential).