Kris Jenner Reveals Whether She'll Ever Get Married Again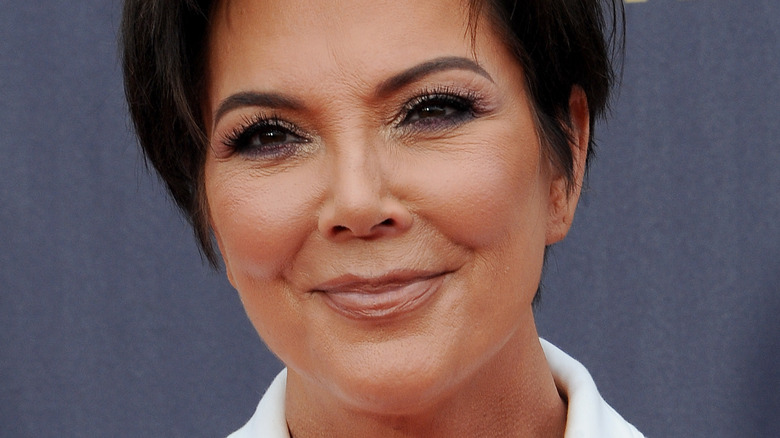 Tinseltown/Shutterstock
One of the best things about the Kardashians being back in the reality TV sphere? The world gets to see a lot more of everyone's favorite "momager." Not only is Kris Jenner a full-time mom and grandmother, but she has her hands full managing each one of her children, as noted by Distractify. "I've been pretty busy since you last saw us. I get up at 4:00 every morning," Jenner shared in the first episode of her family's new reality TV series, "The Kardashians" (via Hulu). After naming the endless list of family businesses, Jenner jokes "can just one person be lazy in this family?"
Even with her busy schedule, the mother of six still manages to make time for her own personal life. The San Diego-born star has been in a relationship with Corey Gamble since 2014, and the pair is still going strong. The lovebirds met for the first time in Ibiza, while attending a birthday party for fashion designer Riccardo Tisci and began dating just a few months later (via People). Now that the couple has been together for many years, fans have been speculating over whether wedding bells are in their future. In an interview with Laura Wasser on her "Divorce Sucks! Podcast," Jenner reveals her thoughts on marriages after two divorces.
Kris Jenner doesn't feel the need to walk down the aisle again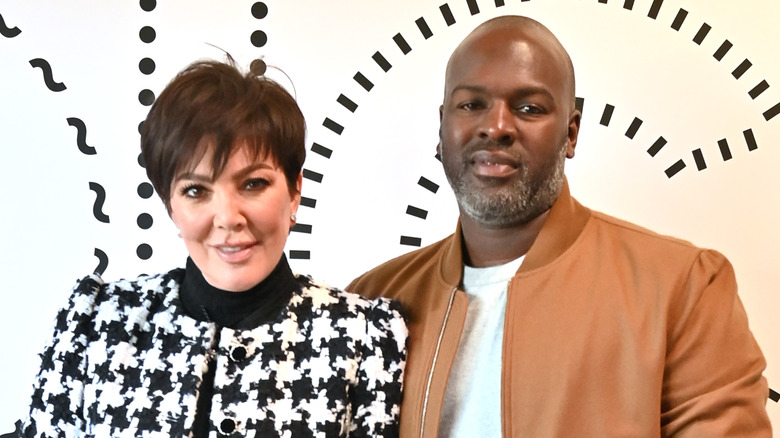 Samir Hussein/Getty Images
From Khloé Kardashian and Lamar Odom's romantic nuptials to Kourtney Kardashian and Travis Barker's third wedding in Italy, fans have watched many Kardashian weddings over the years. While there's a good chance we will witness more fairytale ceremonies in the future, they may not involve Kris Jenner as the beautiful bride. 
Back in 2018, there were rumors that Jenner was engaged to boyfriend Corey Gamble. On The Late Late Show with James Corden, the "momager" chose to eat a cricket over answering whether or not she was engaged to her beau. However, Jenner set the record straight in an interview with Laura Wasser's "Divorce Sucks! Podcast." When asked if she would consider marrying again, Jenner expressed her doubts. "You know, you never say never, but I often say it's just not what I think I need to do again based on my past," she admitted.
That said, Jenner is very happy with her current partnership. "I'm in a really great relationship right now and I'm happy and I don't want to mess that up," Jenner shared on the podcast. "I used to listen to people say that, by the way, and think, 'Oh, what a crock of you know what.'" But as someone who has walked down the aisle not just once, but twice already, Jenner doesn't feel the need to do so again. 
Kris Jenner current approach to marriage has been partially inspired by her eldest daughter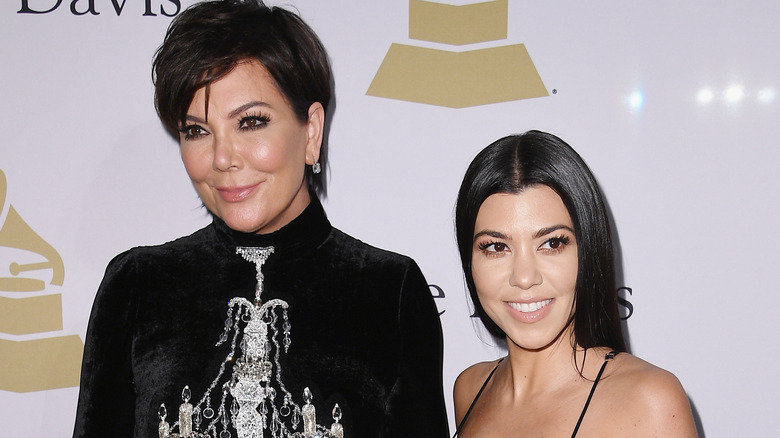 Kevork Djansezian/Getty Images
When it comes to marriage, Kris Jenner learned a lot of big lessons following her first divorce. But when it comes to following her heart, the "momager" has learned a lot from her eldest daughter. Before the wedding to the "love of her life", Travis Barker, Kourtney Kardashian was in an on-and-off-again relationship with Scott Disick for nine years (via Us Weekly). Despite receiving several proposals from Disick, as noted by Distractify, and having an almost Vegas wedding back in 2007, Kourtney never ended up marrying her baby daddy. On the "Divorce Sucks! Podcast," Jenner revealed that while she "didn't understand Kourtney's choice at first", down the line she "totally got it." "The more her and I communicated, and she told me how she felt and I just felt like, she knows what she's doing. She's got these amazing kids," Jenner shared.
The mom of six has watched her children walk down the aisle, get divorced, and have kids out of wedlock. "So, I think to each his own," she said. "No two people are going to have the same opinion."
While Jenner may be c'la vie when it comes to marriage, that hasn't kept the business powerhouse from pressuring her children in other ways. As the only Kardashian-Jenner without offspring, Kendall Jenner admits that her Mom has "100 percent" pestered her about having kids. "Just your friendly reminder," Kris joked in the same interview with E!