The Platinum Jubilee Event That Prince Andrew Is Absolutely Not Welcome At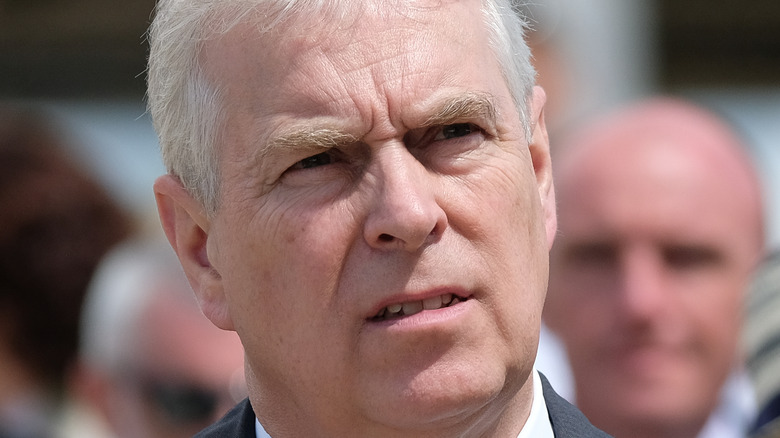 Ian Forsyth/Getty Images
Recently, the Archbishop of Canterbury came under fire for his comments about Prince Andrew. Per The Guardian, during an interview on ITV News, Justin Welby expressed his desire for "a more open and forgiving society." 
He asked critics to take a moment to give the Duke of York some grace, arguing he's clearly trying to make up for his behavior, which can only be a positive. Welby also acknowledged that sexual assault is a sensitive topic, about which people understandably have opinions.
However, he opined, "At a big public occasion the Queen is fully entitled to have one of her children supporting her. Secondly, forgiveness really does matter. I think we have become a very, very unforgiving society. There's a difference between consequences and forgiveness." 
These comments were in reference to Andrew attending Prince Philip's memorial service, but they could also be taken as a response to those who believe the disgraced royal has no place at the Platinum Jubilee.
Although, as the Independent notes, he will be present at several events over the long weekend, there's one major celebration Andrew has been cut out of entirely.
The Duke of York isn't welcome at Trooping the Color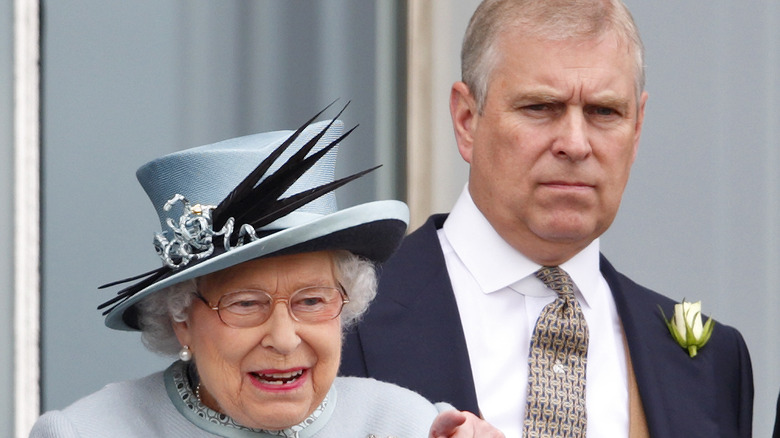 Max Mumby/indigo/Getty Images
Surprising no one, neither Prince Andrew nor royal defectors Meghan Markle and Prince Harry will be permitted to join the queen on the balcony at Buckingham Palace for Trooping the Color, as reported by The Guardian. 
Her Majesty made the call based, very simply, on who's still a working member of the royal family (none of them qualified). However, according to a new report in the Daily Mail, the Duke of York won't be attending the event at all.
Trooping the Color is both the queen's birthday celebration as well as the most important and high-profile military event of the entire Jubilee weekend. Andrew typically plays a crucial role in it as colonel of the Grenadier Guards. Moreover, he would usually be right by the queen's side as the regiment's representative.
He was stripped of his royal titles and military patronages following the Virginia Giuffre sex abuse scandal, and, in fact, it was his mother who broke the bad news to Prince Andrew about his future. Even so, despite everything, he was still expected to, at the very least, attend Trooping the Color in some respect. But a military insider confirmed that will not be happening.
As Ingrid Seward, royal expert and editor-in-chief of Majesty magazine, explained during an appearance on "Good Morning Britain," it's tough to be in Andrew's corner given everything that's happened.
Prince Andrew is trying to prove himself to the queen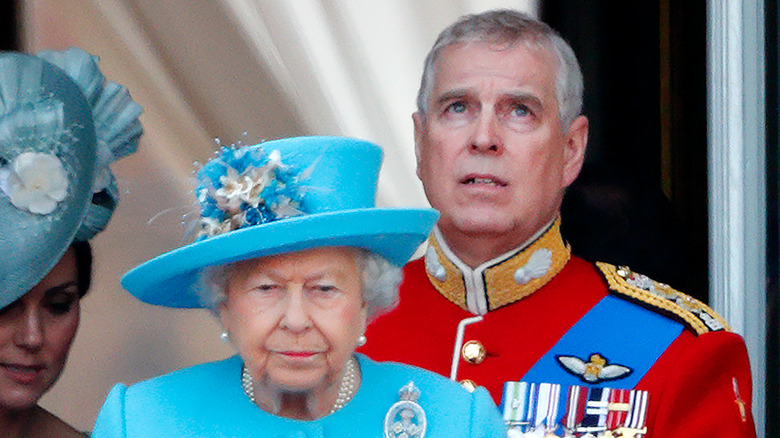 Max Mumby/indigo/Getty Images
Twitter is absolutely fuming over Prince Andrew amid his return to the spotlight, so critics will likely be relieved to learn he won't be attending Trooping the Color. But it's worth noting that, behind the scenes, the Duke of York is working hard to prove himself to the queen. 
As Express previously reported, Andrew was emboldened by accompanying his mother to Prince Philip's memorial service in March 2022, and he fully expected to play a key role in her Jubilee celebrations as a result. 
"The prince and queen do have a close bond," a source noted. "The queen knows exactly what she is doing. She's very much in charge." Moreover, the insider claimed that Her Majesty believes in her son's innocence, despite him paying off accuser Virginia Giuffre to the tune of tens of millions of dollars. 
Despite his absence at Trooping the Color, Andrew is expected to attend the thanksgiving service the day after, and it could be the prince's opportunity to put his best foot forward. However, Dickie Arbiter, the queen's spokesman for 12 years, disagreed. "Too much has gone on for Andrew to come back," he said. "I don't believe he will be back at all." 
According to a report in the Mirror, the duke has been visiting his elderly mother every day in the run-up to her 70th-anniversary celebrations in a bid to make reparations for his bad behavior.