How To Style Casual Women's Suits To Keep Them On-Trend For Summer 2022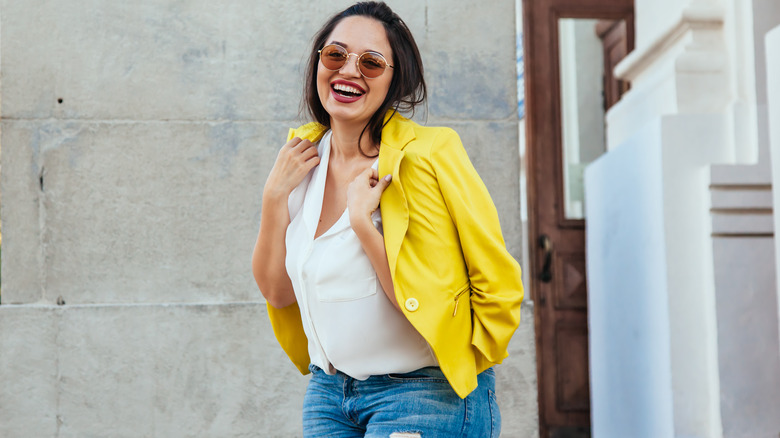 Alena Ozerova/Shutterstock
After summers of cottagecore styles, we're seeing the return-to-work influence on summer 2022 fashion trends. Suit pieces, like micro miniskirts, are everywhere this season per Marie Claire, but with a fresh, casual take that doesn't make the transition from home to work too difficult.
Returning to office life can mean juggling a lot: not wanting to give up the comfortable clothes you're used to working in, battling the heat outside and AC inside the office, still wanting to feel stylish, and needing to get back into the routine of having outfits that you can easily transition from work to post-work drinks. It's a lot to ask out of one outfit, but there's a reason why 2022's iteration of the suit has it at the top of every summer style guide. A suit, like any other well-layered outfit, has the ability to be a completely different outfit just with the change of a shoe or swapping out a button-down for a t-shirt (via Stitch Fix).
But if you're worried about suits being too heavy to wear in the summer, we have good news. Instead of heavy materials and colors, Marie Claire reports lighter options for the style-savvy shopper when it comes to fabric and shades. Don't be mistaken: These are not your mother's power suits. Instead of throwing on a corporate uniform, the more personality you put into the way you dress, the more on-trend you're going to be. And remember, comfort is key.
Yes, you can be comfortable while wearing a suit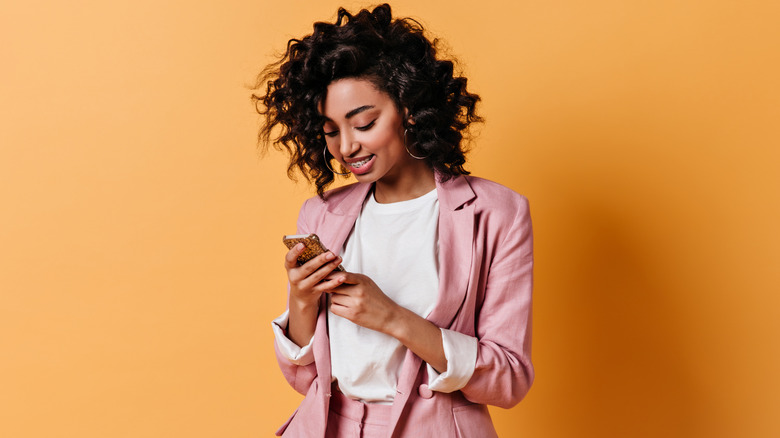 Look Studio/Shutterstock
Academics and boaters alike have been pairing blazers with jeans or even shorts for decades. Kristen Stewart famously rocked a pair of shorts with her suit at this year's Academy Awards and everyone loved it. Stylists and fashionistas are jumping on this trend.
Part of the reason so many people are leaning hard into the casual suit look is that it's a good compromise between the corporate world and home. Yasmin Moaven, Chief Marketing Officer at Pipe, told Elle that she likes to pair an oversized blazer with jeans, a t-shirt, and kitten heels. The Trend Spotter recommends a relaxed dad suit blazer if you want to copy Moaven's look. Other days, Moaven will wear a bodysuit under a suit and ditch the jacket if she's going out after work — an effortless way to go from business to casual in no time.
Iyore N. Olaye, Head of Fintech Product at Bird, also told Elle she's a big fan of pairing what she calls statement blouses with comfortable blazers and a pair of jeans. So if you're not ready to commit to a suit in a bold color, follow Olaye's lead and let your pop of color come from your blouse. According to Stitch Fix, patterns are very in for summer 2022, so a blouse with watercolor florals under a solid blazer with a pair of white jeans is an easy, comfortable way to blend the summer fashion trends.
Be bold with your color choices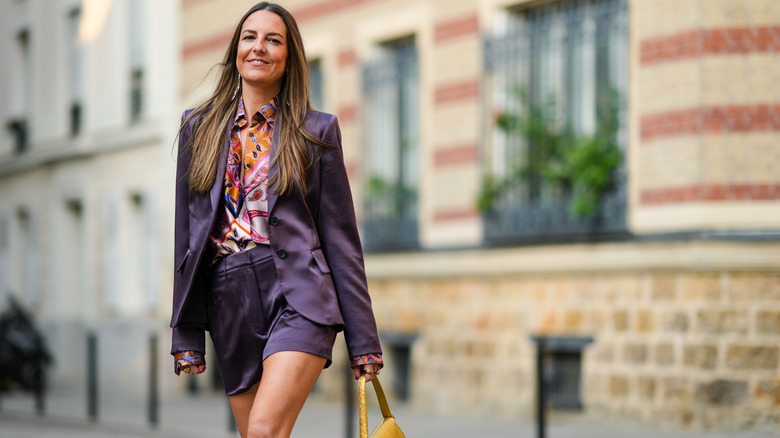 Edward Berthelot/Getty Images
One of the reasons suits are so popular for summer 2022 is because they're available in lighter fabrics now. The other reason? The variety of colors.
Whether you choose to wear a blouse or t-shirt under your blazer, you don't have to stick to black, navy, or grey anymore — unless you really want to. According to Brunette From Wall Street, one color you should consider for your suit is Pantone's color of the year: periwinkle. Don't let the purple scare you, though; if you're worried about what will match, Stitch Fix recommends "warm neutrals or muted greens," such as some high-rise pants with a silk button-down blouse under the Cutaway Blazer in Bi-Stretch from Ann Taylor. Swap out the ankle pants for a pair of boyfriend jeans and heels for a sexy take on this trend.
Yellow tops Marie Clarie's summer style guide and, yes, yellow is another great suit color. Whether you don head-to-toe yellow or just a blazer, the color pairs well with pastels and neutrals. Mango sells a blazer suit made from linen, a fabric that according to The Cut is lighter and will help keep you cool. If you're planning on wearing a suit to a wedding, for instance, they highly recommend going with linen as your fabric of choice. You can pair the blazer with shorts or jeans, either in blue or white, and a t-shirt for a more casual vibe.