The Controversial Delicacy That May Be On The Royal Family's Platinum Jubilee Menu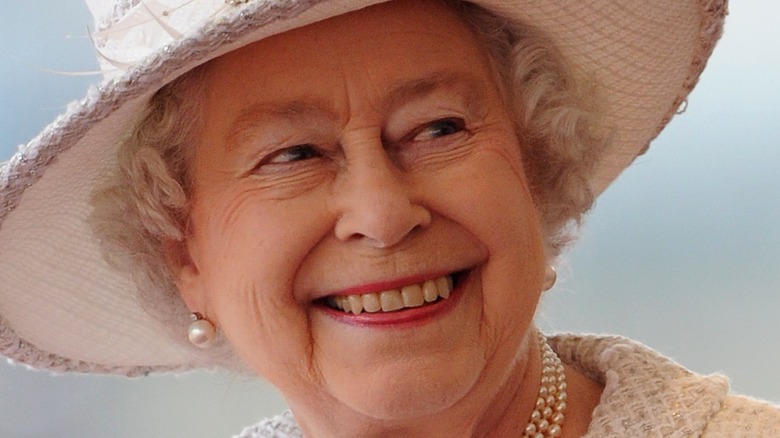 Wpa Pool/Getty Images
The queen's Platinum Jubilee celebration is truly a once-in-a-lifetime event. Queen Elizabeth has ruled Great Britain for an historic 70 years, showing extraordinary leadership, diplomacy, and wisdom every step of the way. Small wonder her reign is being celebrated over the course of four days, with parades, concerts, communal lunches, light displays, and even a special Platinum Jubilee perfume. 
Also traditional for a monarch's jubilee is a state dinner for the guest of honor, along with honored guests such as royalty from other countries. The menu for the Platinum Jubilee dinner hadn't been released as of June 2, but it's a sure bet KFC's special-edition Coronation Chicken Tower Burger (seen on The Independent) won't be featured. The fare will more likely be simpler; the queen typically eats very lightly throughout the day, preferring a poached fish and salad for dinner. 
However, inquiring minds are wondering whether the palace will be serving a particular dish that was featured at the Silver Jubilee of the queen's father, King George V. When the king celebrated 25 years on the throne back in 1935, food preferences were, shall we say, quite a bit different from what we see in restaurants today. Gelatins and aspics filled with vegetables were popular, as were salmon and veal loaf, per How Stuff Works. For British royalty and other elites, there was also a particular soup that was frequently seen on banquet tables, including King George's — but its primary ingredient is one that raises eyebrows today.
Turtle soup was once on the royal menu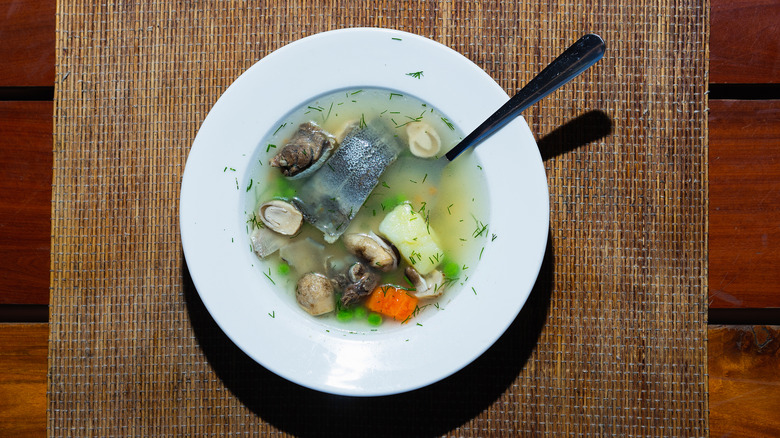 upslim/Shutterstock
As part of its commemoration of Queen Elizabeth's Platinum Jubilee, the royal family's Twitter account posted a thread recounting the Silver Jubilee of the queen's father, King George V, in 1935. Like his daughter's celebration, the king's 25 years of service was marked by the centuries-old Trooping the Colour military parade, a service of thanksgiving at St. Paul's Cathedral, and a grand state dinner. 
The palace posted a photo of King George's dinner menu, written in French (as one does). The multi-course menu included salmon medallions, duck breast filet, lamb chops with Normandy peas, roast chicken and asparagus, rounded out with a frozen dessert soufflé and quiche. Starting it all off was tortue claire — a clear turtle soup — a delicacy 80 years ago that doesn't quite appeal to the modern palate. "It contains turtle meat? I hope it is no longer served," tweeted one disgusted diner. Another asked, "Uhh ... can I just have chips?" But another follower pointed out that turtle soup is still served in some restaurants in New Orleans.
Though the queen's guests will no doubt eat royally at her Jubilee state dinner, the amphibious soup won't be on the menu, assures Woman & Home. Many types of turtles are considered endangered and are illegal to eat. Plus, Prince Charles is passionate about environmental causes, so the future king of England would be unlikely to approve of a meal featuring a threatened species. Perhaps a nice tomato bisque instead?