Kate Middleton's Gorgeous Yellow Look Has Everyone Talking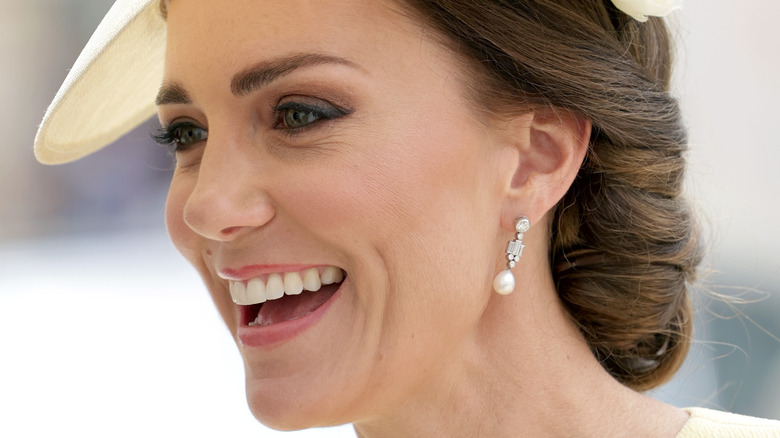 Chris Jackson/Getty Images
With the Queen's Platinum Jubilee in full swing, there is so much to catch up on. Just one day in and already there's buzz revolving around the reason why Prince Andrew pulled out of his only jubilee obligation. The Prince tested positive for COVID, as per Us Weekly, though, of course, there are naysayers who find Andrew's COVID news suspicious.
On a much lighter note, Prince Louis stole the show with his antics at the opening ceremony. Mom Kate Middleton kept her cool and went along with her son's demonstrative actions. After all, kids will be kids, even royals ones, and Louis is just four years old. Any mom will attest to the trials of keeping a 4-year-old well-behaved for long ceremonies.
Yet, with any big royal event, the talk must turn to fashion. As always, the Duchess of Cambridge did not disappoint. Her gorgeous head-to-toe yellow outfit at the service of thanksgiving was highly impressive.
The Duchess of Cambridge wore a beautiful yellow dress to St. Paul's Cathedral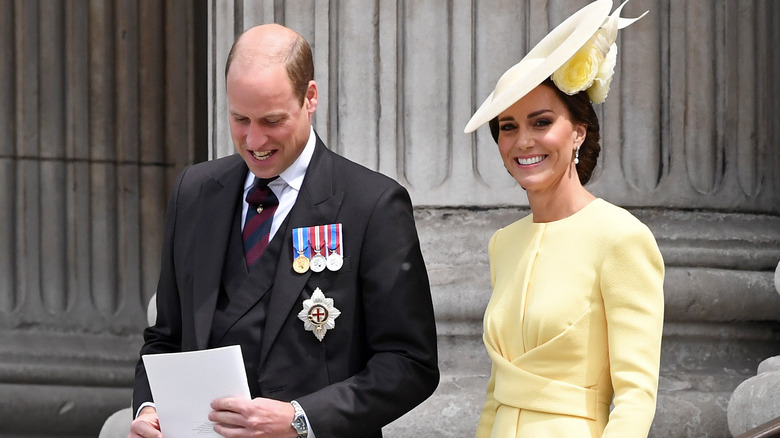 Chris J Ratcliffe/Getty Images
Always a fashion icon, Kate Middleton donned a yellow dress for the service of thanksgiving at St. Paul's Cathedral that was stunning in its simplicity (via Elle). Yellow isn't always the first go-to color in fashion but the Duchess of Cambridge always seems to have a way of creating a classic and gorgeous look. She does, however, avoid wearing the color orange.
Perfectly fitted, the yellow coat dress had side-to-side diagonal crossings at the waist. The bottom of the A-line dress flowed and landed midway between the knee and ankle. A beautiful yellow hat accompanied the dress.
Wide-brimmed, the hat was adorned with large yellow florals on the underside. Middleton accessories to perfection, holding a set of gloves and wearing stunning pumps. She also wore the Queen's diamond drop earrings that were worn by the late Princess Diana back in 1982 (via Daily Mail). Middleton wore the same earrings, made from pearls that were given to the queen and king by the leader of Bahrain when they got married in 1947.
This is one of Middleton's looks that will surely be remembered.