The Law & Order: SVU Episode You Forgot Starred Chloe Sevigny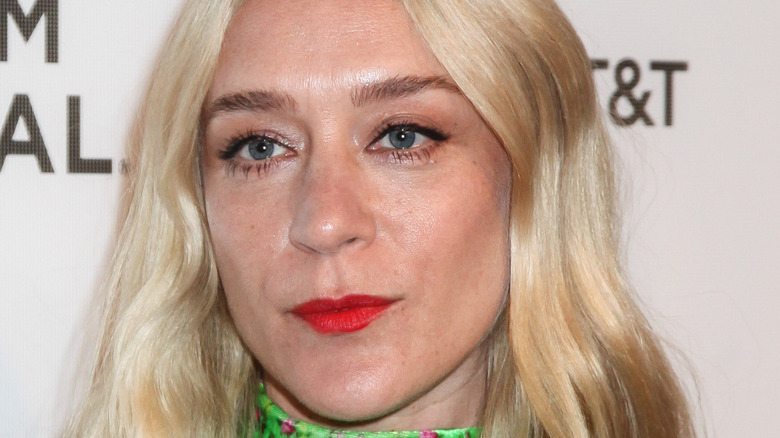 Miro Vrlik Photography/Shutterstock
Actress Chloë Sevigny brings a striking presence to just about any role she takes on. Maybe you first saw her in the hit HBO drama "Big Love" where she stars as Nicole Grant, one of three sister wives in a modern day Mormon family. It could be that you remember her from her film debut in the 1995 controversial indie film, "Kids", which gave viewers a raw and troubling look into the lives of a group of teens. Or maybe you spotted her first as the girl from the 1992 Sonic Youth "Sugar Kane" video. Whatever your familiarity, Sevigny is not someone who is easily forgotten. For most of her early career, Sevigny could have been considered an indie film darling. But with many starring roles on hit TV series, Sevigny became a household name, despite the difficulty in pronouncing it.
And speaking of hard to pronounce names, the "Girl From Plainville" star just welcomed her first child in May 2020. While filming "We Are Who We Are," Sevigny was in her first trimester and had to hide her pregnancy on set. "It was a little awkward," Sevigny admitted. "I love going out with the crew and the cast and having drinks, but I was very tired all the time (via W Magazine). It's okay, Chloë, after being the "coolest girl in town" for decades, you deserve a break. The "Russian Doll" star can now add "real life mom" to the many roles she has played in her career.
Chloe Sevigny is a masterful actor
Among many things, "Law and Order: Special Victims Unit" is known for getting top-tier guest stars to go toe to toe with Mariska Hargitay's Olivia Benson. In 2012, Sevigny fulfilled her actor's rite of passage by guest-starring on "L&O:SVU". She stars in Season 13 Episode 18 titled "Valentine's Day." And boy, she is quite the manipulative mastermind.
She plays Christine Hartwell, a woman who is sexually assaulted and kidnapped from her home while video chatting with her husband, Boyd (via All Things Law and Order). Helplessly witnessing this attack, Boyd calls his mother so she can call the police. Benson and Amaro meet up with a panicked Boyd at the airport, who is on the phone with Christine. She is telling him where to deliver the ransom money and begging him not to call the cops. The SVU squad, knowing how to handle a hostage situation, go to the ransom drop only to find Christine picking up the backpack full of cash. After a trip to the hospital and a story of multiple Black men being her kidnappers, Christine's story starts to fall apart.
Benson and Amaro discover that Christine has been having several affairs, one of them being with her husband's business partner, Justin. They occasionally sneak off to his little den of sin. And this just happens to be where her kidnapper took her. Oh, it gets better. There was a motion activated bed camera that Christine knew nothing about. Caught the whole thing. And she looked like a very willing participant in the activities taking place.
Chloe Sevigny is cool under pressure
The team identify Christine's video co-star as Kevin, the guy who has been delivering packages to her regularly. Kevin admits that they have been in a relationship and this "game" was her idea. He tells Rollins and Fin that they've been going at it for six months, so Kevin is genuinely confused as to why she's calling this rape. When Benson has Christine go over the events of her kidnapping again, she catches something odd. Christine recounts it as "when we had sex." Benson knows that it is uncommon for a victim to describe their sexual assault in this way. The facts aren't looking good for Christine and she is charged with coercion, obstruction, and filing a false report. Despite being given several chances to come clean, Christine holds firm in her story. She doesn't know Kevin, they weren't in a relationship and he did in fact rape her.
Sevigny is so convincing in this role that even the viewer, who has all of the information, starts to think, "Well maybe it did happen like she says." She doesn't play the role with malice or deceit, but with the most sincerity a pathological liar can muster. She is the victim and she will die on that hill. She is a puppet master who keeps her puppets dancing and picks a up a couple of new ones, until the very last "dun dun."
If you or anyone you know has been a victim of sexual assault, help is available. Visit the Rape, Abuse & Incest National Network website or contact RAINN's National Helpline at 1-800-656-HOPE (4673).