Why The Sussexes Didn't Sit With The Cambridges At The Jubilee Service Isn't What You'd Expect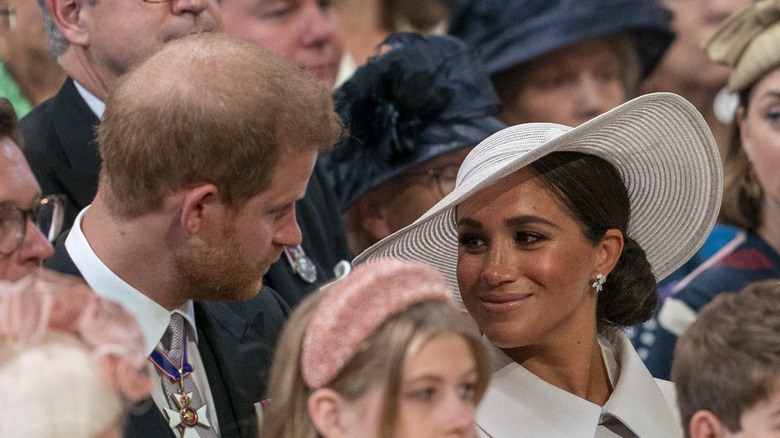 Wpa Pool/Getty Images
The potential for royal gossip at the Queen's Platinum Jubilee reigns high. From the innocent frolicking of Prince Louis while he covered his ears, frowned, and picked his nose at the start of the Jubilee during Trooping the Colour to the more serious issue of Prince Andrew pulling out due to a positive COVID test, the Jubilee is certainly off to an intriguing start (via Daily Mail).
In addition, unfortunately, Queen Elizabeth has had to skip multiple Jubilee events, citing she suffered from "discomfort" at opening festivities. Yet, the biggest talk of the town may be the arrival of Prince Harry and his wife, Meghan Markle. It's the first time the Duke and Duchess of Sussex and their family have all visited England together. One of the highlights has been Her Majesty finally meeting her great-granddaughter and namesake, Lilibet.
What's got so many intrigued by Prince Harry and Meghan reuniting with the royal family has been the distance they kept from Prince William and Kate Middleton during the Jubilee service, but the reason behind it isn't what you may think.
The Sussexes and Cambridges were ordered by the Palace to separate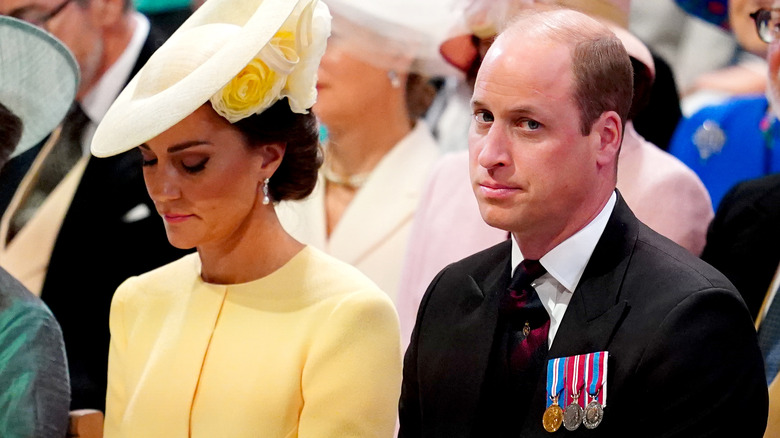 Wpa Pool/Getty Images
It's true that Prince Harry and wife, Meghan Markle sat on the opposite side of Prince William and Kate Middleton during the Service of Thanksgiving at St. Paul's Cathedral (via Independent).
It was actually Harry and Meghan's first official appearance since the festivities began. Us Weekly reports that the couple was there for opening ceremonies, including Trooping the Colour, but they weren't standing on the balcony of Buckingham Palace like William and Kate were.
A source told Us Weekly that during the Service of Thanksgiving, the palace made the decision to separate the couples and "to keep them on opposite sides of [the] cathedral to avoid any unwanted attention." The idea is that there was intense gossip and negative attention back in 2020 during the Commonwealth Day Service and the Palace wanted to avoid that.
With a little over two more days left of Jubilee festivities, there are surely more twists and turns to this royal family reunion.