Here's How To Help Your Groom Choose The Perfect Wedding Shoes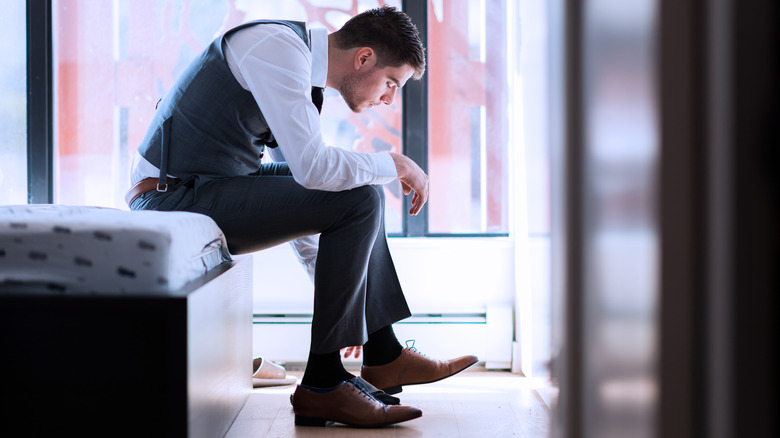 Pearl PhotoPix/Shutterstock
Although the outfits are one of the most important parts of a wedding day, your groom's shoes may not be at the top of your priority list. However, if chosen badly, shoes can make someone look messy and not in line with the theme; the complete opposite of what you want for a wedding. If chosen well, they can make any outfit look sharper, fresher, and overall more cohesive.
Whether your wedding is full of the latest trends or you're going for a more classic theme, you'll want to make sure everything matches well together. For example, if you're going to wear a fairytale or ballet-inspired dress, both of which are major trends for 2022, you won't want your groom to wear basic black shoes but instead, a pair that features a bit more embellishment. 
Above all, the most important factors to consider when choosing shoes are dress code, location, and temperature, via Bustle. We've outlined how exactly to help your groom pick out the perfect shoes for your wedding below.
For a classic wedding, you need a classic shoe to match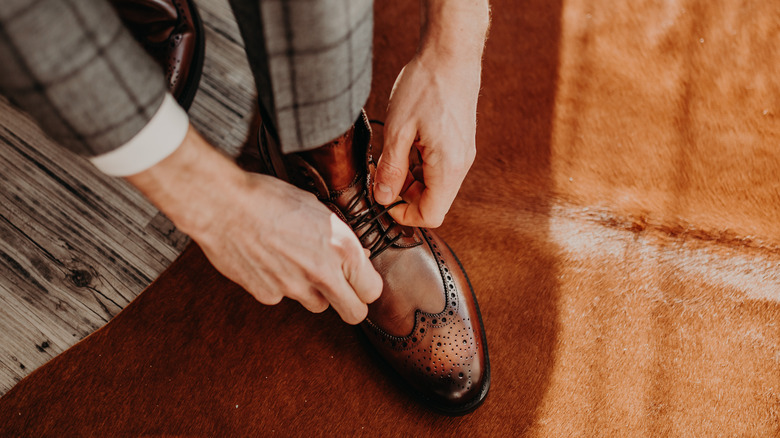 Jana Hermann/Shutterstock
Vogue lays it out best: your groom's shoes "should send a subtle fashion message aligned with what the groom hopes to communicate on this big day." This may sound a bit daunting, but it's important to remember that footwear isn't just footwear. It can represent who you are and what you are interested in without guests needing a flashy sign to tell them. Daniel Bucheli, president of footwear brand Le Majordome, stresses that you should not neglect comfort, either, as the bride and groom are on their feet for most of the day. 
With this in mind, what sorts of shoes should you be considering? Always a go-to for creating a classic look, the almighty Oxfords are sophisticated and elegant. If your dress code is black-tie, opt for real leather. Real leather pairs with a formal tuxedo well and will lend an air of understated luxury to the look. Or, if you think Oxfords are a little too dull, go for a Monk Strap instead. Monk strap shoes can come with either a single or double strap and are a good alternative to the Oxford shoe. They are also extremely comfortable, making them a brilliant choice if your groom is likely to be on the dance floor. 
For something a little quirkier, there are other options for men's shoes available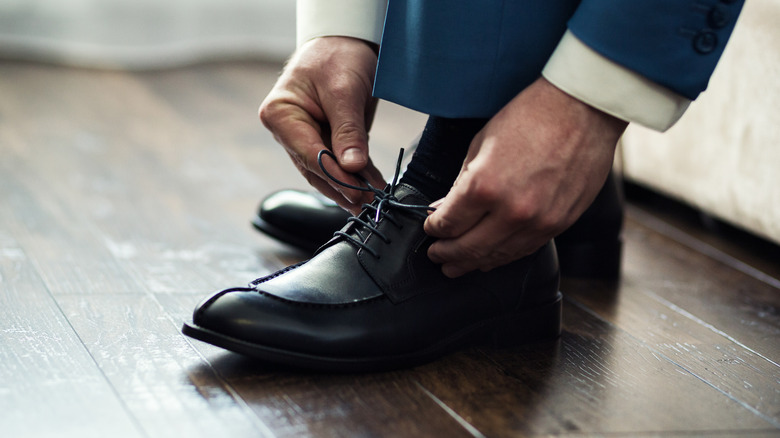 BONDART PHOTOGRAPHY/Shutterstock
If your wedding is more casual, Vogue recommends the humble loafer. Tatler reports that the ever-popular loafer shoe won't be going anywhere anytime soon for both men and women. This makes them a solid option if your groom is fashion-conscious. If you're worried about loafers looking too casual, patent leather loafers or a penny loafer with a stacked heel will help to prevent this. 
If none of the above options seem to fit, perhaps your groom is one to set the trends rather than follow them. To add a bit of personality to your day, he could choose loafers with motifs on such as roses, or velvet monk strap shoes. Depending on the color of your groom's suit, a contrasting look such as cream loafers with a navy suit would also look stylish yet appropriate (via Hugo Boss). When speaking to Brides magazine, Stephan Detweiler, VP of men's merchandising at Brooks Brothers, revealed that men can even opt for boat shoes or sneakers as their shoe of choice. This option is rare, though, and very much depends on the location of your wedding.
Overall, keep in mind that the day belongs to you and your groom. You should both wear what looks good, feels good, and suits your individual style.