The Truth About Matthew McConaughey's Haunted House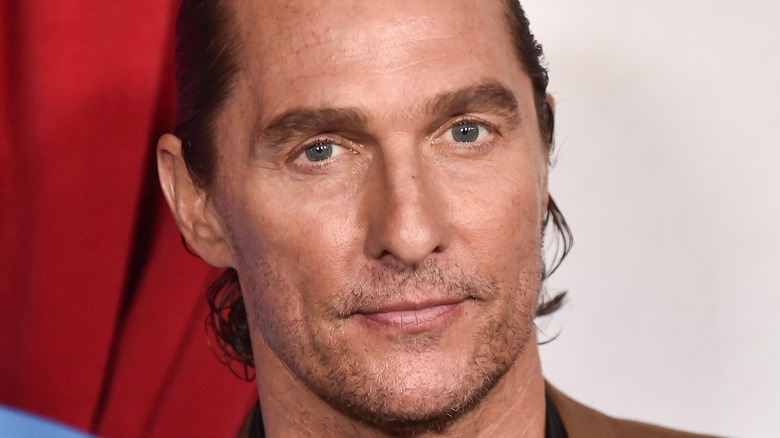 DFree/Shutterstock
Even the biggest celebrities sometimes need a little push in the right direction. Country star Trisha Yearwood actually jumpstarted Matthew McConaughey's career, which might surprise those of us who have been watching him onscreen for most of our lives. Per People, he appeared in her 1992 music video for "Walkaway Joe," which put McConaughey on the map in a major way. In fact, he's arguably more well known nowadays than Yearwood. McConaughey had to fight to really to establish himself, however. 
As the actor related in a chat on his YouTube channel, after appearing in Richard Linklater's celebrated indie "Dazed and Confused," he graduated college and then set his sights on Hollywood. The "How to Lose a Guy in 10 Days" star was quickly cast in "Texas Chainsaw Massacre: The Next Generation," alongside fellow newcomer Renée Zellweger. After learning there was a slightly larger role on offer, he returned to the production office and auditioned for it, committing fully to the character and scaring everyone. 
"They yelled 'Cut,' and Kim [Henkel, director] was like, 'That was good.' And the girl was like, 'Yeah, that was really good. You really scared me.' And Kim goes, 'Do you want the part?'" McConaughey recalled. The low budget horror movie is mostly forgotten nowadays, though it does have its fans (via Certified Forgotten), but it gave him further footing in the industry. And, although the Texan star pivoted to rom-coms in the subsequent years, he had a real-life scary experience behind the scenes. 
Matthew McConaughey charmed his ghostly presence the best way he knew how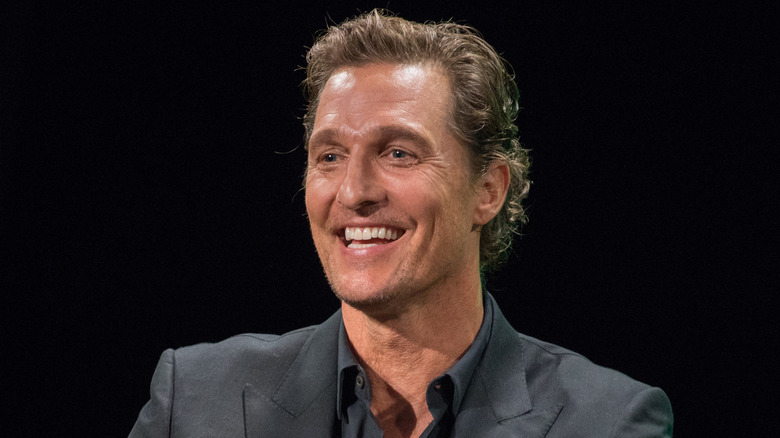 Rick Kern/Getty Images
During the press tour for "Ghosts of Girlfriends Past," the 2009 rom-com in which he starred alongside Jennifer Garner, Matthew McConaughey opened up about his own spiritual experience. According to the actor, his Hollywood mansion was haunted by a fancy-sounding ghost named Madame Bleu. "I was not even under the influence and she was there. She wasn't that happy, it didn't seem like she was going to be much fun to hang around or have in my house, so I went ahead and stood my ground," he shared (via YouTube). 
According to McConaughey, he let the presence know that she was welcome to stay "but I'm not going anywhere." It wasn't just the actor who felt Madame Bleu's presence either. "For weeks everyone that came to the house said the same thing: 'There's someone down in that hall, there's somebody down in that hall.'" Thankfully, she eventually moved on, leaving the "Interstellar" star to enjoy his home in peace. 
Apparently, McConaughey reckoned he had no real issues with his spooky interloper for one main reason. Page Six reports the actor told The Sun he first investigated a strange noise while in the buff, quipping that perhaps his lack of clothing was "why we get along." Evidently, though, Madame Bleu eventually got a bit bored. Maybe she moved into another hot A-lister's home instead? 
Ghosts of Girlfriends Past didn't exactly set the world alight otherwise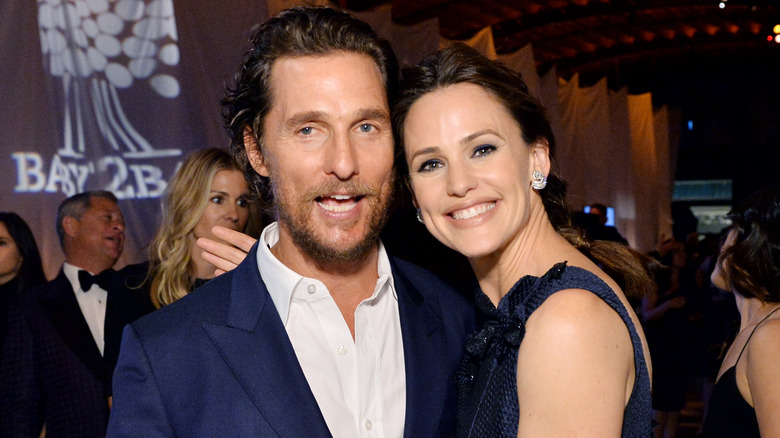 Stefanie Keenan/Getty Images
Matthew McConaughey hinted at a surprising career move, into pro-wrestling, suggesting maybe he was done with the movie business. It makes a certain amount of sense, considering how hard he worked to be taken seriously. Sadly, for McConaughey, his haunted house story was arguably the most interesting element of "Ghosts of Girlfriends Past," with the movie garnering just 28% on reviews aggregator Rotten Tomatoes. Despite a starry cast, which also included Emma Stone, Lacey Chabert, Breckin Meyer, and the late Robert Forster, The New York Times described it as, "A junky-looking romantic comedy that's neither remotely romantic nor passably comic." Meanwhile, The U.K.'s Times took aim at McConaughey specifically, describing him as a "self-regarding, teak-veneered charisma vacuum."
Although rom-coms were his bread and butter for a time, the actor didn't love doing them. "After four or so rom-coms, you could send me a rom-com tonight and I could do it tomorrow morning," he told Rolling Stone. "I wanted to find some work that made me sweat in my boots." Sadly, the "McConaissance," as it was called, took a while to manifest. The "Mud" star admitted to The Guardian that, once he started turning rom-coms down, nothing was being offered to him. Thankfully it all paid off with his 2014 Oscar win for "Dallas Buyers Club" (via YouTube). Jennifer Garner also appeared in the film, so it was something of a "Ghosts of Girlfriends Past" reunion.