What Naomi Osaka Has Said About Mental Health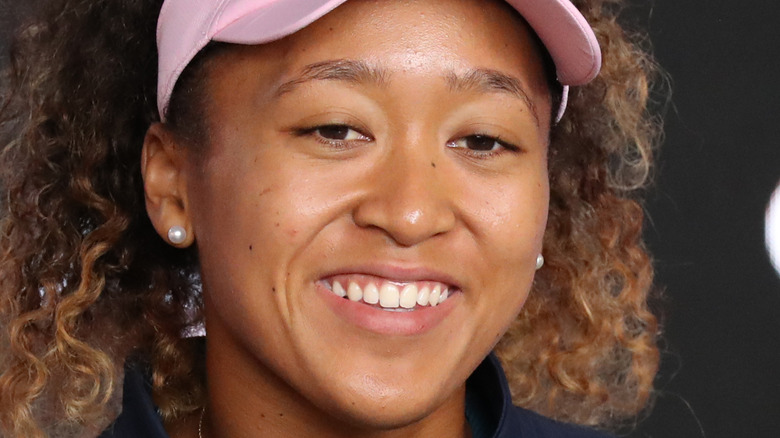 Leonard Zhukovsky/Shutterstock
Pro tennis player Naomi Osaka has made headlines for her exceptional performance on the court. Over the years, she won four Grand Slam titles (per ISPO) and became the first Asian athlete to hold the top ranking in singles. At only 24 years old, Osaka is one of the world's highest-paid athletes, with (per Forbes) a revenue of $59.2 million in 2021.
The tennis star took everyone by surprise in 2021 when she decided to withdraw from the French Open and focus on her mental well-being. "I communicated that I wanted to skip press conferences at Roland Garros to exercise self-care and preservation of my mental health," Osaka told Time. She also explained that being in the spotlight can bring anxiety, especially for athletes with an introverted nature. The pressure of the game, the public scrutiny, and other factors only make things worse.
Not surprisingly, athletes face high stress levels, which can leave them vulnerable to mental health problems. A 2011 study published in PLoS One (posted at the National Library of Medicine) reports that over 17% of the athlete population has at least one mental health challenge, such as depression or anxiety. Eating disorders are common, too. Osaka is trying to bring these issues to the public attention, encouraging athletes to prioritize emotional well-being.
Naomi Osaka opens up about mental health struggles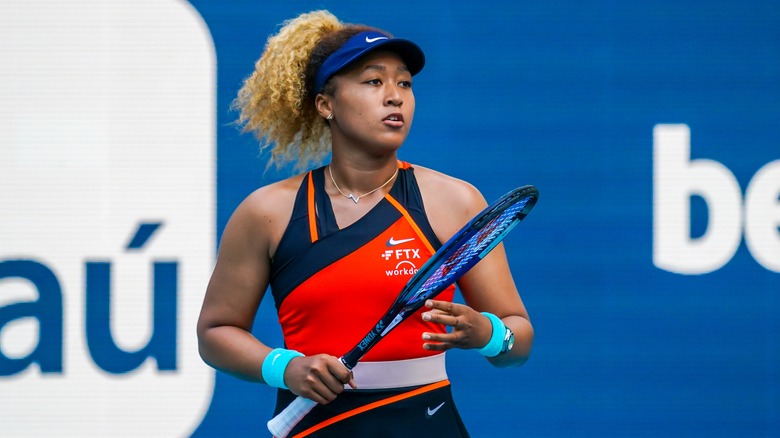 Leonard Zhukovsky/Shutterstock
Elite athletes seem to have it all: money, fame, prestige, and fulfilling careers. Yet, many are facing an ongoing battle with depression and other mental illnesses. Ironically, some of the personality traits that make them successful can lead to emotional and psychological problems, according to a 2020 review published in the Clinical Journal of Sport Medicine. For example, perfectionism fuels anxiety and may contribute to eating disorders and aggressive behaviors.
Tennis star Naomi Osaka is actively fighting mental health stigma, and she has talked about her struggles more than once. "The truth is that I have suffered long bouts of depression since the US Open in 2018, and I have had a really hard time coping with that," she said on her Instagram page last year. Osaka also told Time that she often felt pressured to explain herself for skipping press conferences and other media events.
The young talent believes that athletes should be able to take days off as needed without receiving backlash from the public. Like everyone else, they are having personal issues and may not find the power to smile or speak in public on demand. Osaka also revealed in an interview with "Good Morning America" that she has faced a lot of stress over the years, which ultimately fueled her decision to take a break from the sport and explore other avenues. In 2021, she launched KINLÒ, a line of skincare products for women with darker skin tones. 
Athletes pay a high price for their success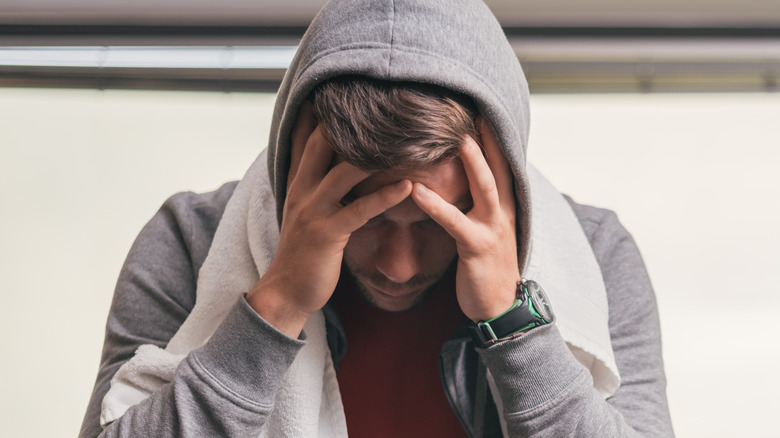 Starstuff/Shutterstock
Naomi Osaka is just one of the many athletes battling depression and stress. In 2016, professional wrestler Ronda Rousey revealed in an interview on "The Ellen DeGeneres Show" that she thought about taking her life after losing the UFC title in 2015 (via YouTube). Elite tennis player Serena Williams opened up about her struggle with postnatal depression on Instagram, saying that she felt like she wasn't doing her best to take care of her baby girl.
This wasn't the first time Osaka talked about the struggles she faced on and off the court. Back in 2018, the tennis star explained that it's easy to get depressed when competing at such a level. "Usually, if you play sports, you think that one match or one game is very important, and when you lose it, you sort of think your whole world is over, even though it's not. I can see how easily that can turn," she said in an interview with Teen Vogue (via YouTube). 
Three years later, Osaka told Women's Health that she wants to be seen as "more than just someone who plays tennis." Today, she is involved in several business projects and health programs aimed at young athletes. "Of all the things I do, I find that when I am doing my best to help others, it's most fulfilling," the athlete said in her interview with Women's Health.